Shares of ECR Minerals PLC (LON: ECR) are down 10.3% since the start of 2021, having recouped some of its heavier losses incurred in January, can the miner's shares rally back into positive territory.
The company recently completed its first drill hole at the Bailieston project in Victoria, Australia, which was drilled to 300m and is currently awaiting assay results on the same.
ECR Minerals confirmed that it had started drilling the second hole and will keep drilling more holes over the coming weeks and months.
The miner installed its own drill rig within the project area in December 2020, and it is great to see that it has successfully drilled the first hole.
The company noted that it had uncovered visible gold deposits on a 5.3-metre thick reef along the first drill hole, which is a vital sign that the area has significant gold resources.
ECR's latest updates have been showcasing various sections of the Bailieston project with potential gold reserves where it has exploration licenses and areas where it has applied for exploration licenses, and sections where it is competitively bidding.
According to the company, its projects can deliver multi-million ounces of gold. However, they still have a long way to go before generating revenues and being profitable.
ECR Minerals shares have the potential to rally much higher given that they once traded at prices above 500p, which makes its current share price appear cheap, but the journey ahead is not a short one.
ECR Minerals share price.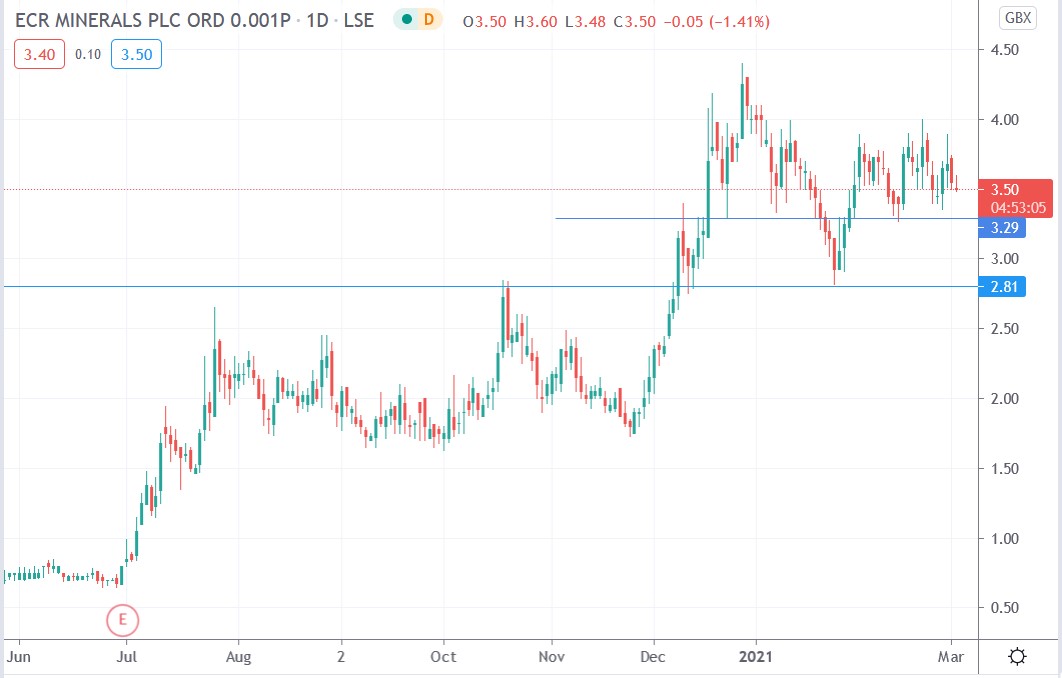 ECR Minerals shares are down 10.3% in 2021, having recouped some earlier losses. Can they rally higher?