Shares of ECR Minerals PLC (LON: ECR) have fallen to a crucial support level identified in my last article on the company, with many hoping that the level will hold, triggering a rally soon.
The last time I covered the mining company, its shares were trading at 2.35p, just above a support level that didn't hold for long, leading to the latest leg of the downtrend.
You will notice that I identified the 1.67p support level in the previous article over three weeks ago, and it has held since the price touched the level about two weeks ago.

Bullish traders should be pleased to see the price trading sideways at the currency level, which indicates that it might have bottomed and is building momentum for the next move.
The current setup favours a bullish breakout leading to an uptrend, but nothing is guaranteed in the markets, and we could just as quickly get a bearish breakout.
ECR Minerals recently announced that drilling is now underway at the Bailieston and Creswick gold exploration projects in the Victoria Goldfields, Australia.
Craig Brown, ECR Mineral's CEO, said: "Our drilling at Bailieston continues successfully using our in-house diamond drill rig, and we look forward to assay results of recent holes, particularly following the initial geological review of the drill core. Additionally, soil sampling from the HR3 area has identified very high gold grades in soils, further supporting the geological modelling and drill targeting."
The miner's fundamentals look promising, which could underpin a future rally combined with the current price setup favouring a bullish breakout, but only time will tell.
ECR Minerals' current price setup looks quite bullish to me, and I wouldn't hesitate to take a bullish swing position on the stock now.*
*This is not investment advice.
ECR Minerals share price.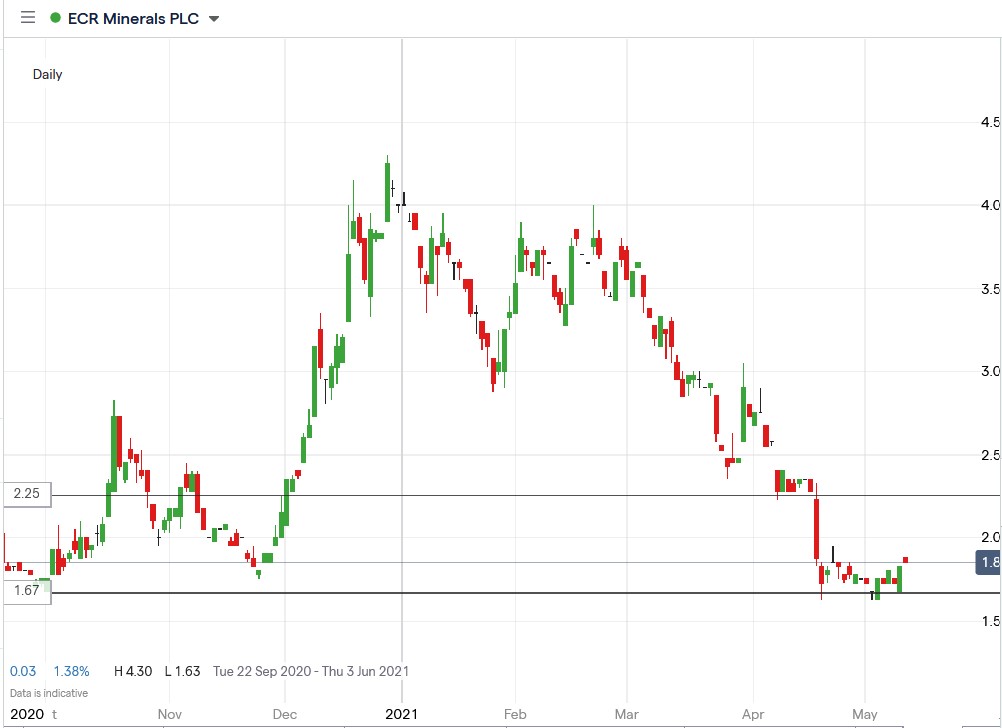 ECR Minerals shares are trading off a significant support level after falling since January. What's next?