Key points:
Eqtec shares have fallen 62.5% YTD despite achieving significant milestones.
Investors have ignored most of the waste gasification company's achievements.
EQT shares are trading sideways at a support level. Should you buy them?
The EQTEC PLC (LON: EQT) share price has fallen 62.5% in 2022, with the shares losing 43.75% of their value in the last three months. The decline came even as the waste-to-energy gasification company achieved significant milestones in the recent past.

The firm announced yesterday that it had been granted final approval by France's Ministère de l'économie, des finances et de l'industrie (MINEFI) to acquire the 6.5MWe waste-to-energy gasification plant in Villers-sous-Montrond, France.
Also read: Five Best Environmentally Friendly and Ethical Green Stocks.
Despite the significance of yesterday's announcement, Eqtec shares closed the day lower as investors barely reacted to the news. The French facility will be used by the company as a Market Development Centre (MDC), showcasing how its technology can be used to transform feedstock into energy.
The France MDC will be France's largest ever combined heat and power (CHP) gasification project, transforming c. 45,000 tonnes of mixed wood waste and refuse-derived fuel (RDF) to export clean electricity to the national grid. Eqtec will now have three MDCs, with the other two located in Croatia and Italy.
David Palumbo, EQTEC's CEO, commented: "We are excited to add France as our next MDC, alongside Italy and Croatia. The French market presents a significant and growing pipeline of opportunities for EQTEC, with potential for a network of licence distributors, contractors and other partners that support our journey toward becoming a leading innovator and licensor for Net Zero technology."
EQTEC is a clean energy technology innovator whose strategic focus is to make its leading-edge technology available to as many owner-operators as it can worldwide.
The company's unique marketing strategy via MDCs differentiates it from other waste-to-gasification firms and will pay off over the long term.
So, should you buy Eqtec shares? The shares look attractive at current prices as they trade sideways at a crucial support level. Therefore, I would buy them in anticipation of a rally. However, a break of the support level would invalidate the bullish thesis.
*This is not investment advice.
EQTEC share price.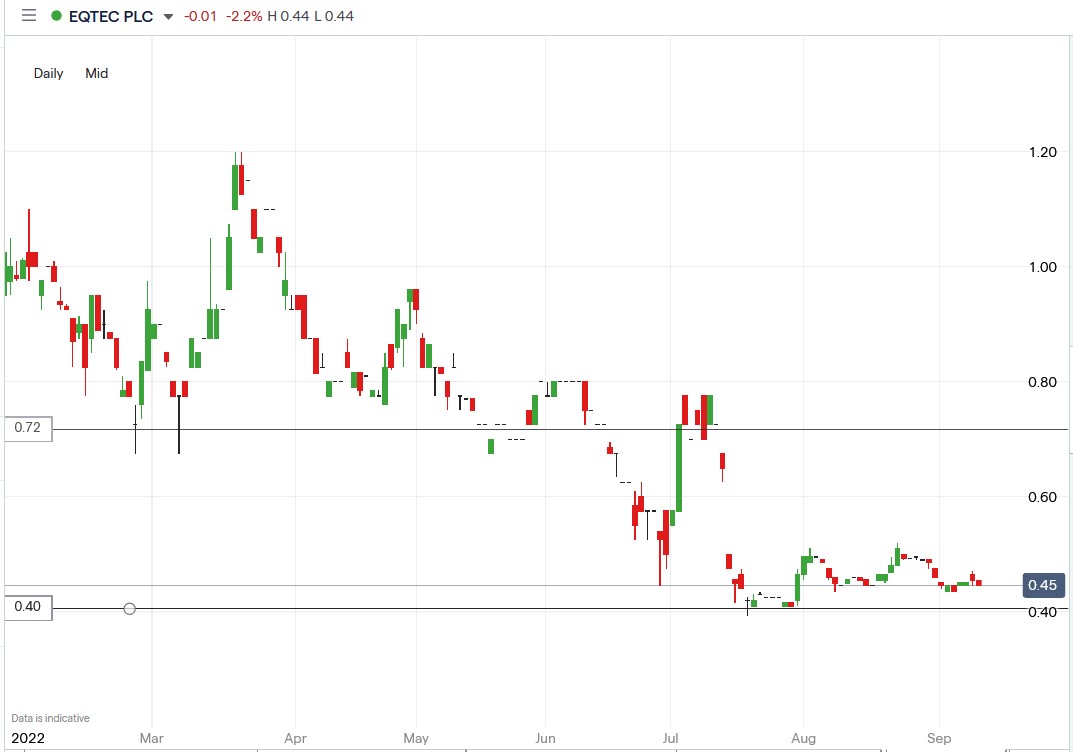 The EQTEC share price has fallen 62.5% this year and has been trading sideways since mid-July.