Key points:
DocuSign stock rallied 16.6% on upbeat Q2 results and Q3 forecasts.
The company experienced lower demand for its services during the quarter.
Investors cheered the positive results and forecasts. Is DOCU a buy?
The Docusign Inc (NASDAQ: DOCU) stock price rallied 16.6% after the company released its earnings results for Q2 2022. The company generated revenues worth $622 million in Q2, beating analysts' estimates of $602 million while representing a 225 increase from last year's figure.

The company's earnings per share came in at 44 cents ahead of analysts' estimates of 42 cents, despite the figure representing a 6% drop from last year's data. The company, which specialises in electronic signature software, noted that demand for its services had declined as companies held more in-person meetings.
Also read: The Best Cheap Tech Stocks Under $10.
Docusign performed much better than its peers, such as Zoom Vidoe Communications, whose shares fell after releasing disappointing Q2 results as companies resumed in-person meetings as opposed to video meetings and employees started working more from company offices than from home.
Investors also cheered the company's Q3 guidance as Docusign forecast that it expects to generate revenues worth $626 million in Q3, which is above analysts' expectations of $625 million. However, the company expects to generate $589 million from billings, which is lower than the $593.4 million consensus analyst estimate.
Maggie Wilderotter, DocuSign's Interim CEO, said: "We have a $50 billion market opportunity, an industry-leading digital agreement platform, a strong market position, and an experienced leadership team. I have total confidence our team will successfully deliver for all stakeholders."
Several analysts said they are waiting for a substantive new CEO to take over at Docusign as the company soldiers on as a standalone entity instead of pursuing a merger or potential acquisition.
Today's rally came as welcome relief for Docusign investors since the company's shares have fallen 61.96% this year amid a selloff in stocks that did well during the pandemic. Multiple analysts have downgraded the company in the past, but its Q2 and expected Q3 performance could trigger some upgrades in the future.
So, should you buy DOCU stock? The shares look attractive at current prices since today's rally occurred at a crucial support level. However, I would wait a few days before buying to see if there is a pullback.
*This is not investment advice.
The DocuSign stock price chart.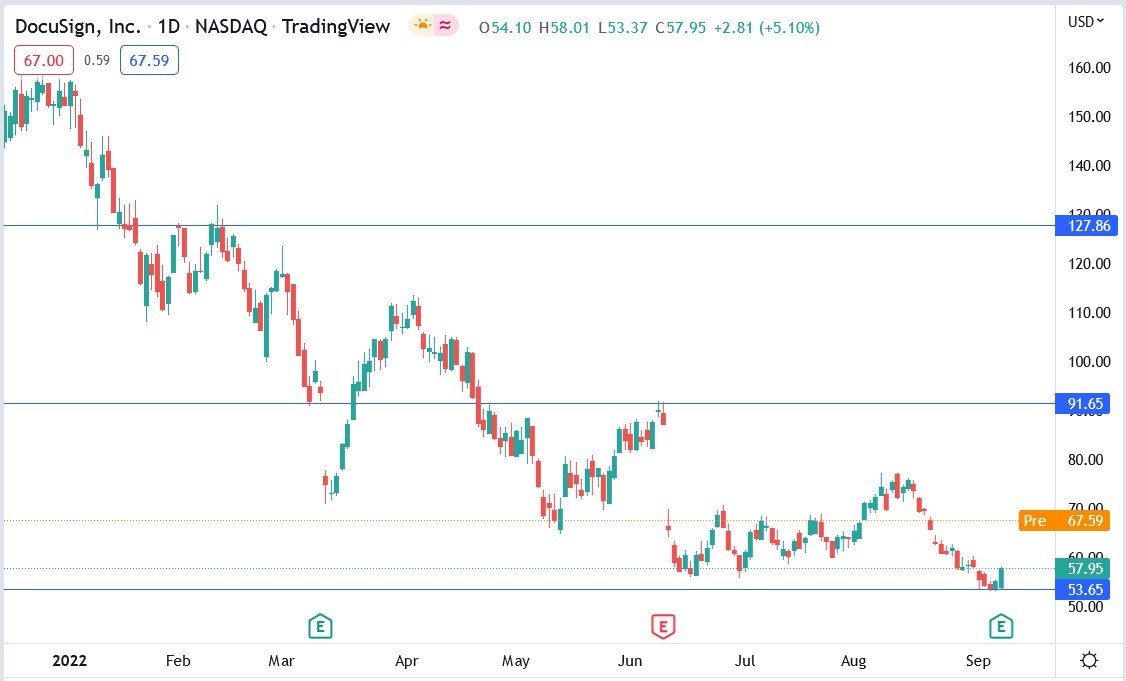 The DocuSign stock price rallied 16.64% to trade at $67.59, rising from Thursday's closing price of $57.95.