Key points:
Ethereum prices edged higher as investors eagerly await the 'merge' event.
As shown below, the blockchain network will be okay even if the merge fails.
Can Ethereum miners switch to Bitcoin? Read on to find out.
Today's Ethereum price was up 2.89% at $1,632 as many analysts and investors call for the world's second-largest crypto by market capitalisation to rally to $2,000 due to the impact of the upcoming 'Merge' event scheduled for September 10-20, 2022.

There are many questions surrounding the Ethereum "merge" event, such as where the current Ethereum miners will migrate to since the crypto will no longer need miners once it migrates to a proof-of-stake consensus mechanism instead of the current proof-of-work consensus mechanism.
Also read: How To Start Trading Crypto – A Beginner's Guide.
Another crucial concern among investors and Ethereum holders is what if a section of Ethereum developers who like its current architecture decide to form a splinter group and create a classic version of the token that maintains the current proof-of-work consensus mechanism?
There's a high likelihood that, given that the current miners cannot switch to mining another crypto since the two networks do not use the same ASIC chips and mining algorithms, they might decide to stay with the current network as the majority of the community migrates to the new proof-of-stake consensus mechanism.
However, this is not the first time that Ethereum has tried to migrate to a new consensus mechanism; each of the past attempts failed due to various reasons that the development team now says it has resolved; hence, this attempt should be successful.
The question remains, will Ethereum's popularity decline if the latest merge attempt fails? The short answer is yes; some people will be disappointed if the merge fails. Some might abandon the Ethereum project, but this group will likely be small.
Ethereum has unique functionalities and features not found in many other blockchain and crypto projects. As a result, it has carved a niche as the leading smart contracts platform and layer one blockchain.
The largest Ethereum users will most likely stay with the blockchain since it works well in its current form and meets most of their needs. Other leading blockchains that compete with Ethereum have their users and advantages, but none are precisely like Ethereum.
Therefore, while Ethereum prices could drop significantly if the merge fails, the blockchain network will still be okay over the long term.
*This is not investment advice.
Ethereum price today.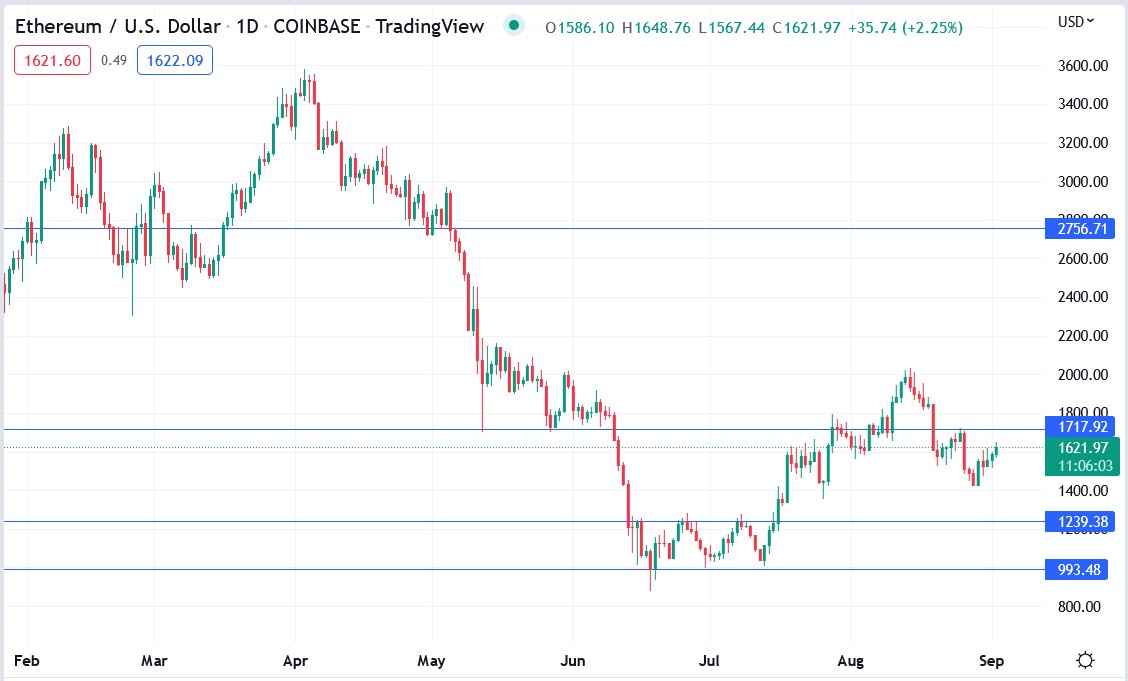 The Ethereum price was trading up 2.16% at writing as investors positioned themselves in readiness for the Merge event.