Key points:
The AUDUSD pair rallied higher despite upbeat US non-farm payrolls
The move was a relief rally given the dollar's dominance this week.
Will today's rally translate into a longer-term uptrend? Read on.
The AUDUSD currency pair rallied higher today despite an upbeat US non-farm payrolls report for August as the country added 315,000 jobs, beating analysts' consensus estimates of 300,000 jobs.

However, despite the latest non-farm payrolls report being positive, investors sold the US dollar in favour of its competitors, such as the Australian dollar. While today's data was appreciated, investors looked at the overall employment picture,w which showed that the unemployment rate rose to 3.7% in August from 3.5% in July.
Also read: Forex Trading For Beginners.
Investors also noted a slight revision to the final figure for July, which was lowered from 528,000 new jobs to 526,000 new jobs, which boosted the current month's comparables. First, however, we must clarify that increased labour market participation drives the higher unemployment rate.
Overall, most currencies rallied higher against the dollar today in what could be termed a relief rally, given that the dollar has been highly dominant this week, having surged against most currencies, including the Aussie, which explains today's pushback.
Usually, when an asset acts in such a one-sided manner for multiple days, pressure starts building in the opposite direction, which tends to unwind in a move higher. However, today's positive data leaves market expectations of a Fed rate hike intact, with most analysts expecting a 0.75% rate hike.
The Australian dollar has lost 5.87% of its value this year as it rallied higher and the Australian housing market cooled off, following the buying frenzy that drove housing prices to new record highs once the past two years as consumers bought homes due to the COVID-19 lockdowns.
In August alone, Australian home prices fell 1.6%, the largest 1-month decline recorded since 1983, underscoring just how bad the country's property prices crash has been this year. The house prices had fallen 1.3% in July.
Therefore, will today's rally translate into a long-term uptrend? The short answer is that this depends on whether the support level drawn on the AUDUSD daily price chart below will hold over time, triggering an uptrend. A break of the level would lead to further losses for the Aussie.
*This is not investment advice.
AUDUSD price chart today.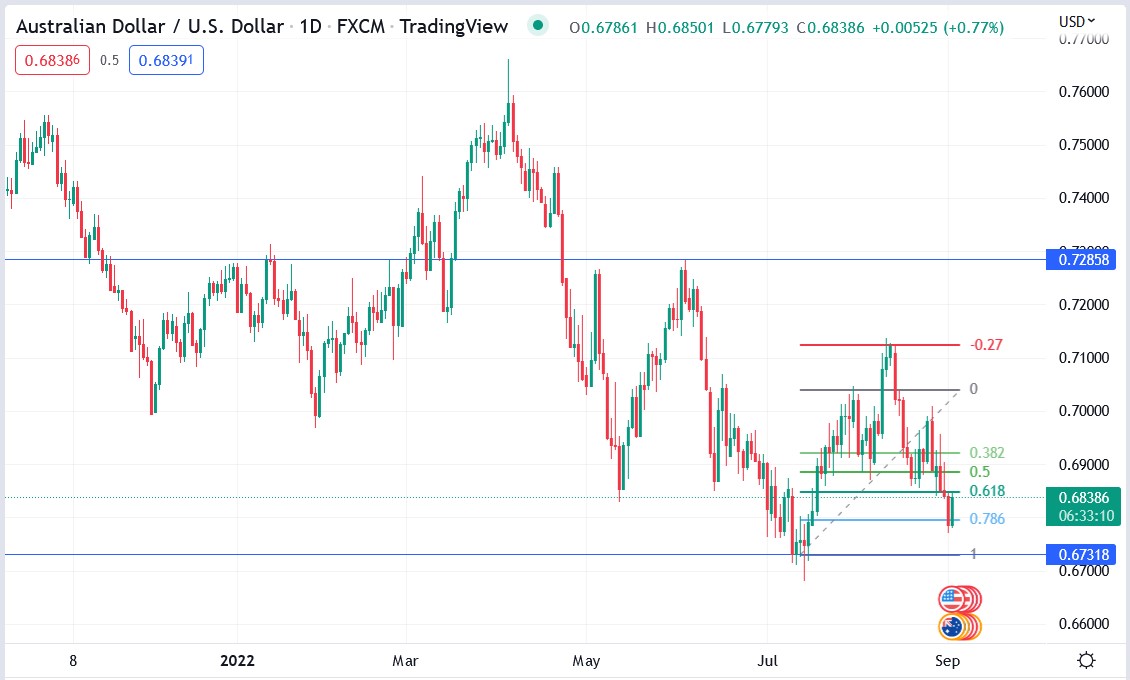 The AUDUSD currency pair was trading up 55.1 pips (0.81%) as investors reacted to the non-farm payrolls report.