European Metals Holdings (LON: EMH) share price is rallying on Wednesday after the company released the results from locked cycle tests at its Cinovec project.
The company said successful locked-cycle test (LCT) results further support the Cinovec project's credentials to initially produce battery-grade lithium carbonate.
According to a statement released on Wednesday morning, the AIM-listed firm said it has demonstrated that Cinovec battery-grade lithium carbonate can be easily converted into lithium hydroxide monohydrate with a commonly utilised liming plant process.

There were six LCTs planned, but testwork was stopped after four cycles as the main process stream compositions had successfully stabilised.
Battery grade lithium was produced in each LCT, with lithium recoveries of up to 92% achieved in the four LCTs. In addition, the LCTs tested zinnwaldite concentrate from the southern part of Cinovec.
The company expects further optimisation work in hydrometallurgy processing steps expected to improve lithium recoveries from concentrate to greater than 92%.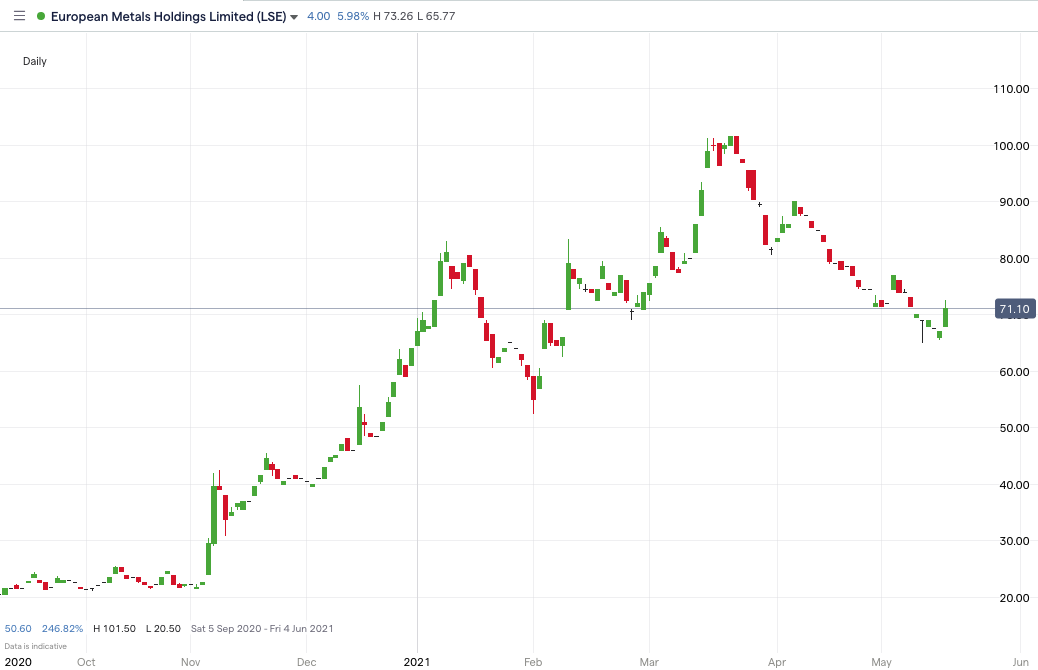 European Metals Executive Chairman Keith Coughlan said: "In a significant vote of confidence for our Pre-Feasibility Study, the proposed process methodology has been confirmed by excellent locked-cycle test results which also include new processes involving recycle streams.
"The robustness of the process was further confirmed by the stabilisation of the process streams, enabling the work to stop after only four of the six test cycles were completed. The recovery of up to 92% of the lithium in the zinnwaldite concentrate at this early stage of DFS testwork is very promising for increased recoveries during the planned process optimisation work.
"Further, an improved fluoride removal step which is cheaper and cleaner represents only the beginning of further optimisation work which we expect will result in greater lithium recoveries and even stronger economics for the Cinovec Project."
EMH shares are up 5.22% following the announcement, trading at 70.6p.
European Metals Holdings shares are traded on the London stock exchange's AIM market (the alternative investment market), which is the submarket specifically for smaller companies. AIM stocks are attractive to investors as they have tax advantages and smaller companies have the potential to benefit from rapid growth. But are EMH shares the best buy? Our stock market analysts regularly review the market and share their picks for high growth companies