Shares of Alien Metals Ltd (LON: UFO) have been trading sideways for almost six months since December 2020 despite making several positive announcements over that time. Can they break out and rally higher?
The short answer is yes; the shares can break out of the current consolidative trading range and head higher since they have previously traded at 3.15p and are now stuck trading below 1.288p.
Alien Metals' fundamentals are pretty solid, given that it recently released positive initial drill results from the Hamersley project, where it began drilling in late January.

The maiden drill results were for the Hancock Iron Ore, part of the more comprehensive Hamersley Iron Ore Project in Western Australia.
The company also started drilling at its Donovan 2 project in March this year. The project is located in Mexico and is managed by Capstone Mining in line with the earn-in agreement signed in 2020.
Alien Metals is in a great position to benefit from rising silver, and precious metals prices as its various mines reach production stages in future.
From a technical perspective, Alien Metals shares are trading in the upper segment of the trading range, favouring a bullish breakout instead of a bearish one.
However, the shares lack the momentum to break above the level as they have been trading under the resistance level since late April. A positive fundamental release could provide the right trigger allowing the company's shares to break out of the trading range.
I would not open any new positions in Alien Metals at current prices. However, I would open a position on a break above and retest the resistance level.*
*This is not investment advice.
Alien Metals share price.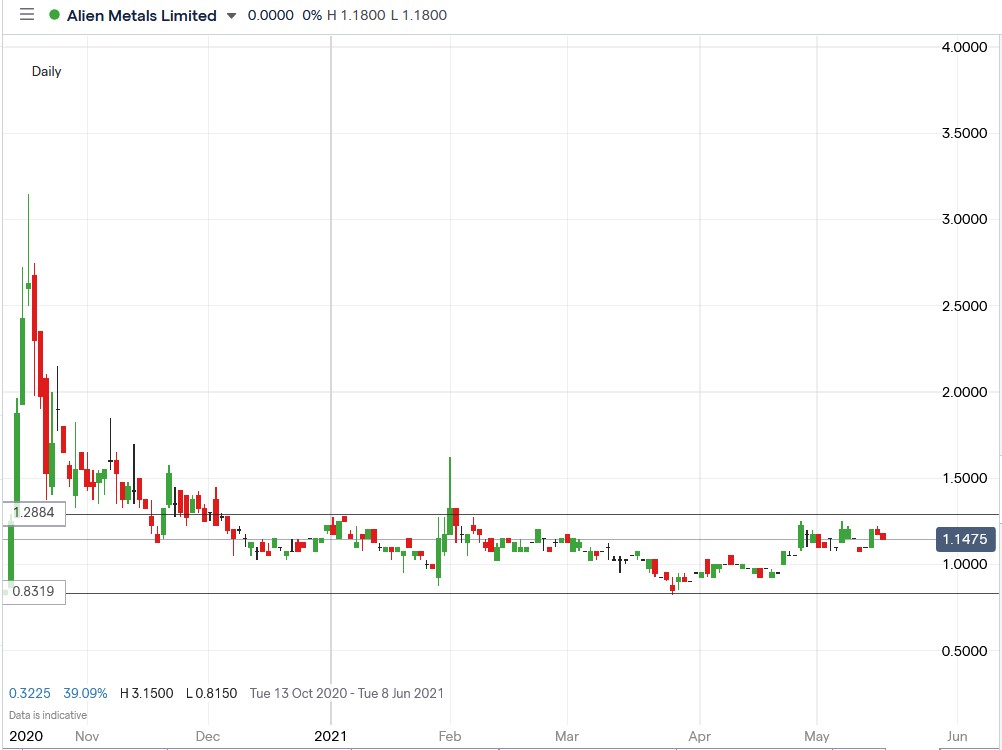 Alien Metals shares have been trading sideways since December. Can the shares break out of the trading range?