Key points:
The EURUSD currency pair was trading lower on record-high inflation.
Headline inflation in the region rose to 10.7%, while core inflation hit 5.0%.
In addition, investors' expectations of the Fed rate hike drove the pair lower.
The EURUSD currency pair was trading lower after the initial estimates of October inflation levels. The initial prints showed that core inflation in the eurozone rose to 5.0% beating analysts' estimates set at 4.8% and the previous value of 4.8%.

The headline inflation figure also rose to 10.7% compared to the consensus expectation of 9.9%, even as the previous figure was revised to 9.9%. The high inflation figures leave the European Central Bank in a bind as inflation in the region shows no signs of stopping, primarily due to the high energy and commodity prices, which affect all economic sectors.
Also read: Forex Market Lessons From 3 Day Traders.
Inflation appears to accelerate as the eurozone enters its most challenging winter season. Moreover, Russia's energy exports to the region are set to stop entirely by December. As a result, the region will have to contend with high energy prices for a while until it can find alternative energy sources.
European countries might have to reconsider their ambitious sustainable energy goals. For example, Germany was leading the fight for more renewable energy sources. However, it has recently suspended its decision to shut down its three remaining nuclear power plants as the country grapples with the massive energy crisis caused by its over-reliance on Russian gas.
Europe's largest economy went a step further to reopen five of its lignite-powered electricity generation plants to plug the massive energy gaps it currently faces. The move reverses decades of policies to boost the production and use of sustainable energy sources.
Lignite, also known as brown coal, is not as pollutive as ordinary coal but is still low-rank coal. Utility operator RWE is going further to dismantle a wind energy project in Keyenberg to make room for expanding its coal power plant.
The record-high inflation leaves the ECB in a challenging position since it has to fight inflation by hiking interest rates despite the risk of a severe recession in the euro area, leaving it with very few real choices.
Many are betting on an aggressive Fed rate hike on Wednesday, which explains the euro's downtrend today as buyers failed to protect its parity with the US dollar.
*This is not investment advice.
The EURUSD price chart.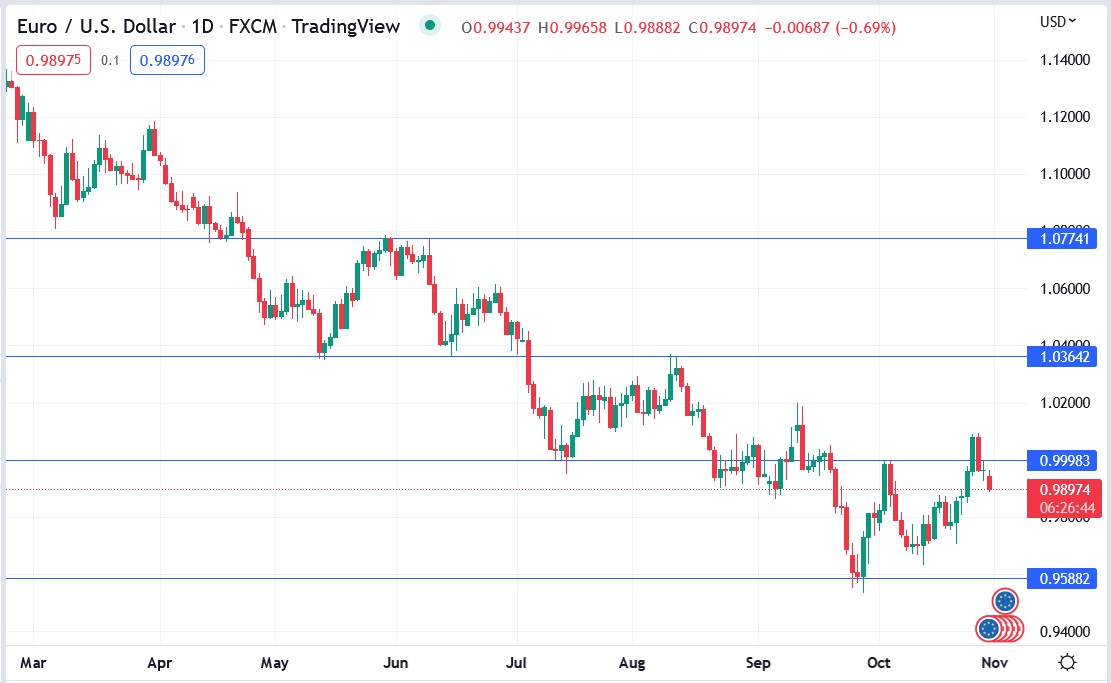 The EURUSD currency pair was trading down 73.7 pips (0.74%) for the day at pixel time.