Key points:
The EURUSD current pair edged higher on the ECB rate hike but fell later.
The pair fell as ECB President Christine Lagarde spoke about the hike.
The strong dollar also drives the currency pair's weakness.
The EURUSD currency pair edged higher after the European Central Bank (ECB) announced a 75 basis points rate hike but could not hold on to its gains for long as the bears stepped in and pushed prices back below parity during the ECB Chairwoman's speech.

The euro lost parity with the US dollar once more as ECB President Christine Lagarde failed to confirm that the next rate hike would be as aggressive as today's, insisting that 0.75% rate hikes are not the norm.
Also read: The Oz Forex System – Take Profits Like A Wizard.
Investors interpreted her comments as relatively dovish compared to those of the Federal Reserve chairman Jerome Powell, who confirmed that the Fed would remain hawkish until it was able to rein in record-high inflation in the United States.
Lagarde warned that food and energy costs would remain high for longer as the weaker euro adds to inflationary pressures due to the high costs of imports occasioned by the weaker currency. While today's rate hike was on the higher end of expectations, many still believe that the ECB is not doing enough to boost the euro.
The ECB President said that the central bank's job is not to prop up the single currency (euro) despite its apparent weakness as it trades below parity against the US dollar. On the other hand, the Federal Reserve Chairman, Jerome Powell, is decidedly hawkish on monetary policy.
As the Fed Chair spoke during a Q&A session with the Cato Institute, the euro had pared back some of its losses at writing as he answered multiple questions regarding the Central Bank's future policy direction.
Most investors expect the Federal Reserve to implement a 75 basis points rate hike at its next monetary policy meeting on September 15, 2022. However, we must wait for the actual rate hike before we can gauge where the Fed goes.
The recent jobs and inflation data from the US indicates that the labour market is softening; while inflation appears to have peaked, we will know for sure as the winter season kicks in fully. Currently, the euro remains weaker than the dollar, which could change if the Fed implements a lower rate hike than the ECB next week.
*This is not investment advice.
EURUSD price chart.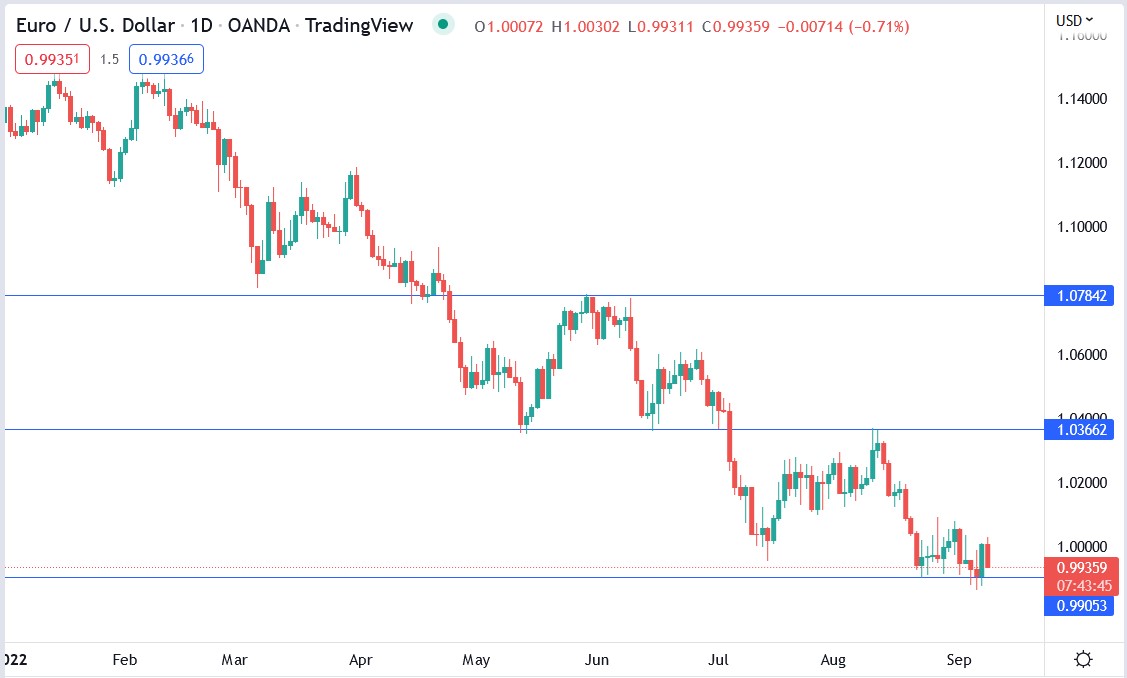 The EURUSD currency pair was trading down 63.8 pips (0.65%) after the ECB interest rate decision.