Key points:
Amylyx Pharma stock soared 79.3% on FDA approval of its ALs drug.
The drug was approved despite being in phase 3 clinical trials.
So, should you buy AMLx stock? Read on to find out.
The Amylyx Pharmaceuticals Inc (NASDAQ: AMLX) stock price soared 79.3% after the FDA's Peripheral and Central Nervous System Drugs Advisory Committee voted to approve its AMX0035 drug, also known as ursodoxicoltaurine, for the treatment of amyotrophic lateral sclerosis, or ALS.

Investors cheered the announcement today after trading in the company's shares was halted yesterday. Likewise, amylyx shares soared higher after its shares resumed trading at 7:10 AM Eastern Time.
Also read: The Best Biotech Penny Stocks Under $5 To Buy Right Now.
Marc Goodman, an analyst at SVB Securities, raised his firm's price target for Amylyx to $50 from the previous $31 following today's announcement. Goodman noted that the FDA voted to approve AMX0035 despite the drug still undergoing phase 3 clinical trials stating that the drug was targeting a disease (ALS) with a high unmet need.
Furthermore, the FDA stated several methods to remove the drug from the market if the phase 3 trial fails. The FDA could still boot the drug off the market, or the company that developed the drug could voluntarily withdraw the drug.
Citi analyst Neena Bitritto-Garg raised the investment bank's price target for Amylyx from $35 to $48, saying that the stock could rise about $20 or more today following the FDA's approval of its ALS drug candidate.
Overall, investors reacted positively to today's announcement, allowing Amylyx Pharma to commercialise its AMX0035 drug, also known as ursodoxicoltaurine, and start targeting the underserved ALS disease.
Investors hope the phase 3 trial will be successful and the drug will continue being sold instead of withdrawn if the trial fails.
So, should you buy Amylyx Pharma shares? The short answer is no. It is never a good idea to chase a stock higher. Instead, I would wait for a decent pullback before buying.
*This is not investment advice.
Amylyx Pharma stock price.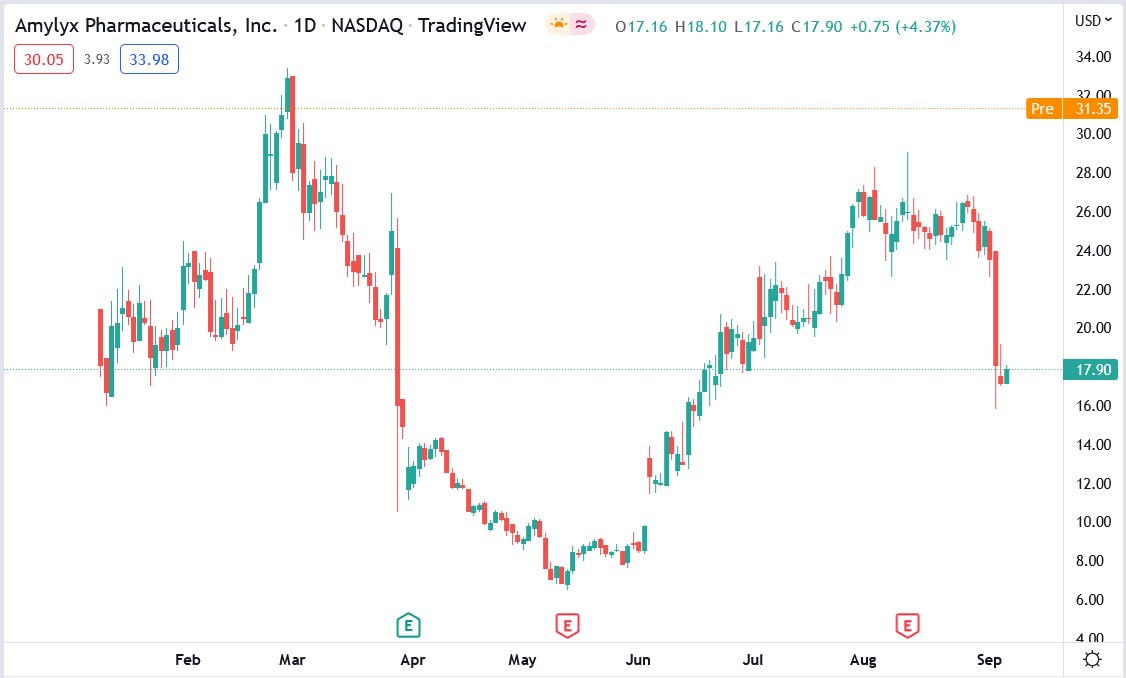 The Amylyx Pharma stock price soared 79.32% to trade at $32.10, rising from Wednesday's closing price of $17.90.