Fidelity National Information Servcs Inc (NYSE: FIS) stock price rallied 7.95% after reporting Q3 earnings earlier today that beat analysts expectations.
The financial services company delivered $1.72 in earnings per share beating analysts consensus estimates of $1.68.
The company's quarterly revenues were up 10% on an annualised basis coming in at $3.51 billion but missing Zacks' consensus estimates of $3.52 billion.

Compared to last year, FIS's organic revenues rose 10%, led by growth in three key segments; sales from its Merchant Solutions division rose 14% to $1.16 billion, while its Banking Solutions unit generated $1.61 billion in revenues, an 8% jump.
Lastly, the firm's Capital Markets division generated sales worth $654 million, a 10% increase. However, FIS's Corporate division and other segments generated a combined $82 million in revenues representing a 21% decline.
While Fidelity National Information Services revenues soared, its general and administrative expenses rose 14.7% to hit $989 million.
The financial services company's adjusted pre-tax profits surged 17% to $1.59 billion compared to a similar period last year, while its margins rose 2.70% to 45.2%.
Investors should not confuse FIS with Fidelity Investments, the asset management company, since they are separate companies.
FIS provides financial service products to clients in various sectors and offers the following products: banking technology services, payments technology services, processing services and information-based services.
Fidelity National Information Services does not offer investment products, unlike Fidelity Investments.
From a technical perspective, FIS stock just bounced off a significant support level indicating that its shares could keep rising in the coming days if the level holds.
FIS stock price has fallen 26.8% in the past six months, and today's earnings results could provide the necessary impetus for a rally higher.
*This is not investment advice. Always do your due diligence before making investment decisions.
FIS stock price.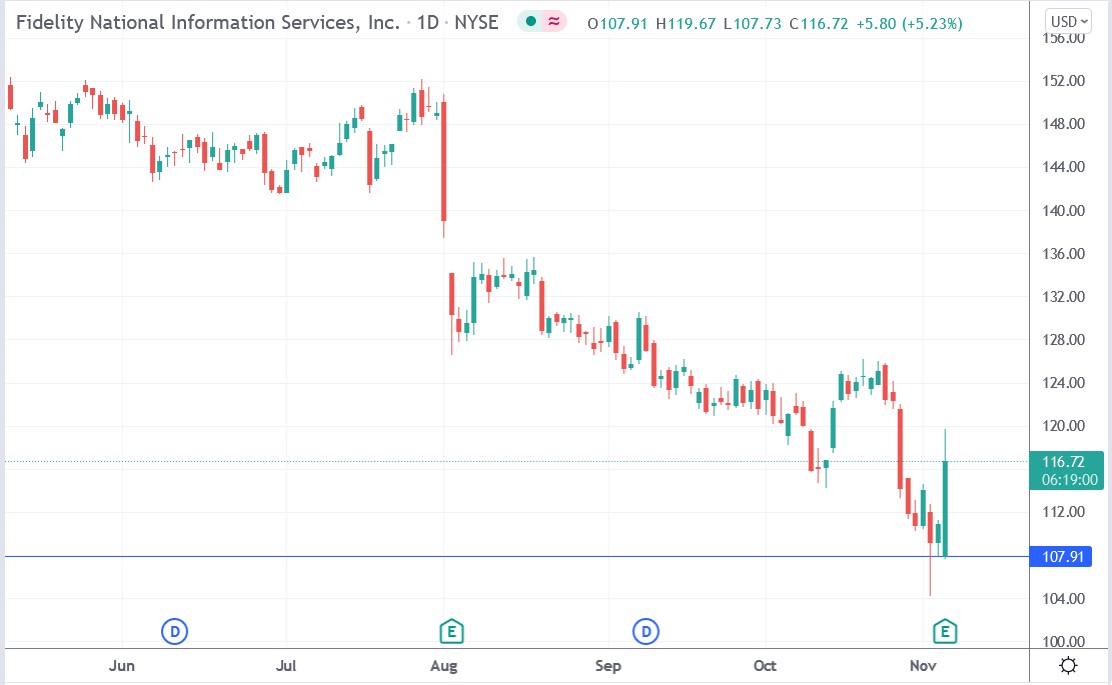 Fidelity National Information Services (FIS) stock price rallied 7.95% to trade at $119.74, rising from Wednesday's closing price of $110.92.
Should you invest in FIS Stock?
Tech stocks offer some of the best growth potential, but time and time again, traders and investors ask us "what are the best tech stocks to buy?" You've probably seen shares of companies such as Amazon and Netflix achieve monumental rises in the past few years, but there are still several tech stocks with room for significant gains. Here is our analysts view on the best tech stocks to buy right now.