Key points:
Gamestop's stock price rallied 16% after the Chairman purchased 100K shares.
The movie rental company's shares appear to be making a comeback.
However, it is unclear if retail investors will sustain the recent rally.
The GameStop Corp. (NYSE: GME) stock price rallied 16% after its Chairman Ryan Cohen bought 100,000 shares during yesterday's massive rally that brought back the meme stock into many investors' radar.

Gamestop shares rallied 30.7% yesterday after a Reddit pundit claimed that the movie rental company was trading at a 58.2% discount in a market where retail and institutional investors struggle to find stocks that can rally higher.
The rally in GME stock also lifted other meme stocks such as AMC Entertainment, Hycroft Mining, Bed Bath and Beyond. As a result, many investors wonder whether the meme stock rally of 2020 is coming back following yesterday's moves.
As mentioned in a previous article, Gamestop has been sitting on a large sum of money raised since the meme stock rally saved the company from bankruptcy two years ago.
Inventors have been waiting for the company to announce its next strategic move. Many hope that it will announce a massive strategic shift in its business away from movie rentals, but this is yet to happen.
The company has shown significant interest in pivoting to the blockchain. Still, it is yet to announce a solid plan for how it intends to enter the blockchain industry and generate profits in the very competitive market.
Gamestop shares were holding on to some of their gains at writing after the markets opened, but it was not clear if we would get a further rally driven by retail traders despite the bold move by the company's CEO to acquire 100,000 shares.
The Reddit user who triggered yesterday's rally in Gamestop shares pointed out that the stock has formed a double bottom pattern on the daily chart, a bullish reversal pattern; hence, we could see more upside.
However, it is never good to buy a stock after a massive rally. Hence, those who missed out on the latest rally should wait for a significant pullback before making their move. Still, as an investor, I would like to get a clear way forward from Gamestop's management.
*This is not investment advice. Always do your due diligence before making investment decisions.
Gamestop share price.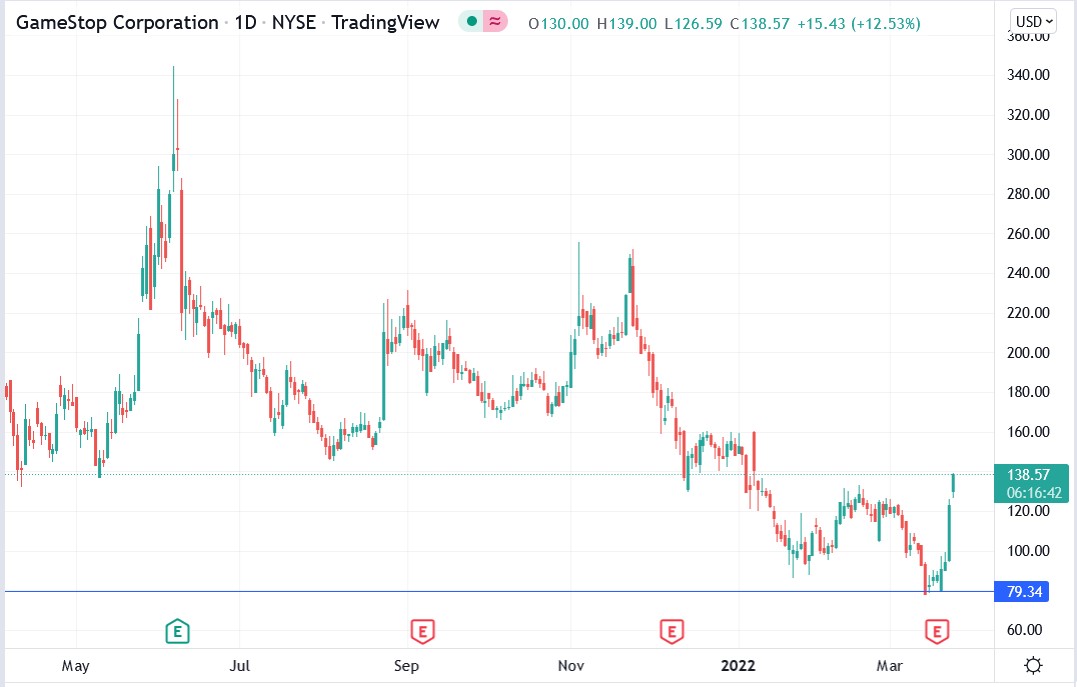 Gamestop shares rallied 15.99% to trade at $142.84, rising from Tuesday's closing price of $123.14.