Key points:
The pound rose, then fell after Rishi Sunak won the leadership contest.
The new Prime Minister must unite his party and restore public trust.
Investors are waiting for the new PM to unveil his economic policies.
The GBPUSD currency pair got a significant boost after former UK Prime Minister Boris Johnson pulled out of the race to replace Liz Truss as the next Prime Minister. Johnson said he did not believe he could unite the different warring factions in the Conservative Party.

Boris Johnson's withdrawal leaves the door wide open for Rishi Sunak to be crowned the next British Prime Minister if his primary opponent Penny Mordaunt does not get the backing of at least 100 MPs to force a vote. Penny pulled out of the leadership contest when writing this article, effectively making Rishi Sunak the country's Prime Minister.
Also read: Forex Trading For Beginners.
However, the path ahead for the first person of colour to become Prime Minister of the UK is riddled with multiple challenges, given the fiscal blunders made by his predecessor that plunged the country into an economic crisis.
The markets are waiting to see the policies that Sunak will unveil as he builds his new government, although many regard him as a safe pair of hands. When he was the Finance Minister, Rishi was credited with guiding the country steadily through the challenging COVID-19outbreak and the ensuing lockdowns.
Earlier today, we saw the release of the CIPS UK Flash Manufacturing PMI for October, which was recorded at 45.8, missing analysts' consensus estimates of 47.9 and the previous figure of 48.4. Likewise, the Flash Services PMI also missed analysts' expectations of 48.0 by coming in at 47.5, against the previous print of 50.0.
Investors ignored the macro data as most of their attention was focused on the Conservative Party leadership contest pitting Penny Mordaunt and Rishi Sunak. The new Prime Minister now has the task of uniting the highly-fractured Conservative Party, which has lost significant public trust and support.
Opinion polls indicate that the Labour Party would crush the Conservative Party if a general election were held today. So the Tory party has to rebuild public trust in its ability to guide the nation out of the current mess and into prosperity.
*This is not investment advice.
The GBPUSD price chart.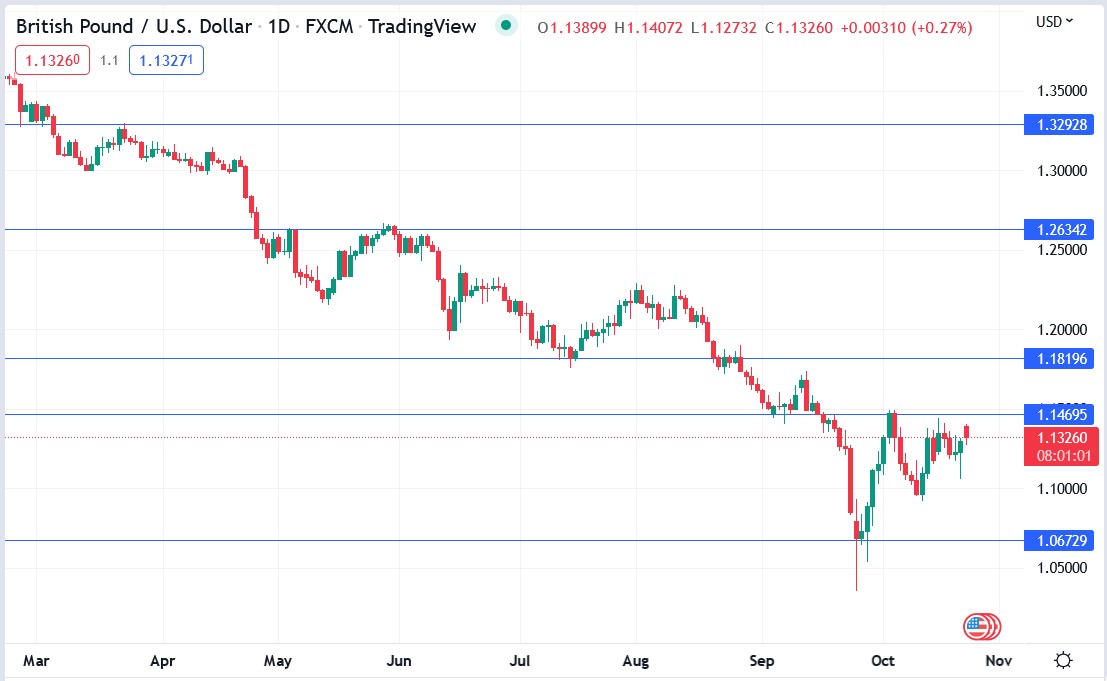 The GBPUSD currency pair was trading up 28.3 pips (0.25%) at writing as the pound rallied against the dollar.