Shares of Hemogenyx Pharmaceuticals PLC (LON: HEMO) are down 82.2% in 2021 and are headed lower, having broken below another support level. Can they reverse course and rally higher?
The company's shareholders may draw some relief from the recent termination of the convertible loans facility with Mint Capital that led to the redemption and sale of all the outstanding £8,100,000 aggregate principal amount of convertible unsecured loan notes issued to Mint on 3 February 2021.
The company will no longer be burdened by the loan facility, which should free its capital to focus on developing its drug candidates and proceed with its clinical trials. The sale

Hemogenyx redeemed £1,600,000 of the principal amount in cash, while Mint Capital was supposed to sell the remaining £6,500,000 to placees procured by Peterhouse Capital Limited. The entire process was expected to conclude on May 20, 2021. The biotech company's shares recently fell after Mint Capital converted loan notes worth £900,000 in late April, dragging the shares lower.
Hemogenyx shareholders will be relieved to know that the recent redemption is the last dilution related to the Mint Capital convertible loans arrangement, giving the company's shares room to rally higher.
The company's shares have broken below the 1.83p support level, and I will be interested in establishing bullish positions once the price is firmly above this level. In the meantime, the shares seem to be headed much lower, hence, my cautious stance.
Hemogenyx faces an uphill in rebuilding investor confidence since none of its drug candidates has entered clinical trials. Investors are worried that the firm may not bring a drug to market, given that not all clinical trials are successful.
The firm was dealt a heavy blow when GlobalCo announced that it would not be licensing Hemogenyx's intellectual property for the CDX leukaemia drug candidate a few weeks after negotiations started in April.
Since then, investors have been selling their shares, driving the overall price lower as questions linger on whether any of its drug candidates will reach clinical trials.
Hemogenyx share price.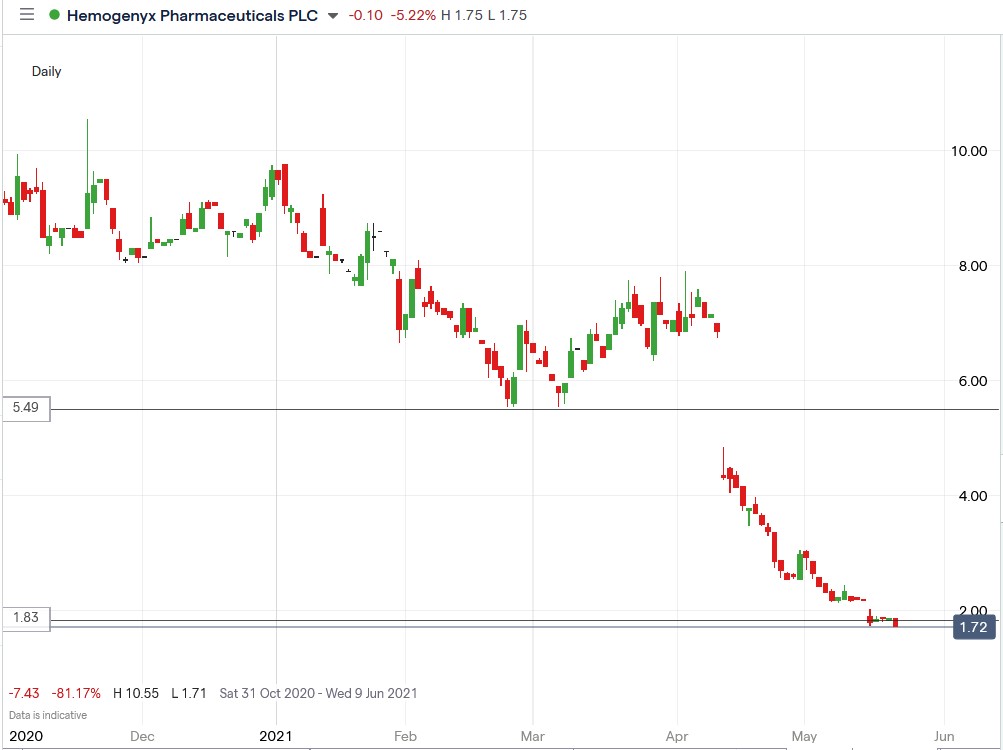 Hemogenyx shares are down 82.22% in 2021 and appear to be headed lower. Can they reverse course and rally higher?
Should You Invest in Hemogenyx Shares?
One of the most frequently asked questions we receive is, "what stocks are best to buy right now?" It's a wide-ranging question, but one that we have answered… Our AskTraders stock analysts regularly review the market and compile a list of which companies you should be adding to your portfolio, including short and longer-term positions. Here are the best stocks to buy right now