Shares of Alien Metals Ltd (LON: UFO) fell despite announcing that it had begun the second drilling phase at its Hancock prospect in Western Australia.
The Hancock mine is part of the larger Hamersley Iron Ore High Grade Project that has significant iron ore resources, which could generate excellent profits for Alien Metals in future.
Alien Metals recently completed the maiden drilling project at Hancock and received the final set of the maiden drilling results. The company is reviewing and interpreting the results before releasing them to the public soonest possible.

The mining and exploration company is moving quite fast compared to its peers, which bodes well for its shareholders and prospects.
Alien Metals last week announced that it had signed a conditional share sale agreement to acquire an 80% interest in Windfield, which owns a 49% direct interest in the Hamersley project.
The deal, once completed, will raise Alien Metals stake in the Hamersley project to over 90%, placing it in an enviable position once it reaches the production stages.
Alien Metals paid £60,000 ($84,793) in cash and will issue 200 million shares and 50 million shares purchase warrants exercisable at 0.0165 pounds each.
The deal effectively gives Alien Metals control of the Hamersley project and access to all the mineral resources located and mined at the site.
Alien Metals shares are still stuck within the trading range identified in my previous article as investors barely reacted to the company's positive announcements recently.
Long-term traders may find the company's current share price very attractive based on recent events.
As a swing trader, I would wait for the shares to break above the 1.288p resistance level before opening new positions.
Regardless, Alien Metals prospects could be brighter given the rising global silver, and precious metals prices as its mines progress quickly towards the production stage.
*This is not investment advice.
Alien Metals share price.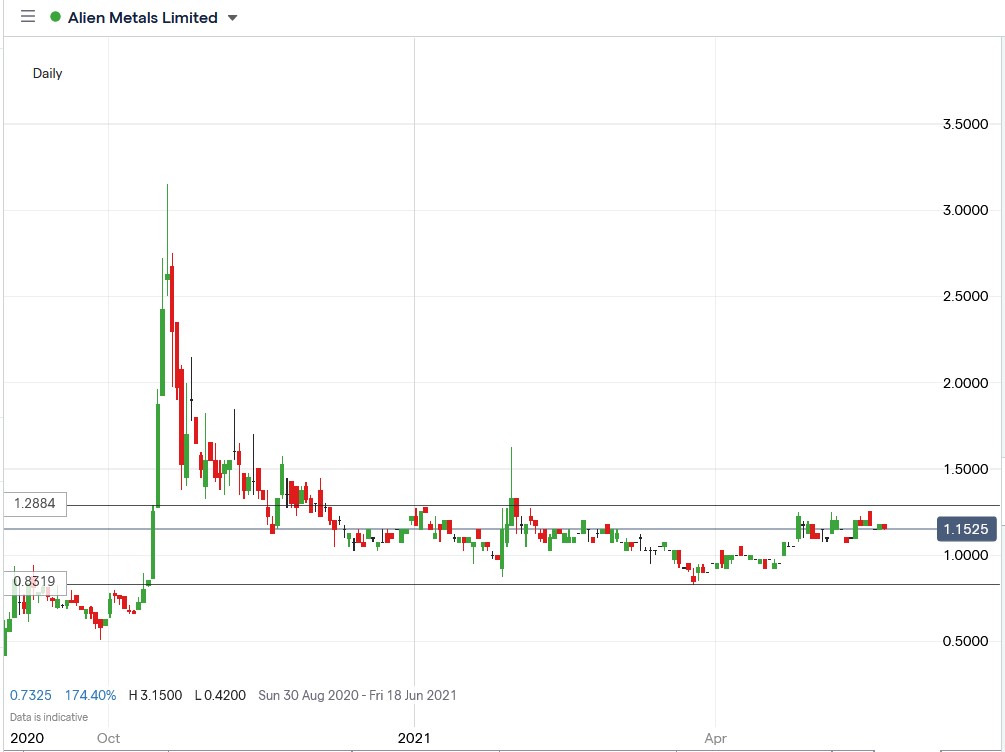 Alien Metals shares fell 2.34% to trade at 1.1475p, dropping from Monday's closing price of 1.1750p.