Key points:
Deepverge shares fell 6.4% despite a positive SkinTrust update.
The move lower was driven by a long-term resistance zone.
However, the firm's prospects are quite promising as its clientele grows.
The Deepverge PLC (LON: DVRG) share price fell 6.41% despite the company releasing an update that 82% of Skin Trust Club members purchase skincare products via the app.

The company noted that the platform continues to grow. For example, since mid-January, many leading skincare manufacturers have applied to have their products listed on the Skin Trust App marketplace.
Furthermore, the firm noted that it had received applications from 23 of its Labskin clients to have their products tested, and it expects to start listing the products on the app pretty soon.
However, contrary to investor expectations of a rally in Deepverge shares boosted by the positive update, the company's shares fell, leaving many wondering why.
Those questioning why Deepverge shares fell today instead of rising can find the reason behind the decline on the daily chart below. DVRG shares are trading at a long-term resistance zone that has been in place since November 2020.
The shares are having trouble breaking back above the level, but we cannot rule out a break higher since the shares are alternating between gains and losses, as seen in Friday's rally and today's decline.
Gerard Brandon, DeepVerge's CEO, commented: "Since mid-January, Skin Trust Club members have begun to utilise skin care products recommended for their personalised daily skincare routines by our home testing kits, purchased through the Skin Trust Club marketplace service. This new in-app and web-based sales channel promotes skincare manufacturers, Labskin partners and consumer test clients, generating wholesale revenue for Labskin on products sold through this marketplace platform. With the rapid growth across this entirely new skin and healthcare sales platform, social media influencers facilitating momentum and leading skincare manufacturers joining the marketplace service, Skin Trust Club is now firmly established and looks set for a strong year ahead."
Savannah Sachs, TULA Skincare CEO, added: "As a doctor founded prestige skincare brand with an innovative approach to skincare, we look forward to working with Skin Trust Club. By harnessing the power of probiotic extracts and superfood ingredients, we are excited to offer clean, clinical, and effective product recommendations that will best meet the individual skincare needs of Skin Trust Club's customers so that they can feel their most confident."
The company has over 30,000 test samples making it the largest database of skin microbiome in the world.
The firm noted that since opening the service in January, about 82% of the club members (approximately 1,500) who received the Home Test Kit results went on to buy skincare products via the Skin Trust Club App.
Deepverge generated thousands of new orders in the last two weeks after enlisting social media influencers in the beauty and skin care vertical. As a result, members of the club can now buy two follow-on Home Test Kit Plans at £170.
The firm can process 20,000 home test kits per month in each US, Ireland, and UK lab. Furthermore, the company is installing new laboratory testing capacity in the United States.
*This is not investment advice. Always do your due diligence before making investment decisions.
Deepverge share price.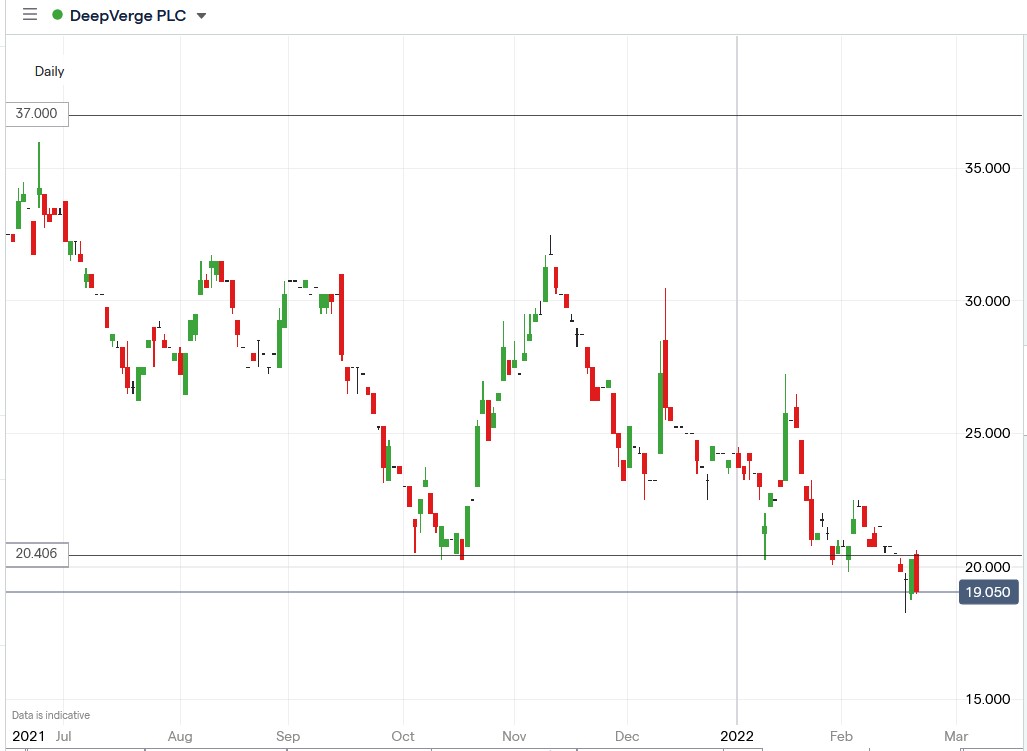 Deepverge shares plunged 6.42% to trade at 18.95p, falling from Friday's closing price of 20.25p.