Key points:
Novacyt shares fell despite the UK approving its second COVID-19 test.
Investors were largely unimpressed by the achievement due to various reasons.
The COVID-19 testing market has shrunk since the relaxation of testing rules.
The Novacyt SA (LON: NYCT) share price fell despite the diagnostics company's PROmate® COVID-19 1G (q32) Real-Time PCR test being approved in the UK under the Health Security Agency's Medical Devices (Coronavirus Test Device Approvals) (Amendment) Regulations 2021 ("CTDA").

Surprisingly, investors barely reacted to the news as Novacyt shares traded lower following the announcements. The most likely reason behind the lack of interest in the COVID-19 test is that the COVID-19 testing market has shrunk.
The relaxation of COVID-19 testing requirements in the UK and other countries means that the demand for COVID-19 tests is not as high as a few months ago. It is no longer mandatory for all travellers to get COVID-19 tests.
The diagnostics company might have to focus on its other diagnostics tests, such as its Microgen bioproducts, Lab21 healthcare products, and primer design PCR tests.
Investors may react positively to news relating to Novacyt's other tests, including Microgen bioproducts for clinical and food laboratories. The company's Lab21 healthcare products are targeted at the haematology and serology sectors that supply an extensive range of reagents and tests for IVD and application and blood grouping.
Novacyt has kept growing its product portfolio via acquisitions such as the acquisition of Lab21 in 2014, followed by the acquisition of Premier design in 2016, and the acquisition of Omega Diagnostics' infectious disease assets in 2018.
Given that the COVID-19 testing market is expected to keep shrinking over time, investors will be paying more attention to Novacyt's other testing products.
David Allmond, Novacyt's Group CEO, commented: "Our PROmate® COVID-19 range remains at the forefront of COVID-19 testing for busy laboratories and clinicians requiring workflow efficiency, combined with exceptional clinical performance. Providing total viral inactivation without the need for a category 2 laboratory to handle the live virus, our PROmate® tests reduce handling risk and help bring testing nearer to patients. We look forward to continuing to meet the demand for high-quality COVID-19 testing in the UK, as well as leveraging our direct-to-PCR technology for new disease targets in future."
*This is not investment advice. Always do your due diligence before making investment decisions.
Novacyt share price.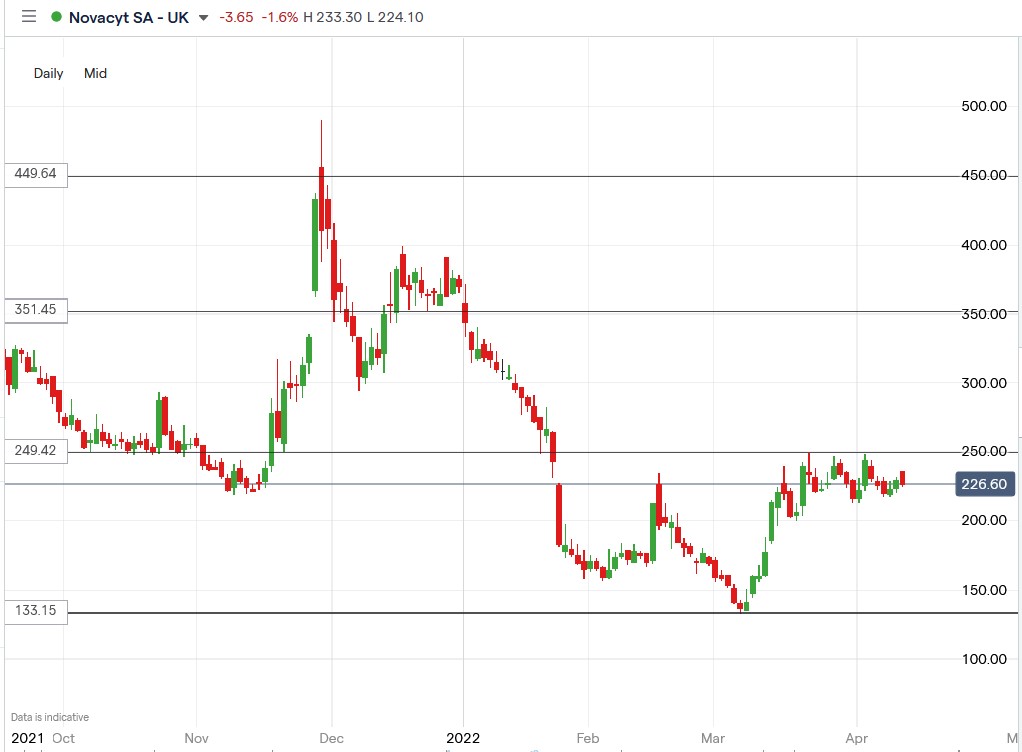 Novacyt shares have fallen 38.59% in 2022 and recently bounced off a major support level. However, the shares have since stalled below a key resistance level.