Key points:
Hut 8 Mining stock rallied 4.19% on its September mining update.
The company was holding 8,388 BTC at the end of September.
The Bitcoin mining firm continues to enhance its mining capacity.
The Hut 8 Mining Corp (NASDAQ: HUT) stock price rallied 4.19% after revealing that it added 277 bitcoins to its holdings during the three months to September 30, 2022, bringing its total Bitcoin holdings to 8,388 BTC.

The Bitcoin mining company revealed that it had consolidated its most efficient miners at the Medicine Hat site, which had improved its overall hashrate efficiency by 11%. As a result, the company had an installed hashrate of 3.07EH/s at the end of September.
Also read: How To Trade Bitcoin: A Beginner's Guide.
The company did not include some of the legacy miners it has in the above calculation since it intends to entirely replace them by the end of the year. Nevertheless, Hut 8 Mining produced 90.2 BTC and its equivalent in September and boasted of having the largest number of Bitcoin holdings of the public Bitcoin mining companies.
Hut 8 Mining is one of the publicly listed companies that mine Bitcoin and was caught wrong-footed by the massive crash in Bitcoin prices earlier this year. As a result, these firms, including Argo Blockchain, are holding out for maximum Bitcoin price gains.
However, the world's leading cryptocurrency fell from a high of $69,000 per coin in November 2021 to a low of $17,600 in June and has been trading sideways since then. The companies had an opportunity to sell their Bitcoin at the highs but did not since they were pursuing a hodling strategy.
When  Bitcoin was trading at $69,000, many people expected the crypto to keep rising and hit $100,000 soon. However, the downtrend surprised many BTC hodlers as their paper gains were significantly eroded.
Jaime Leverton, Hut 8 Mining's CEO, said: "We continue to add to our Bitcoin on the balance sheet, which is the largest unencumbered, self-mined stack of any publicly-traded mining company. As we head into the fourth quarter with strong momentum, we are focused on optimizing our Bitcoin mining operations while growing our high-performance computing business, which includes potentially leveraging our GPU machines to provide AI, Machine Learning, or VFX rendering services to customers and mining the next most profitable Proof of Work digital asset during idle time."
*This is not investment advice.
Hut 8 Mining stock price.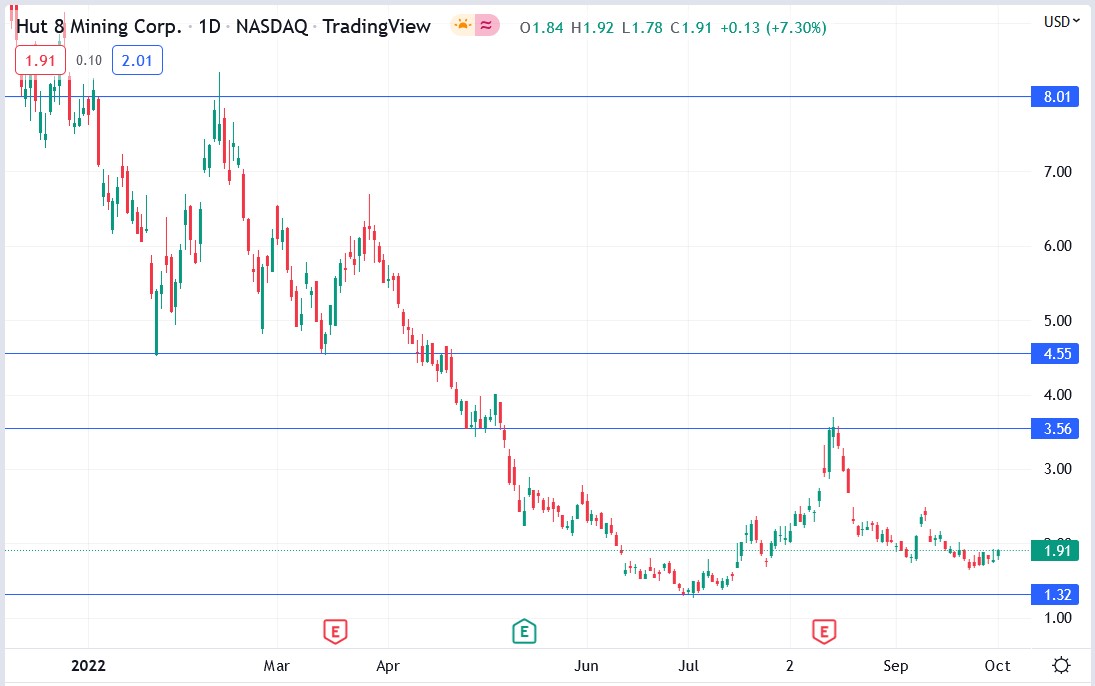 The Hut 8 Mining stock price rose 4.19% to trade at $1.99, rising from Monday's closing price of $1.91.