Shares of British semiconductor manufacturer IQE plc (LON: IQE) are down 33.1% in 2021 despite the rising demand for 5G chips driven by a massive shortage of chips globally. Here's what could be fueling the decline.
IQE shares have fallen in 2021, reversing the bullish trend witnessed in 2020 amid concerns about its profitability compared to its peers, who have done much better. The company has gross margins of 17% compared to the industry average of 25%, which continues to drag down its profitability.
Investors are concerned that the rising demand for semiconductor chips may not be enough to make the company profitable, but only time will tell. The company has raised the prices of its wafers, which should have a positive impact on its margins.

IQE could also be suffering from internal issues that have not been made public yet but may be familiar to company insiders, suppliers and other stakeholders.
Otherwise, the bears remain firmly in control of IQE's share price after wresting control from the bulls who had tried to make a stand at the 55.3p support level we had identified in a previous article after the shares formed a double bottom.
The following support level is at 44p, which could hold if the bullish trades make a stand. I'll be watching this level keenly to see if it will hold once the price hits it.
In the meantime, bullish traders would be best served holding on to their money until a better risk: reward setup is available.
For those who took the bullish trade highlighted in the previous article, I hope you had stop-loss orders at the support level to minimise your losses. Always use a stop-loss order on all your trades to minimise your losses.
As traders and investors, we do not expect to be always right given the random nature of the markets, which is why we use stop-loss orders.
IQE share price.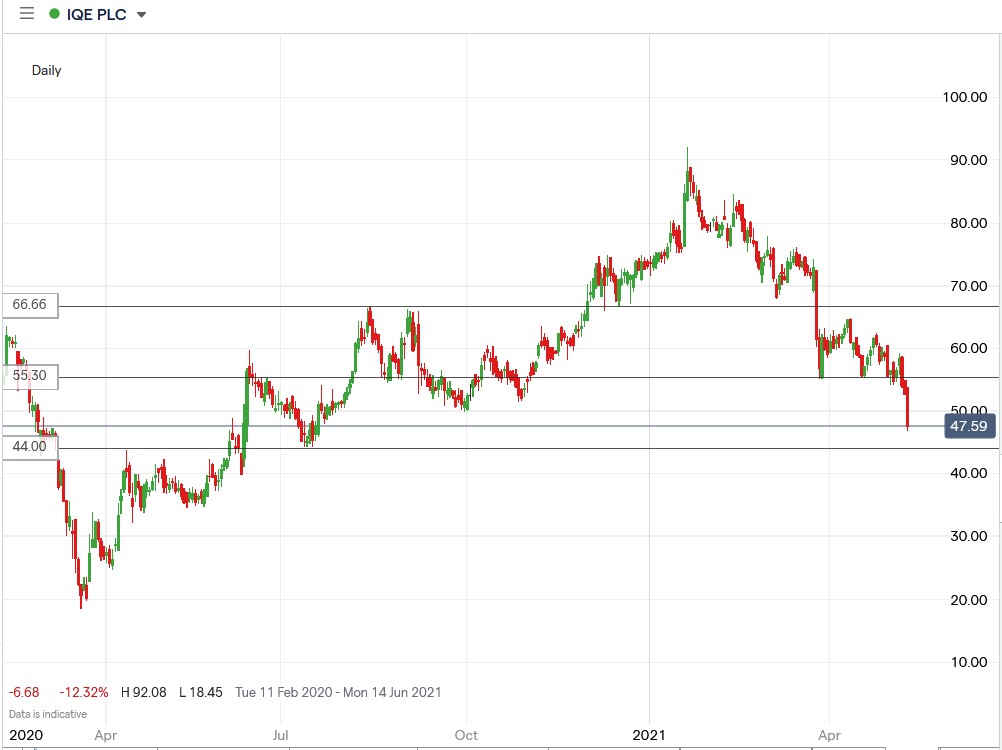 IQE shares are down 33.11 in 2021 and are headed lower. Will the next support level hold?