Key points:
Ironveld has come back to market with a capital raising placing
This is to finance the purchase of the second hand smelter
What matters is how that capital – that smelter – is deployed in the future
Ironveld (LON: IRON) shares are down some 10% this morning on the back of a capital raise. IRON is raising up to £5 million with a placing of 1.3 billion-ish new shares at 0.3 p a share. Given that this is about the corporate valuation, £5 million or so, that's a substantial dilution of existing shareholders. Given the close of 0.39p last night that is indeed dilution. So, clearly, the Ironveld share price is going to fall closer to that placing price. That's just the way that issuing more shares works.

On the other hand it matters what use the funds are going to be put to. This is to finance the purchase of the second-hand smelter Ironveld has mentioned before. If that is value additive then we might well see IRON shares rise again after the effects of this placing have passed. That is, after all, the point of the exercise in capitalism itself – put money in and gain more back by deploying that capital profitably.
The future value of Ironveld therefore depends upon the value of this smelter and what it can add to the IRON operations over time. Being able to pick up an asset on the cheap is always nice, but it does depend upon "cheap" still leaving room for the deal as a whole to be value additive.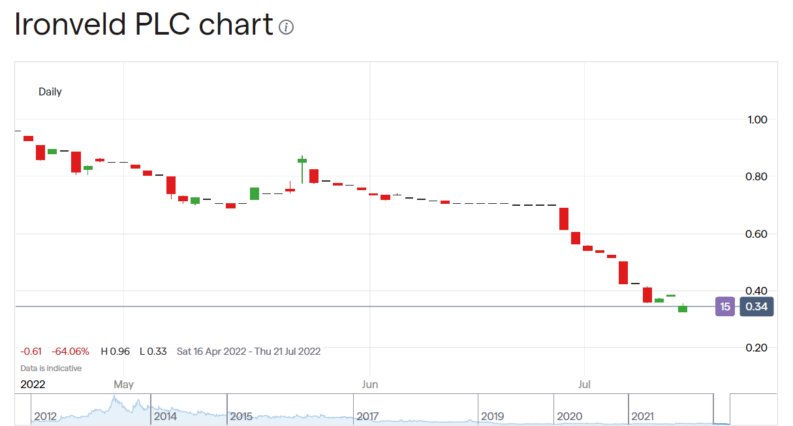 Also read: Kumba Iron Ore Ltd.
The thing about Ironveld is that it does seem to be eating capital. There was another placing back in October last year for example. That was part of a link up with Grosevenor and today's placing is also connected with that. There appears to be some possibility that Grosvenor won't be able to finance the next stage of the plan so Ironveld is raising the funds to do that itself.
As to what the plan is Ironveld has access to a magnetite deposit in Soth Africa. There are varied possible methods of exploiting this. One of which is that with access to a smelter high purity iron can be produced, along with vanadium and titanium containing slags. As it happens a company called Ferrochrome Furnaces went bust while owning a smelting complex some 400 km from the Ironveld deposits. Add the two together and there's something of a plan there.
It's not a perfect matching of assets as producing ferrochrome is not exactly the same as treating magnetite but the same base equipment is indeed used. Restoration and adaptation will be required and Ironveld has budgeted for that.
One interesting little note is that the smleter is powered by renewables. The green part of that isn't – despite fashion – important, the not being reliant upon the South African power grid is.
As to the future of Ironveld's share price, yes, they do seem to be swallowing capital. But then companies in their development stage do that – this is why the system is called capitalism. As to whether that capital will produce returns that depends upon what it is spent upon. The Ironveld share placing today is obviously going to lower the IRON price. It's once the fuss has died down and the smelter purchase gone through that we'll be able to see the real value of that capital deployment.