Key points:
Joules Group has confirmed weekend press speculation about a possible investment
Next might make a £15 million purchase of shares at no less than the current price
Nothing is certain but this is being discussed
Joules Group (LON: JOUL) shares are down 77% so far this year – is this when Next is going to buy in? That's the rumour which turned up in the Sunday press, that there were talks going on which would lead to Next taking a stake in Joules. This morning we've a confirmation from Joules that exactly such talks are indeed going on.
Joules confirms that it is in discussions with Next Plc ("Next") about adopting its Total Platform services to support the Group's long term growth plans. Additionally, in conjunction, Joules confirms it is in discussions with Next about a potential equity investment raising proceeds for Joules of c.£15 million at no less than Joules' current market price, which would result in Next becoming a strategic minority shareholder in the Group.
As Joules Group is at pains to point out there's no certainty that this – or any other deal – will actually happen but this is what is being discussed. If it does go ahead what we, as traders, want to know is what will this mean? For the capital would be useful, to put it mildly, but does Next coming in as a major shareholder improve matters or limit them?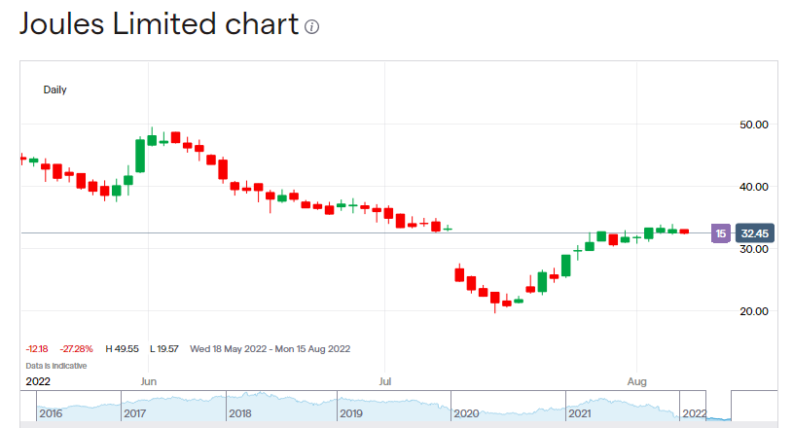 Also read: The Best Clothing Stocks To Buy.
Joules Group hasn't been having a good time of it recently. It got hit hard by the omicron variant and then there were supply problems, that snarled logistics chain that has affected so many. In May it got worse as the Joules shares fell 35% on their trading update – which, as we can imagine from that reaction, was not a good set of numbers.
They've managed to increae volume at times, but margins have fallen as they've done so. This is a sign of their discounting in order to get stock away – not a good sign either. They've identified one of their major problems, too. Which is that their turnaround time is simply too long. From design to goods being available just takes too long – they're not working within the fashion cycle that is. This is an expensive problem to fix because the faster turnaround suppliers are here in Europe (often Iberia) where wages and therefore costs are much hihger than out east. It may be that the trade off for faster supply is worth the higher costs, it may not be. But the issue certainly isn't going to aid and improve margins.
The news has bounced the Joules share price by 20%, as such an announcement was likely to do. But it's worth noting that the market capitalisation is only £36 million even after that bounce. So, if Next were to put £15 million in then that would gain them around and about 50% of the equity. Effectively, Joules would be a part of Next that is. That might be a good deal for Next but whether it is for Joules shareholders is another matter.