Fees
Trader Rating
The company allows its clients to choose between the various accounts it has on offer. With the minimum round-trip cost (the price of opening and closing a trade) for the EURUSD set at 0.8pips.
If you have a Prime account, the minimum round-trip cost can be as low as 0.1 pips.
Against the usual practice of other brokers, BlackBullMarket does not charge inactivity fees.
Their general charges and rates are competitive when compared to the market rate, but do not stand out as an advantage of choosing the company over others.
Account Types
Trader Rating
The company offers three types, and all of them are ECN Accounts, which operate an ECN-execution model.
ECN Standard: To operate the standard, you need to make a minimum deposit of $200. It offers a minimum spread of 0.8 pips. BlackBullMarket does not charge a commission on this account. The Equinix server used is NY4.
ECN Prime: To operate the ECN prime, you need to make a minimum deposit of $2,000, and it offers you a minimum spread of 0.1 pips. At every lot per round, you'll be charged a commission of £4.50. The commission, therefore, raises the spread from 0.1 to about 0.7. The NY4 Equinix is the server used on this type.
ECN Institutional: To trade the ECN Institutional, you need to make a minimum deposit of $20,000. It offers a minimum of 0 pips and a minimum spread of 0 pips. This type also allows the individual client to negotiate commissions. You can trade with several custom Equinix server options.
In addition to the types listed above, BBM also offers a couple of other options.
There is a swap-free Islamic account for Muslims. It is available to them as an alternative option to both the Standard and Prime.
Finally, for traders who have achieved consistent success over the years, there is an option to open and operate an Active Trader Account which comes with benefits such as custom, negotiable solutions and packages.
Platforms
Trader Rating
BBM does not have its own trading platform but allows users to trade effectively via the MetaTrader 4 and MetaTrader 5 platforms.
The MetaTrader4 platform is available for free via Android or IOS.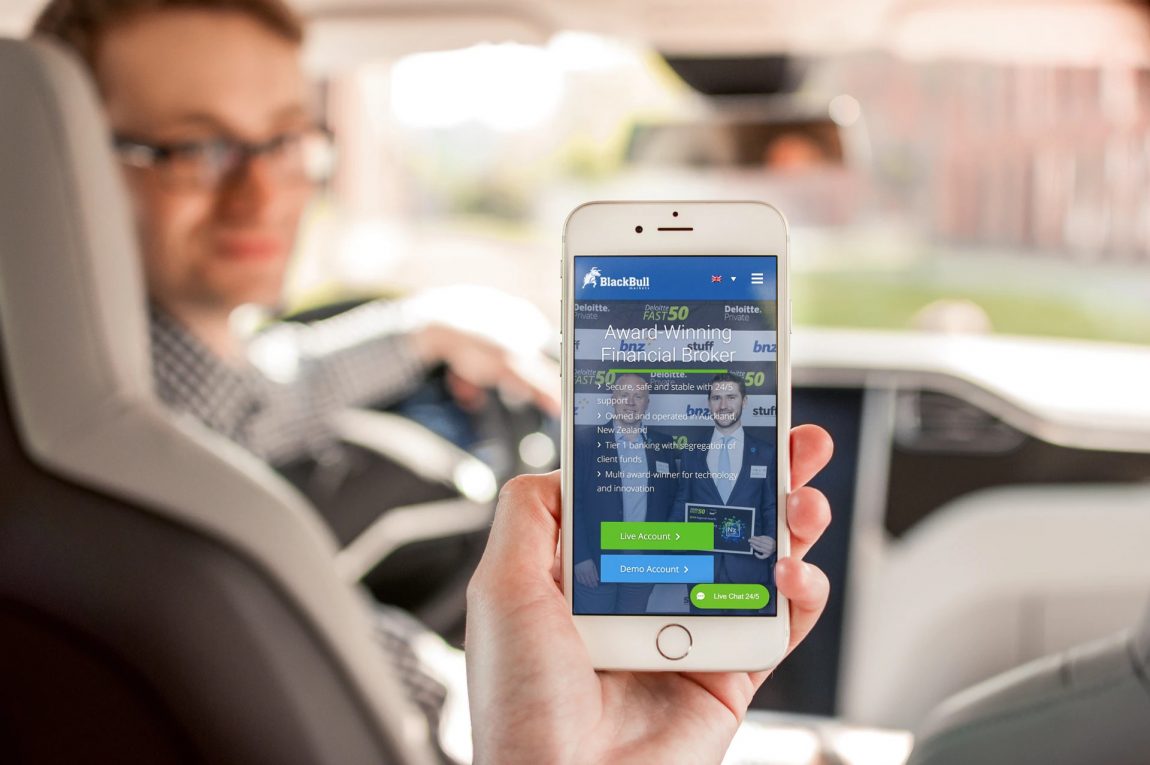 MetaTrader4 Desktop Application: The MT4 platform is also available on your desktop or laptop. You can download it via the BBM website.
It may be worth noting that the MT4 platform is more widely used for trading the forex markets, while the MT5 platform is more suitable for trading stocks.
Usability
Trader Rating
The MT4 and MT5 platforms provide automated trading using Expert Advisors and also allows access to the MetaTrader market, where there are tools and strategies available.
They provide various types of charts that are easy to understand. For example, line charts, bar charts, and candlesticks are all available.
Traders who are used to, and like these platforms should have no trouble adjusting. However, if you do not favour the platforms, there isn't much flexibility in terms of other platforms available with the broker.
Customer Support
Trader Rating
BlackBull Markets have proven time and time again that they are customer-oriented by providing top-notch customer support to their clients.
I believe their reputation amongst clients is down to the fact that they are regulated and provide global Forex/CFD brokering services. Their hunger to make a statement and prove their credibility can also be seen as the reason for their excellent customer service.
They provide support by email or chat. There is also an FAQ section covering common questions that clients can refer to instead of spending time trying to directly contact the company.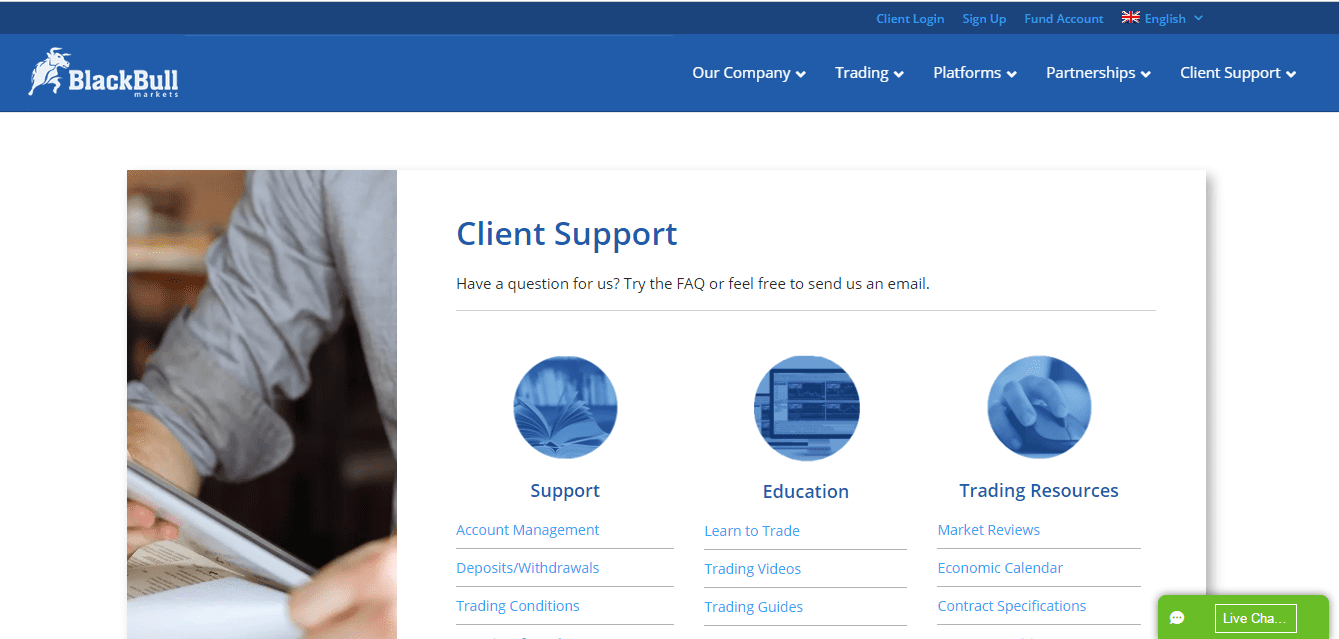 Payment Methods
Trader Rating
BlackBull Markets does not accept cash payments or payments from third parties, and the depositor must always be the person who signed-up.
Various payment options are available to their users. BBM does not charge deposit fees.
Card Types
Two types of credit cards are allowed, and a picture of both sides of the credit card showing the last four digits are usually required. Only Mastercard and Visa are accepted for both deposits and withdrawal.
Bank wire Transfer
Bank wire transfers are accepted for both deposit and withdrawal. It takes five business days to process, and the minimum amount of deposit is £1000.
E-wallet
Neteller, Skrill, China Union Pay, and FasaPay are the types of e-wallet solutions accepted, transactions are usually processed instantly but sometimes can take up to an hour.
Depositing with Neteller offers multi-currency options. The currencies available to you through Neteller are: USD, AUD, EUR, GBP, CAD, JPY and SGD
Please be aware that during the withdrawal process, if you are using Credit Card, Skrill, FasaPay, Neteller, or union pay, you can only withdraw via the same method that you used to deposit the money initially. This is due to The company's strict AML Policies.
You also need to be aware that the company charges a withdrawal fee for bank transfers. The cost is $20 on average, and there is a minimum withdrawal limit of $10.
Best Offers
Trader Rating
BBM offers a demo at absolutely no cost for new traders that want to test the water and play around before entering into live trades. Some experienced traders may also opt for a demo to test new trading strategies.
BBM makes educational materials available to their traders and also provides excellent customer support services in multiple languages. They give their traders lots of insight into the CFD and forex markets to try and help them succeed.
There are no bonus or sign-up offers available as far as we can see at the moment. The company has previously advertised offers, and it may be useful to watch out for them in the future. However, we must stress that bonuses and promotions should not impact your decision on whether to trade or not.
Regulations, Deposits, and Protections
Trader Rating
The company enjoys a moderate level of regulation. The company is registered as a financial service provider under the New Zealand Financial Services Provider Registry (FSPR) with the registration number FSP403326.
They are also registered with the Financial Services Complaints Limited (FSCL) dispute resolution scheme. On issues relating to anti-money laundering and counter financing of terrorism, BBM reports to the New Zealand Financial Markets Authority (FMA) which is the regulatory body for such cases in New Zealand.
BlackBull Market is a subsidiary of the BlackBull Group limited. The parent company of BBM is a fully registered company domiciled in New Zealand under registration number 5463921.
Following regulations, the company holds client funds at a tier 1 bank (currently ANZ bank) in segregated accounts and offers same-day withdrawal and deposit methods.
For you to register with the company, you'll be required to provide a valid means of identification and a utility bill to show your proof of residence. Third-party deposits or withdrawal are totally unaccepted by the company to prevent money laundering or criminal activities.
One question we do have is the company's ability to offer services in the UK. They have an office in the City of London, but there is no mention of regulation by the FCA (Financial Conduct Authority). To be able to operate in the region, they would need to be regulated by the financial authority. So, it does raise some questions, and we would suggest using another broker if you are based in the country.
The company makes use of the latest technology available to ensure that the personal information of clients is kept safe. All transmissions are secured and protected through a 128-bit SSL encryption.
Awards
Trader Rating
As a leading figure in financial markets, BBM has been awarded several awards for its outstanding services and role in the industry.
2018 AND 2019 DELOITTE FAST 50
BBM was ranked as one of the fastest 50 companies in the world. This competition takes place in 32 countries and has spanned for more than two decades. The award recognizes the effort of both private and public companies in the tech world.
In 2018, the company's efforts were noticed, and they were awarded the Fastest growing exporter for Auckland, New Zealand, in 2018.
But, it didn't end there; in 2019, they were placed on the Deloitte Fast 50 index again, this time in recognition of their innovative and disruptive moves in the fintech industry.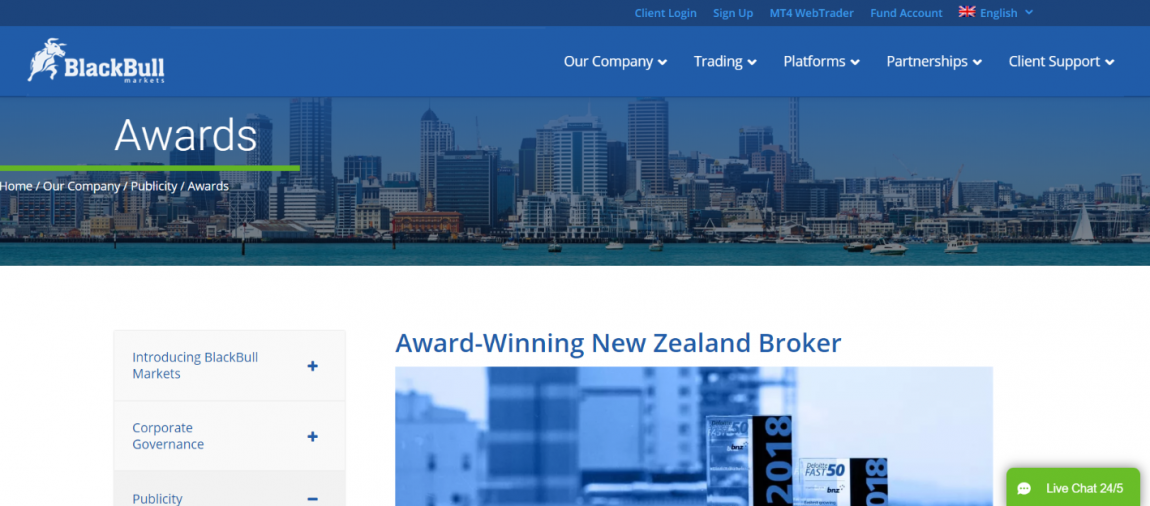 2018 APAC TECHNOLOGY FAST 500
Over the years, the company has grown to be one of the most reputable forex brokers in NEW Zealand, and they are gradually spreading their reach to other countries across Europe. They have also engaged and fully leveraged the power of the internet to achieve their goals. In 2018, their exploits in the technology space didn't go unnoticed as they were recognized and named in the APAC technology Fast 500 list.
At this point, I believe you should have a fair amount of knowledge on the company.
And so, in conclusion, we believe they are excellent for traders in New Zealand, but we would be uncomfortable recommending them to traders in other parts of the world due to their lack of regulation elsewhere.