Shares of Jubilee Metals Group PLC (LON: JLP) edged 7.85% higher after the mining company released its earnings results for the half-year ended December, which were much better than expected.
The metal recovery company's revenues grew 110% to £53.4 million (ZAR 1.1 billion) compared to 2019's revenues of £25.4 million. Its adjusted earnings rose 237% to £29.3 million (ZAR 622 million) from last year's £8.7 million (ZAR 150 million).
The company's operating profits jumped up 355% to £25.5 million (ZAR 541 million) compared to 2019's £5.6 million (ZAR 97.7 million).

Jubilee Metals produces Platinum Group Metals ('PGMs') such as chrome, zinc, lead, copper, vanadium and cobalt, and it managed to grow its total production 34% to 28,187 ounces. The company said it expects 2021 to be another transformational year.
The company's PGM production is derived from mine tailings, waste, slag, slurry and other secondary materials generated during the mining process. The firm is in a rapid growth phase and is currently in discussions to acquire new projects.
Jubilee is currently expanding its Inyoni project to improve PGM production rates and targeted PGM recoveries. The expansion is set for completion in Q2 2021.
The company's new 35 000 tonnes per month chrome beneficiation facility named Windsor 8 started operations in October 2020. It will contribute significantly to this year's expected output increase.
Jubilee is currently working on a new copper project known as Project Roan, which it has funded to the tune of $17 million from its current cash flows. Phase one of the project is almost complete, and the company expects to start the delivery of intermediate copper concentrate to Sable Refinery in April 2021.
Jubilee Metals share price.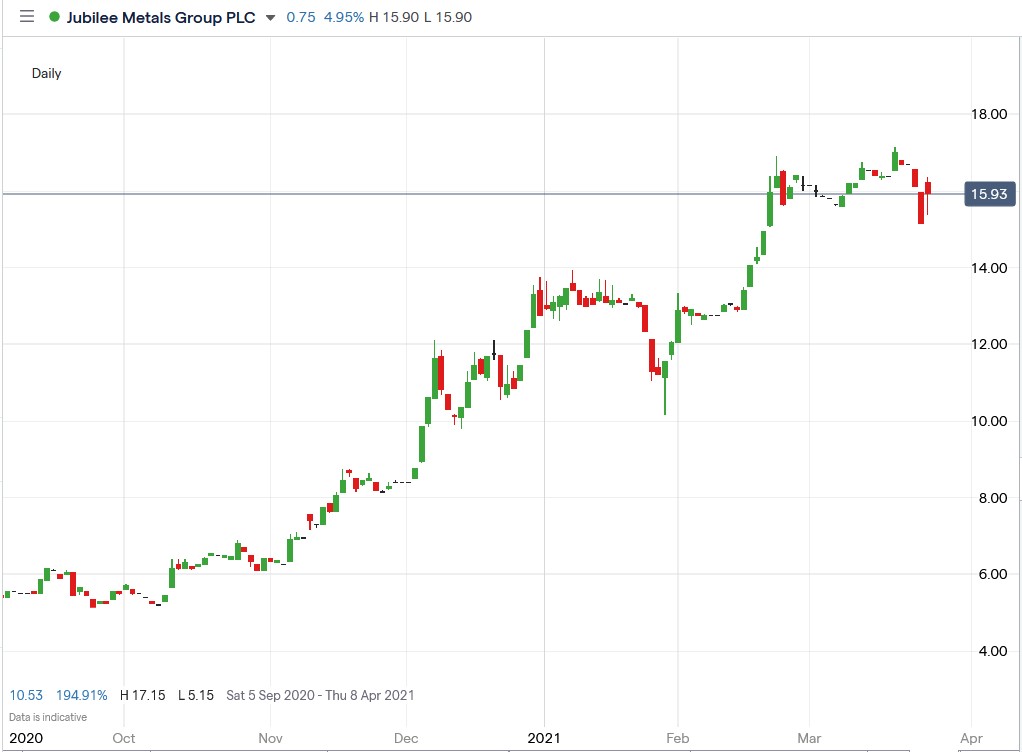 Jubilee Metals shares rallied 7.85% to trade at 16.34p rising from Wednesday's closing price of 15.15p.