Key points:
Kaixin Auto's stock price rallied 43% on a 5,000 logistics vehicles order.
The move marks a significant milestone for Kaixin Auto's transformation.
Kaixin is a new entrant in the highly competitive Chinese EV sector.
The Kaixin Auto Holdings (NASDAQ: KXIN) stock price rallied 43% after revealing that it had secured an order for 5,000 new energy logistics vehicles from Beijing Bujia Technology Co., Ltd., worth a total of 1 billion RMB ($156 million).

The two companies had signed a 10,000 unit intentional order in 2021, and today's sales order for 5,000 vehicles is part of the initial order. The vehicles are set to be delivered in 2022 and 2023.
The firms have agreed to collaborate in marketing the new energy logistics vehicles to attract sales from other companies when they release the renderings of the trucks at the 2022 China Carriers Conference to be held in Q2 2022.
Today's announcement marks a significant milestone for Kaixin Auto in its efforts to transform into a leading player in China's growing electric vehicle industry. The company's original business was operating a chain of primary vehicle dealerships that sold premium used and new cars.
Investors cheered the announcement, as evidenced by the rally in Kaixin Auto shares, which are trading above a crucial support level that had been in place since later December 2021.
It is interesting to see Chinese EV companies leading their electric vehicle industry. China is now the world's largest single vehicle market, which has left many vehicle manufacturers working hard to get a footing in the country.
However, investors have to be cautious when investing in Chinese stocks, given that the country does not have a capitalistic market structure similar to how many western countries operate.
Recently, we have seen the Chinese government crackdown on leading tech companies such as Alibaba and Tencent Holdings.
Mr Wu Liang, Kaixin's new energy vehicle business department's general manager, said: "The business model of Kaixin's new energy vehicles department is to establish strategic partnerships with platforms that have big sales potential and to make customized products according to customer needs. Therefore, Bujia is not a mere customer. We are more like strategic partnerships with a lot of common interest."
Mr Yadong Zhu, Bujia's Chairman, said: "The strategic partnership between Bujia and Kaixin has been built upon our complimentary resources. Bujia is adding another empowering component to our platform in addition to current logistics, delivery and financing services. New energy logistics vehicles sales will enrich Bujia's business model and increase our business growth potential!"
Kaixin Auto stock price.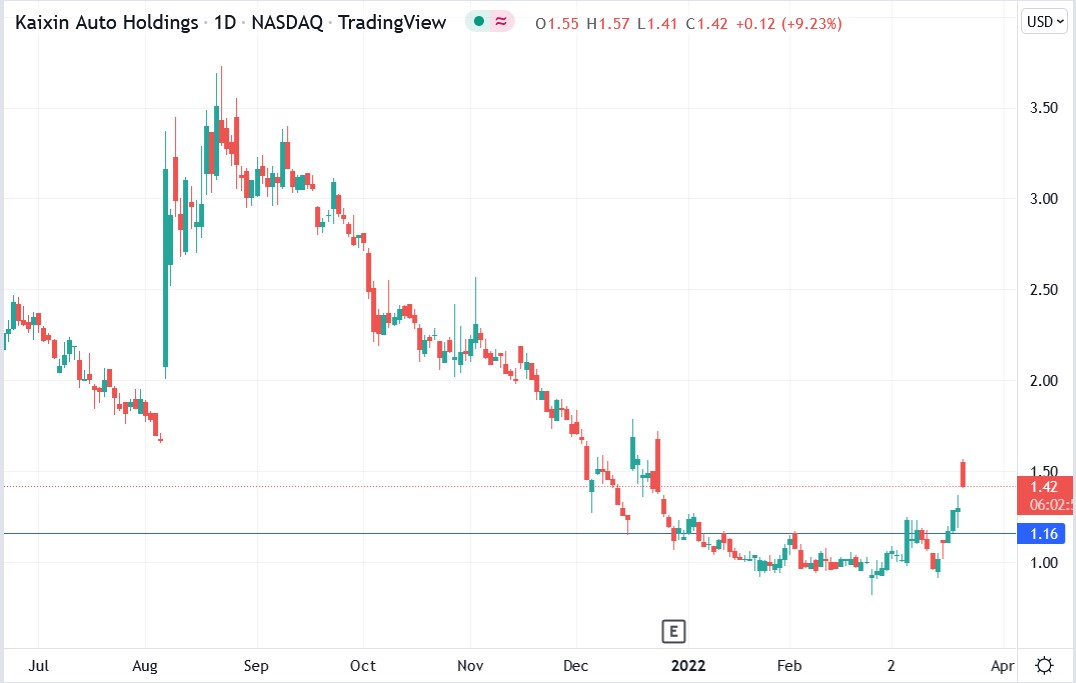 Kaixin Auto's stock price rallied 43.07% to trade at $1.86, rising from Tuesday's closing price of $1.30.