Shares of KEFI Gold and Copper Plc (LON: KEFI) spiked 4.89% higher after unveiling an incentive pay plan for its executive directors Harry Anagnostaras-Adams and John Leach based on the attainment of specific project milestones.
The two directors are each entitled to $500,000 once they arrange a long-term project finance facility for its Tulu Kapi by 31 December 2021. They will receive the award once the company receives at least US$20 million of the long-term funding.
Harry Anagnostaras-Adam is entitled to a further $500,000 payment if the Tulu Kapi project is completed within the project budget approved by the senior lenders. He will also receive another $500,000 after the sale and physical delivery of 35,000 ounces of gold equivalent.

KEFI recently reassured investors that its license situation with the Ethiopian government had not changed after media speculation alleging that its mining license might be revoked for not meeting the conditions set in the license award.
The company is currently working to secure long-term funding for its Tulu Kapi project, which could produce up to 140,000 ounces of gold each year over its seven-year lifetime.
It is no wonder that the mining company decided to unveil the related parties transaction today to motivate its executive to secure financing and move the project closer towards gold production.
Investors were concerned about KEFI's Tulu Kapi license, given that its cancellation would leave the company with significant losses since it would have lost its entire investment in the project.
The Ethiopian government has taken significant steps to liberalise the country's economy and attract more foreign investors into various industries, including the mining sector, which bodes well for KEFI's future.
Kefi share price.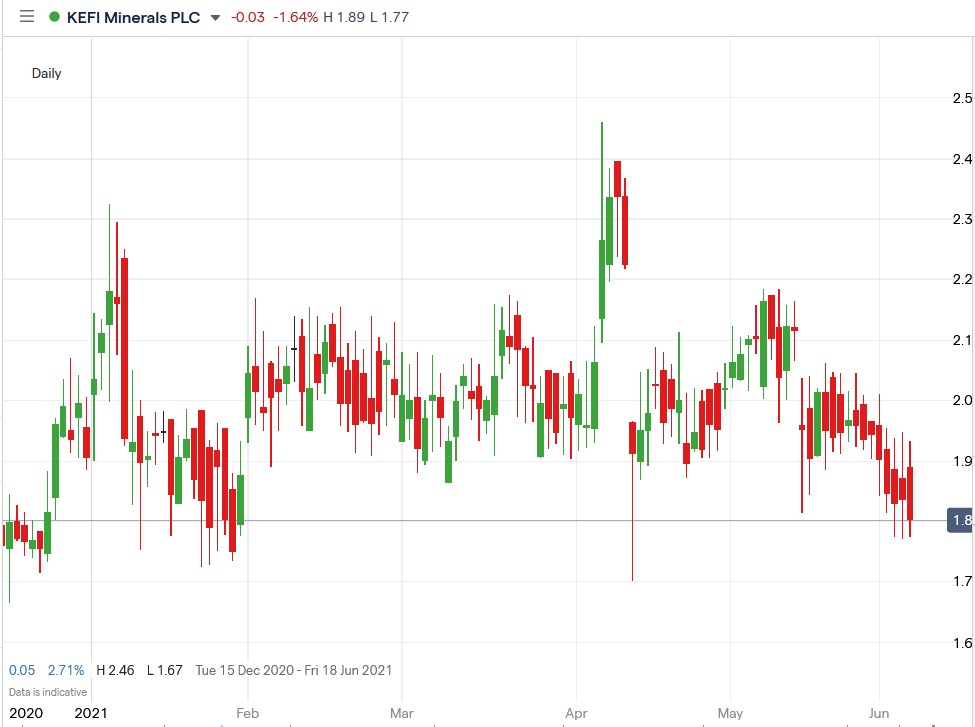 KEFI shares spiked 4.89% higher to trade at 1.93p, rising from Friday's closing price of 1.84p, but later fell into negative territory.