Latest

21:10


US Markets Close

Dow Jones  -0.84%

S&P 500      -0.34%

Nasdaq        +0.43%

Remember to watch out for the other big names reporting this evening!

Have a good evening all.
21:08


Facebook Earnings

$FB shares are spiking after Q2 report beats estimates.

Daily active users 1.79bn up 12%

Q2 EPS $1.80 beating the $1.39 estimate
20:52


Earnings After the Close

Remember, we still have Amazon, Apple, Facebook and Google (Alphabet) to report earnings after the close.

Big line up!
20:32


US Market Movers

There have been some big movers in the US today. Here's a round-up of a few of them…

Precipio +478%

Taoping +354%  Was up over 600% earlier in the day

Liminal Biosciences  +100.94%

Edesa Biotech +79%  Was up over 200% earlier in the day

Blink Charging Co  +26.82%

Eastman Kodak  -12.98%
19:19


Chevron Stock Dips

Chevron stock is down 4.11% at $86.37 as oil prices fall due to demand concerns and growing coronavirus numbers in the US.
19:14


US Stocks Update

Let's take a look at the US stocks heatmap from Finviz.com…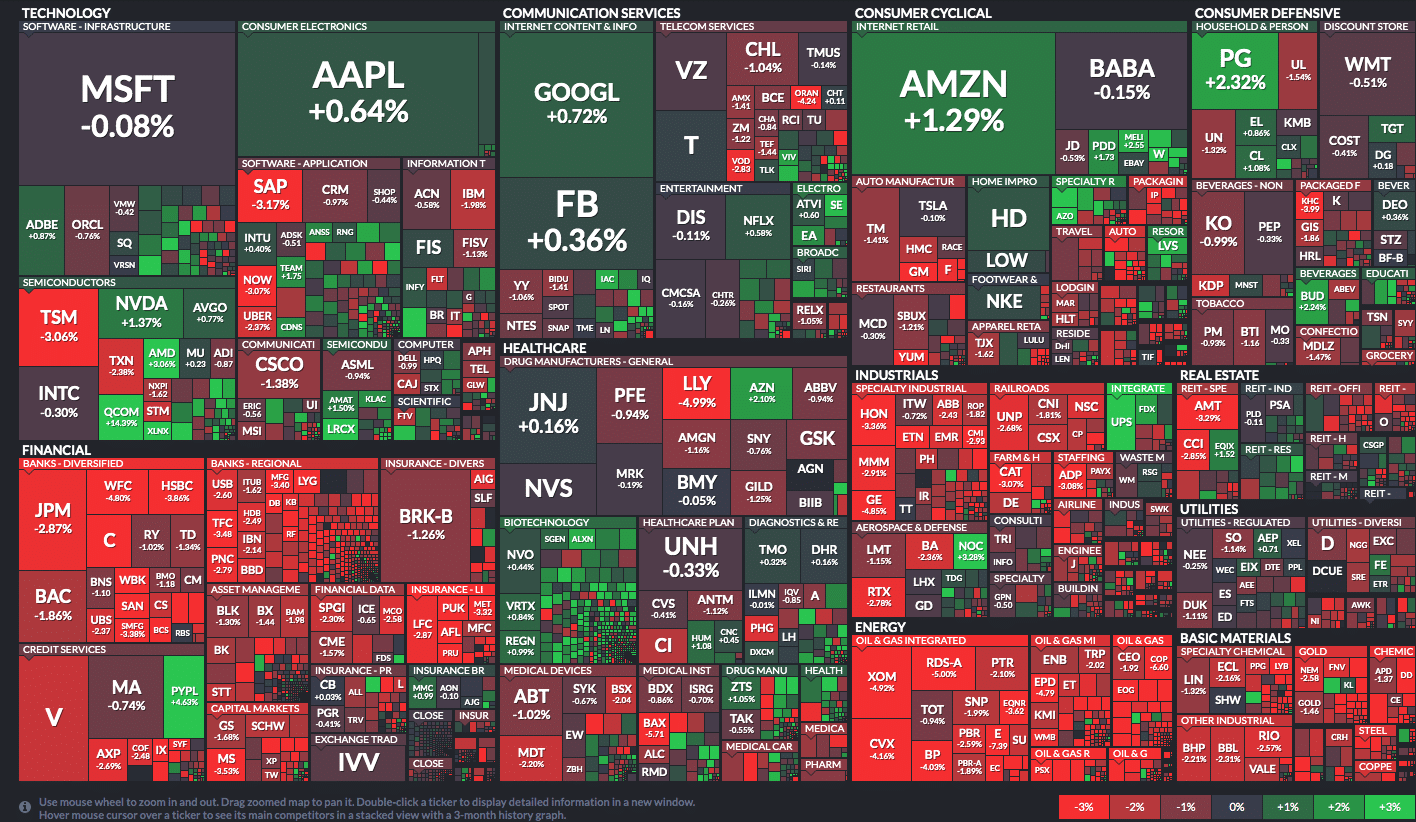 1716


European Equities Close

FTSE 100  -2.31%  5,989

DAX   -3.45%  12,379

EURO STOXX 50   -2.79%  3,208

Red across the board, although it picked up a little in the last couple of hours.

US equities are starting to pick up a little now also.
16:37


Precipio (PRPO) Shares Higher

$PRPO

Precipio shares have climbed today after the company announced the commercial launch of its coronavirus antibody test.

Currently up 29.27% at $1.59.
16:33


Taoping Inc (TAOP) Share Price

$TAOP

I've got another big mover for you here, Taoping Inc is currently up over 594% at $14.16 per share.

Its stock has surged after the company announced upgrades to its Taoping Smart Cloud Platform to expand its business.
15:27


Edesa Bitotech EDSA Stock Explodes Higher

$EDSA

Edesa Biotech stock has surged over 200% after its FDA application, the stock is currently trading at $13.48, up over 159%.

Here's the full story – EDESA BIOTECH STOCK PRICE SOARS AFTER FDA APPLICATION FOR COVID-19 STUDY
15:15


US Equities

Let's take a look at how US equities are performing…

Dow Jones  -1.83%  26,054

S&P 500  -1.36%  3,214

Nasdaq  -0.94%  10,444

European equities have fallen further, the DAX is down over 4%, the FTSE 100 is down 3.12% and the EU50 is down over 3%.

Anyone buying the dip?
14:49


FSD (HUGE) Stock Surges

$HUGE

FSD Pharma shares have jumped over 70% after the company announced it is working to submit an investigational new drug application to the FDA to treat coronavirus patients.

Currently up 67.38% at $6.26.

I'm sure there is a huge pun in there somewhere!
14:41


UPS Stock Price

UPS shares are trading higher after reporting a better than expected Q2 EPS and sales.

Currently up 10.59% at $136.78.
14:35


PayPal Shares Run Higher

PayPal Shares are moving higher after the company reported positive Q2 EPS and sales results yesterday. It also raised its FY 2020 guidance.

PayPal shares are currently 6% higher at $195.68
14:26


Eros International Stock

Eros International stock is up 10% after the company reported results for Q4 and fiscal year 2020
14:23


Jakks Pacific $JAKK Stock Plummets

Jakks Pacific stock has plummeted after the company reported worse than expected Q2 EPS and sales results yesterday.

It always hasn't been helped by Dave Portnoy trashing it in his Twitter post and live stream!
13:05


European Markets Lunchtime Look

FTSE 100  -1.71%

DAX  -2.50%

EURO STOXX 50  -1.78%

Bad day for the DAX!
12:31


Pendragon Shares Fall After Announcing Job Cuts

$PDG

Shares in car dealership Pendragon Plc have fallen after the company announced that it will be slashing 1,800 jobs and closing 15 loss-making stores. The cuts come as the company struggles due to weaker demand in the fallout from the coronavirus pandemic.

Its share price is currently down 2.1% at 7.92 GBX
10:10


Lloyds Shares Plummet

Lloyds Share price has plummeted so far today after the company announced a pretax loss of £676 million in Q2.

Here is the full story – LLOYDS BANKING GROUP SHARE PRICE SLUMPS 9.3% ON £676 MILLION LOSS IN Q2
10:02


European Market Movers, Lloyds Plummets

SCS Group +17%

Belvoir Group +15%

Sopheon plc +9%

Ultra Electronics +8%

Delta Plus Group +8%

Deutsche Boerse -4%

Lloyds Banking Group -9%
09:15


Apple EU Antitrust Complaint

Apple is facing a fresh EU antitrust complaint from messaging app Telegram.

According to a report in the Financial Times Telegram has accused Apple of curbing innovation.
08:33


European Equities First Look

FTSE 100  -1.02%  6,069

DAX   -1.88% 12,581

EURO STOXX 50  -1.12%  3,263

A very shaky start to the day.
07:30


Morning Preview

Good morning traders…
An uneventful trading session in the Asia-Pac region saw the Nikkei close down -0.28% and the ASX at +0.78%.
There were no changes in policy from the FOMC yesterday evening, with interest rates kept on hold as expected.
Negotiations for the US stimulus bill are continuing but, senator Lindsey Graham has told Fox News that "half of the republicans are going to vote 'no' on any more aid. that's just a fact."
In FX markets the US dollar is making gains against the other major currencies, with the EURUSD currently at 1.1753
Looking at today's calendar, data points to watch out for are Germany GDP, Euro Area consumer confidence and unemployment rate, German inflation rate, US GDP and initial jobless claims.
Finally, some of the big names reporting earnings today include Apple, AstraZeneca, Alphabet, Mastercard, Gilead, Amazon, Comcast, UPS, EA and many more.