Key points:
McDonald's stock price barely moved on a $10 billion racial suit.
The firm is being sued for not advertising with black-owned media.
However, investors think the chances of the suit succeeding are minimal.
The McDonald's Corp (NYSE: MCD) stock price barely moved after a Los Angeles federal judge ruled that the company must defend itself in court in a $10 billion racial discrimination lawsuit brought against it by media mogul Byron Allen.

The lawsuit was initially dismissed in December 2021 by a US District Court judge but was reinstated later after Allen amended the suit. Allen argues that the fast-food chain is racially biased in its television advertising.
Also read: The Best Fairtrade Stocks To Buy Right Now.
Allen argues that McDonald's only spends a fraction of its annual TV advertising budget on black-owned media horses despite 40% of the company's customers being black. The company has defended its actions saying that the latest development did not substantiate Byron's claims.
Furthermore, the burden of proof lies with Allen. He must prove that McDonald's decision not to advertise with black-owned media houses was racially driven instead of a commercial decision informed by specific criteria.
Allen must prove that McDonald's spending just $5 million of its $1.6 billion annual TV advertising budget with black-owned media houses was based on racial factors. On its part, McDonald's could argue that the decision was based on definitive business facts.
For example, McDonald's advertises on a national scale. Did it discriminate against black-owned media enterprises that had similar coverage to those owned by people of other races, such as Caucasians?
Were black-owned media houses intentionally not selected to run some of the company's ads despite submitting compelling proposals to the company, some that could have been better than those submitted by the selected media houses?
Again, the burden of proof lies with Byron Allens since he has to demonstrate that McDonald's systemically sidelined black-owned businesses when awarding advertising contracts to media houses. The case could be easily dismissed if Allen does not show concrete evidence supporting his claims.
Meanwhile, both parties have a few months to prepare their evidence before facing off in court early next year. The McDonald's share price was primarily unmoved by news of the Los Angeles court ruling since it is too early to tell whether the suit will be successful.
*This is not investment advice.
McDonald's stock price chart.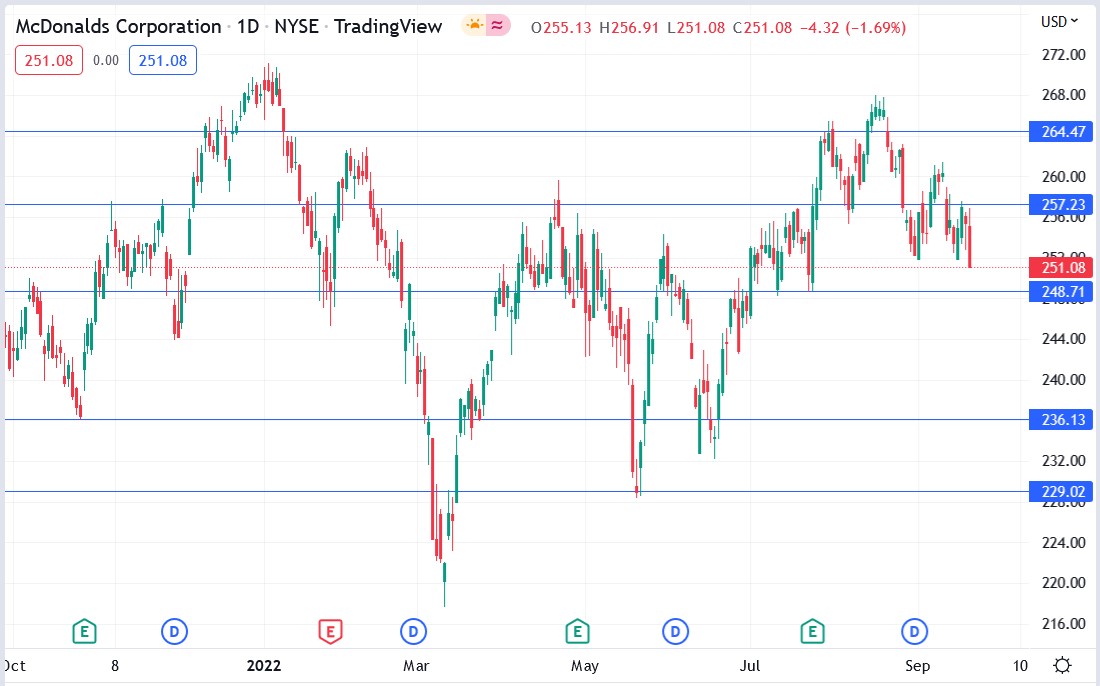 The McDonald's stock price is down 6.83% this year after an impressive rally from its March lows.