Key points:
Netflix stock edged higher as analysts expressed optimism about the firm.
Analysts have started raising their ratings of Netflix stock on a new strategy.
The company will be launching an ad-support subscriptions model soon.
The Netflix Inc (NASDAQ: NFLX) stock price edged higher premarket after Wolfe Research analyst Peter Supino said that investors are embracing the idea of the movie streaming giant launching an ad-supported subscription model.

Netflix has said it is considering launching an ad-supported subscription service, which will be priced much lower than its current offering, which offers a no-ad experience. For many years, Netflix prided itself on its no advertising subscriptions, but times are changing, and the streaming giant's business has been disrupted.
Also read: The Best Cheap Tech Stocks Under $10.
The company, which was always a disruptor, has now become an incumbent. In addition, newer entrants into the streaming services sector, such as Disney, offer ad-supported subscriptions and rapidly grow their subscriber numbers.
Consumers do not care much about having ads within a movie streaming service, as evidenced by the millions of people who have signed up for Disney's Disney+ streaming service, which is ad-supported.
The benefit of running ads for streaming companies is that they can lower the subscription prices paid by subscribers, which appeals to more consumers now, who are torn between multiple streaming services with lower disposable incomes due to record-high inflation.
Analysts have started upping their Netflix price targets amid the hope that the launch of the cheaper subscription options will draw in more subscribers while unlocking a new revenue stream for the streaming giant.
Meanwhile, Netflix continues to do what it does best, launching new shows that continue to entertain its existing users and, hopefully, will attract more users once it offers much cheaper subscription packages.
Peter Supino, the Wolfe Research analyst, said that investors will now start judging Netflix based on multiple key performance indicators (KPIs), including its ad revenues, instead of the single KPI of adding new subscribers.
Supino also expects the company to protect its current margins as it transitions to the faster-growing model, which informed his $251 price target and Outperform rating on Netflix stock.
*This is not investment advice.
Netflix stock price.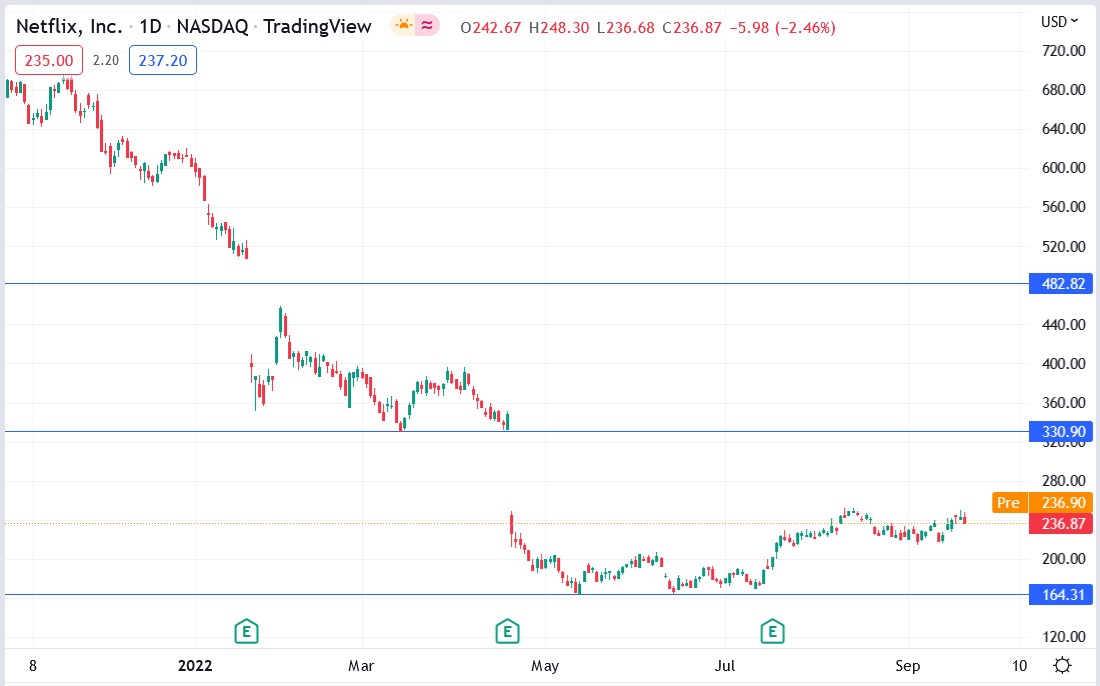 The Netflix stock price has fallen 60.89% this year but is currently heading higher. Can it recover its losses?