Shares of Micro Focus International plc (LON: MCRO), a British IT firm, surged 16% after announcing that it had signed a commercial agreement with Amazon Web Services (AWS).
The deal will allow AWS to deploy Micro Focus's technology to help companies migrate their mainframe applications and workloads to the cloud.
AWS has modern technology that allows organisations to use cloud-based computing resources built on cutting-edge technologies such as quantum computing to host applications previously hosted on mainframe computers.
Today's deal highlights the massive progress made by Amazon.com as a technology player allowing it to compete with other large IT firms such as Microsoft, with AWS leading the cloud computing market segment against its peers.
Micro Focus has also issued warrants to Amazon.com's investment unit, allowing it to subscribe for up to 15 million shares at 446.6p each if specific revenue targets are met. The shares will vest once Amazon.com has confirmed there is substantial demand for Micro Focus' technology, which is a brilliant move on its part.
The agreement is beneficial to both companies. Micro Focus now has a complete suite of products to woo major organisations interested in modernising their computer resources by ditching their mainframe computers.
Stephen Murdoch, Micro Focus' CEO, said: "This important strategic agreement between Micro Focus and AWS combines our technology leadership position in Application Modernisation with the world's most comprehensive and broadly adopted cloud provider."
Adding:
"The modernisation of mainframe applications and workloads into cloud environments is increasingly becoming an imperative in the digital transformation programmes of large enterprises worldwide, and this collaboration has the potential to drive new customer adoption and growth within our Application Modernisation and Connectivity ("AMC") Product Group for an extended period."
Micro Focus share price.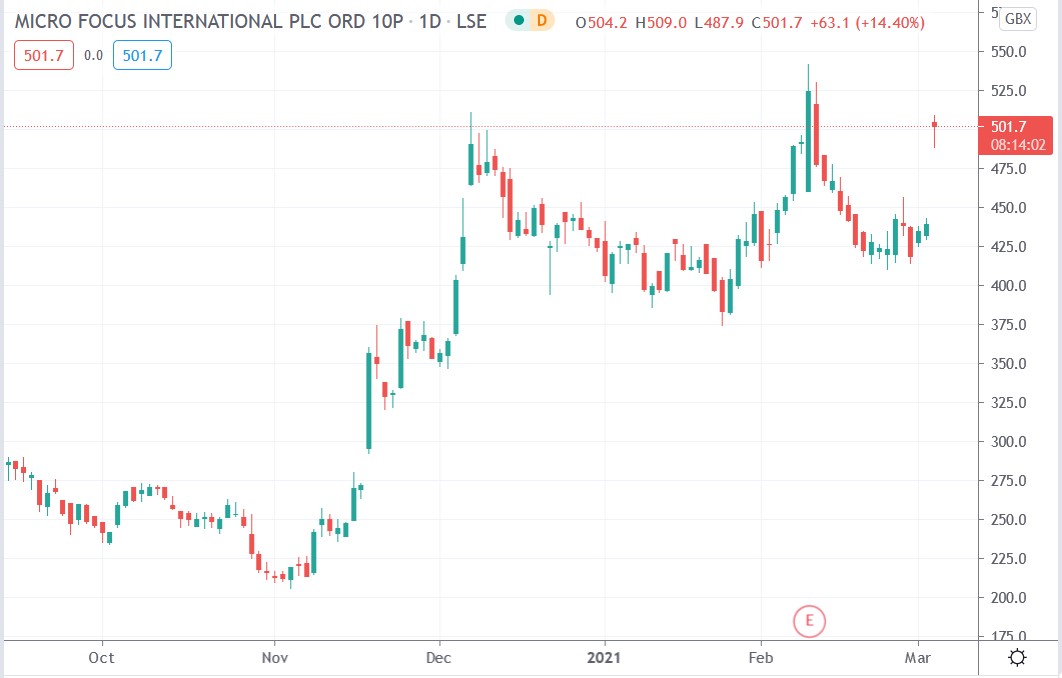 Micro Focus shares jumped 16.05% higher to trade at 509p, rallying from Tuesday's closing price of 438.6p.