Key points:
Mode shares plunged 15% after its CEO abruptly resigned from his position.
Investors were spoked by the news given that the firm did not provide a reason.
Mode shares seem cheap at current prices but could fall further over time.
Mode Global Holdings PLC (LON: MODE) shares plunged 15% after its CEO, Ryan Moore, abruptly resigned from his position, effective immediately.

Investors were spooked by the news that the CEO's resignation was unplanned, given the short notice on which he left the company.
Many wonder whether there could be something else going on with the fintech payments company, whose shares have fallen over 68% in the past year.
Mode shares have fallen 30.3% since the year started extending the downtrend witnessed for multiple months since August 2021.
The fintech payments company has seen its shares fall significantly despite announcing that it had lifted Bitcoin transaction fees to promote the rapid adoption of its app among users and popularise its Bitcoin services.
Jonathan Rowland, Mode's Executive Chairman, will take on the CEO's role on an interim basis until a substantive CEO is appointed.
The promotion campaign launched by Mode on 17 November 2021 should have seen the company acquire new users after eliminating the 0.99% fee charged for trading Bitcoin.
The campaign was expected to run up to 31 December 2021, and Mode is yet to issue an update on its success or failure.
Investors are also worried about Mode's future, given Ryan More's pivotal role as CEO spearheading most of the firm's latest strategies.
Luckily for investors, Mode's chairman has stepped up, which almost guarantees the continuity of Mode's operations until a new CEO is recruited.
Meanwhile, investors have to sit tight and wait for the fintech company to outline its next steps in light of today's developments.
Mode shares appear cheap at current prices, but they were cheap a few months ago and have kept falling. Therefore, we cannot rule out further declines. Still, the firm's business model is up-and-coming, and I would bet on it if I were a long term investor.
However, long term investors in the company are sitting on substantial losses, and they may choose to dollar cost average their positions by buying more shares at current prices.
*This is not investment advice. Always do your due diligence before making investment decisions.
Mode share price.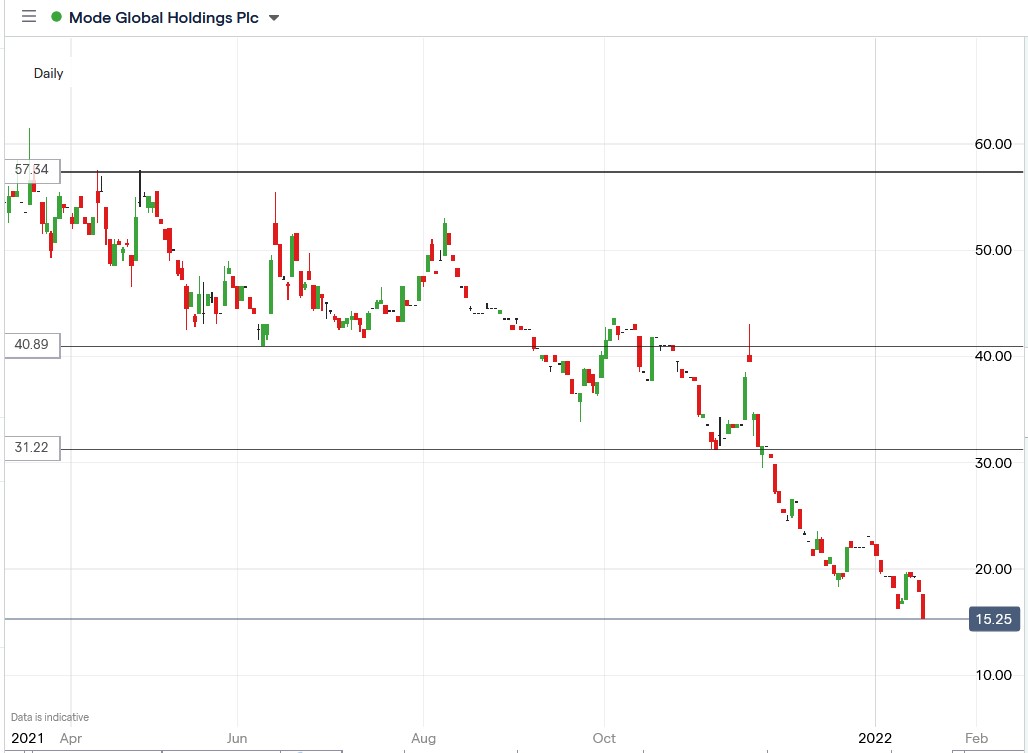 Mode shares plunged 14.98% to trade at 15.20p, falling from Tuesday's closing price of 17.88p.