Shares of Wm Morrison Supermarkets PLC (LON: MRW) rallied 2.8% after US private equity giant Fortress upped its takeover offer to £6.7 billion.
Fortress upped its bid after the previous offer of £6.3 billion attracted criticism from various parties, including the supermarket chain's most prominent investors.
The uprated bid values each of the grocer's outstanding shares at 272p, with shareholders receiving 270p in cash, with the remaining 2p being paid out as a special dividend.

Today's announcement is the latest in a string of transactions targeting companies operating and listed in the United Kingdom. However, many investors regard UK stocks as undervalued compared to their peers in other leading economies such as the United States.
Fortress said that the boards of its consortium of investors and Morrison's had agreed on the deal, which faces a shareholder vote on August 16, 2021.
The board has unanimously accepted the previous offer opposed by critical shareholders such as Silchester, M&G and JO Hambro, given that it valued the grocer's shares at 254p each.
It remains to be seen whether the latest offer shall face any significant resistance.
Masayoshi son's Softbank Group owns Fortress Investment Group. The latest offer shows how hard it is for private equity groups to make good deals in the market, given the abundance of funds chasing the few good deals available.
*This is not investment advice.
Morrisons share price.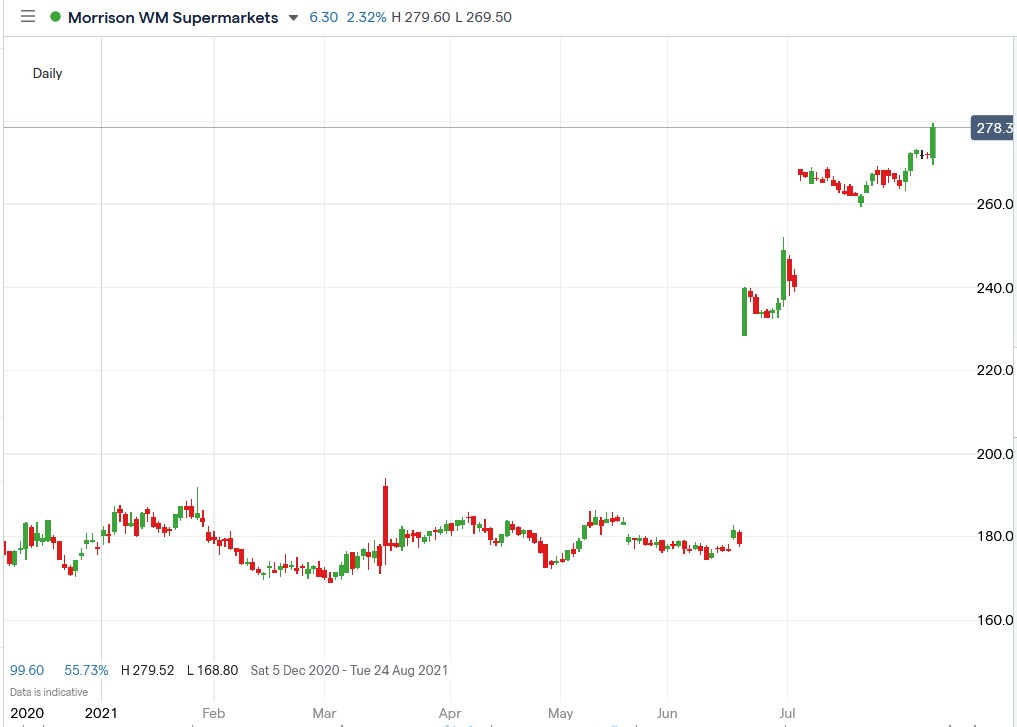 Morrison shares rallied 2.8% to trade at 279.52p, rising from Thursday's closing price of 271.9p.