Key points:
NewAge (NBEV) stock rallied 17.8% despite the firm's delisting risk.
The company has not filed its 2021 and Q1 2022 financial results.
In addition, the Nasdaq has warned NewAge that it is at risk of being delisted.
The Newage Inc (NASDAQ: NBEV) stock rallied 17.8% despite the company being at risk of being delisted from the Nasdaq exchange. The firm had failed to submit its annual results for the 2021 financial year and the quarter that ended June 30, 2022.

The company received delinquency notices from the Nasdaq on April 1 and May 12, yet it has yet to compile and file the two reports. The firm had submitted a compliance plan to Nasdaq, promising to file the reports and regain compliance by September 27, 2022.
Also read: The Five Best Momentum Stocks To Buy Right Now.
However, the company received another delinquency notice from the SEC on August 11, 2022, forcing it to update its compliance plan later today, August 26, 2022, or risk being delisted from the Nasdaq exchange.
The company revealed the news of the latest delinquency notice from the Nasdaq on August 18, 2022, and many are hoping that it will meet the Nasdaq's deadline of submitting its revised compliance plan today.
Still, the company has to do more if it wants to remain listed on the Nasdaq exchange by filing the two reports with the SEC and presenting them to the Nasdaq. In addition, NewAge's stock price is also trading below the Nasdaq's mining listing price requirement of $1.00, and the firm has to conduct a reverse stock split to boost its share price.
NewAge inc is yet to submit a proposal as to how it plans to boost its share price, with all these problems pointing to the lack of dedicated financial professionals to advise the company on the way forwards.
There is a reason why most public company shad dedicated corporate brokers and are constantly seeking the advice of investment banks and other financial advisers regarding their finances and plans.
Many companies that delay filing their financial results lack a dedicated Chief Financial Officer or Finance Director in charge of their finances. I would not touch NBEV stock with a six-foot pole, given the high risk of being delisted from the Nasdaq.
*This is not investment advice.
NewAge (NBEV) stock price.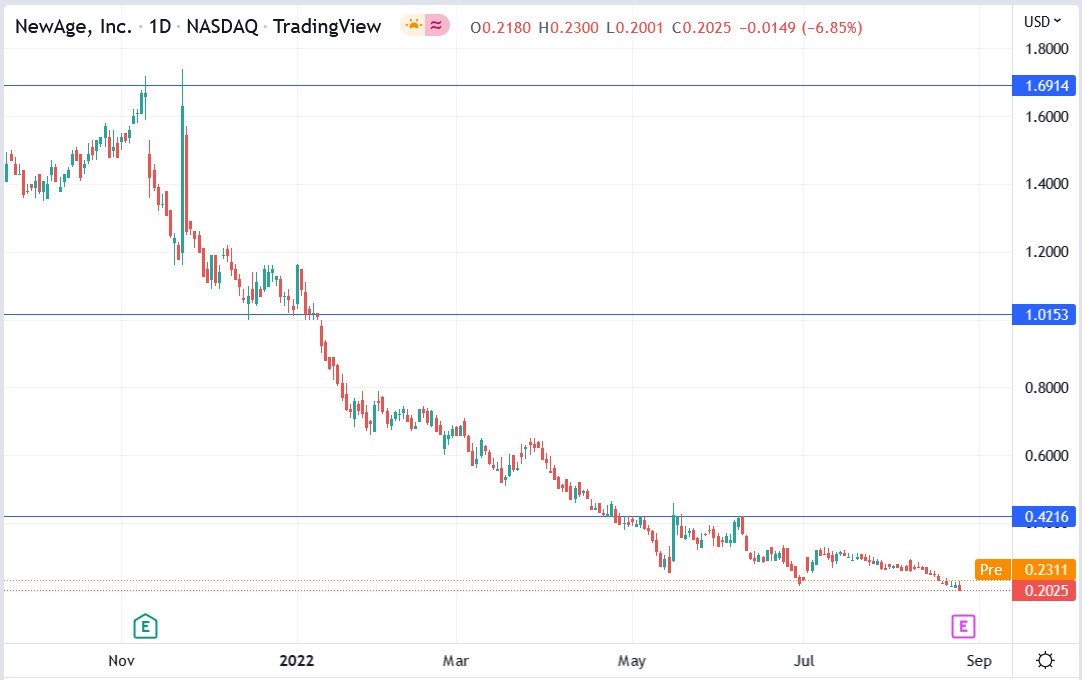 The NewAge (NBEV) stock price rallied 17.78% to trade at $0.2385, rising from Thursday's closing price of $0.2025.