Key points:
With inflation still rising, what stocks should we consider
Unilever benefits from its sector and potential brand loyalty
Burberry's customer base is less affected by surging prices
Inflation has soared this year, hitting a high of 10.1% in the UK so far, with no clear signs of easing yet.

Inflation is one of, if not the biggest issue in the markets at the moment and resulted in stocks tumbling in the first half of the year. Despite a rise since July, there are signs that the current economic uncertainty will continue.
As a result, here are two inflation-resistant stocks to consider…
Unilever
Unilever is an enormous consumer staples company, an industry that historically has performed well during times of surging inflation as people still need these products regardless of the rising prices.
While consumers do have the alternative of cheaper alternative brands, compared to Uniliver's more premium branded products, many customers will stay with what they know out of loyalty. There are many articles and studies that suggest while some consumers will switch to cheaper alternatives, many are likely to stick with brands they know and trust.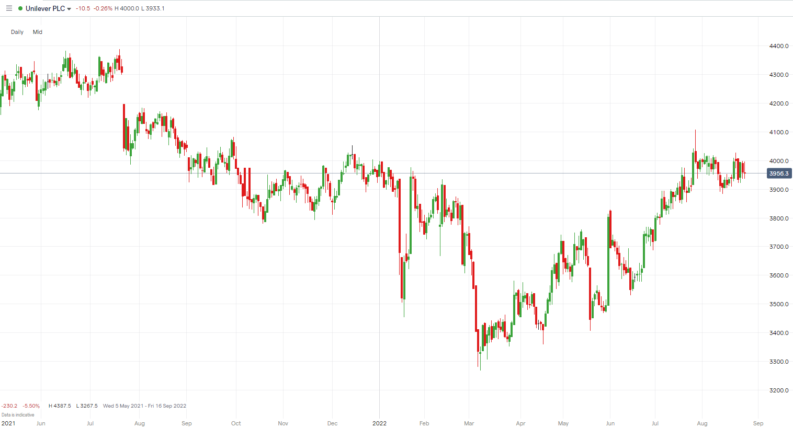 Asset Groups To Invest In During Inflation?
Looking at its share price, Unilever shares are down 3.96%. Similar to Burberry below, they are fairing better than many others. Over the last 12 months, the stock is down 3.05%, but it has rallied 12% in the last three months, and its performance merits that recent climb.
In its half-year report, the company reported sales grew 8.1%, while its underlying earnings per share was up 1%. In addition, it lifted its sales forecast after it raised prices to offset increased costs and protect its margins.
Given its business, Unilever is a stock to consider during soaring inflation.
Burberry
Burberry is probably not the first company that comes to mind when thinking about inflation-resistant stocks. However, demand in the luxury brands sector has remained resilient despite soaring inflation as its customer base is less affected by rocketing prices.
While the company was impacted by lockdowns in China in the first quarter, in EMEIA, it said spending by local clients was above pre-pandemic levels, with its focus categories, leather goods and outerwear continuing to perform well.
While its numbers in Q1 weren't impressive, factors such as the China lockdown and tough Americas comparatives take an edge off of the initial negative view.
Looking ahead, the company is confident, stating performance in Mainland China has been encouraging since stores reopened in June.
Burberry's share price is down over 5% in 2022, fairing better than most other apparel retailers.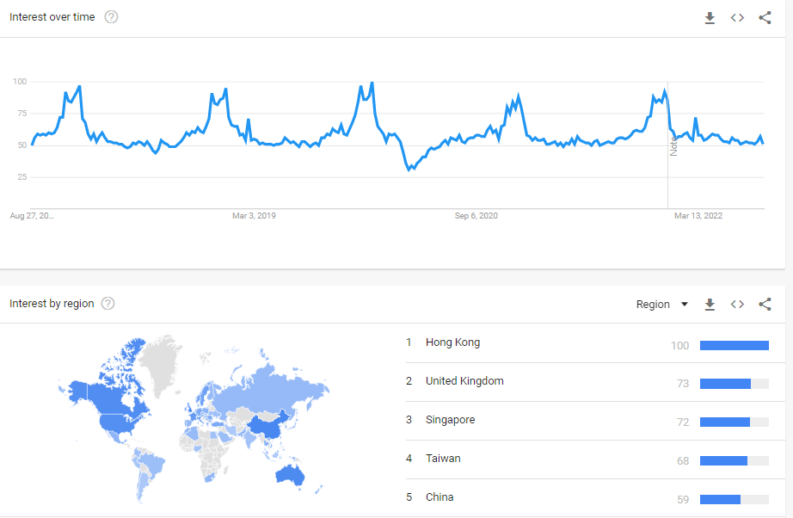 When we look at Google Trends data over the last five years, we can see it has been fairly steady. One thing to note is that China is number five on the list of top five regions, while Hong Kong is top.
While Burberry is already an inflation-resistant stock to consider, if lockdowns in China begin to ease, demand could climb further.