Biotechnology firm Oxford BioDynamics (LON: OBD) has signed a supply and resale agreement with life sciences company Agilent Technologies (NYSE: A) to manufacture and sell the EpiSwitch Explorer Array Kit, the companies confirmed on Wednesday.
Agilent will supply a custom-made SurePrint G3 CGH Microarray for the kit, incorporating Oxford's proprietary 3D genome probes.
Oxford BioDynamics has exclusive rights for the supply and distribution of the kit.
The EpiSwitch Explorer Array Kit, which can be used to diagnose patients or determine how they may respond to a disease or treatment, utilises Agilent's microarray technology and Oxford's 3D genomic recognition algorithms to provide results at high throughput, with high resolution in a fraction of the time.
Oxford said the global epigenetics market is expected to reach over $22 billion by 2025, with the kits segment anticipated to experience the most significant growth, driven by the need for biomarker development and accurate detection for personalised medicine.
The kit has already been used to develop a recently launched Covid-19 severity test.
"OBD has previously announced the expansion of its strategic focus to bring the platform to the precision medicine market, starting with the launch of our COVID-19 Severity Test and the upcoming launch of an IO test," said Dr Jon Burrows, CEO of Oxford BioDynamics.
"Partnering with industry leader, Agilent, gives important third-party validation to our technology and working together will strengthen the commercial offering of our EpiSwitch® Explorer Array Kit to the global research community," added Burrows.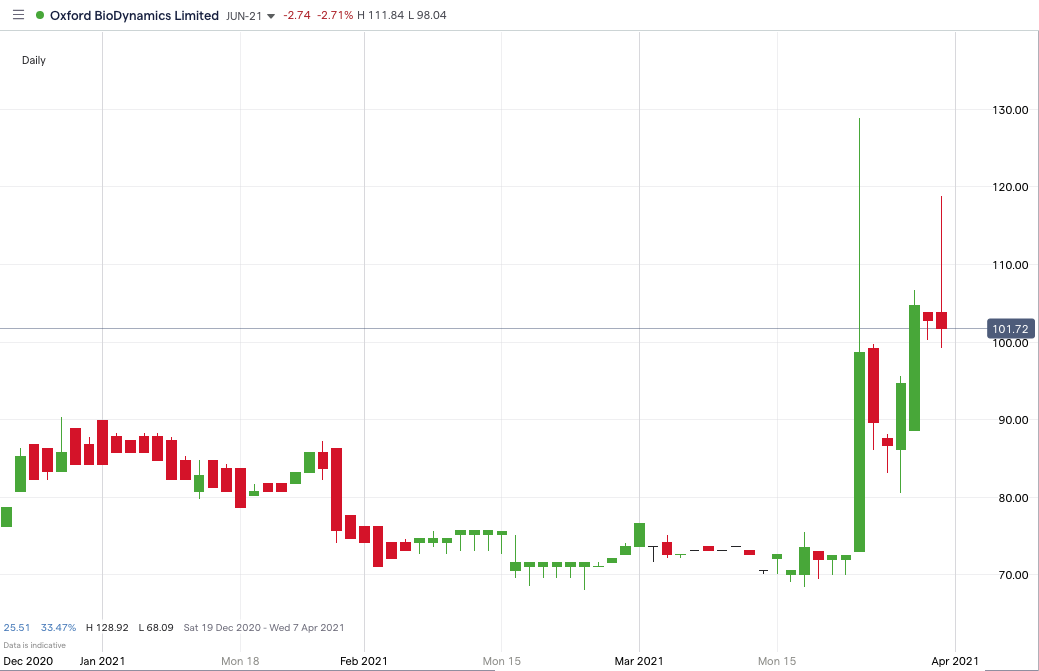 Oxford BioDynamics' share price initially spiked to highs of 118p following the announcement. However, they have given up those gains, currently flat on the day at 101p.
Should you invest in Oxford BioDynamics shares?
Oxford BioDynamics shares are traded on the London stock exchange's AIM market (the alternative investment market), which is the submarket specifically for smaller companies. AIM stocks are attractive to investors as they have tax advantages and smaller companies have the potential to benefit from rapid growth. But are Oxford BioDynamics shares the best buy? Our stock market analysts regularly review the market and share their picks for high growth companies