Key points:
The Wall Street Journal reported that Peloton is to cut a further 500 jobs
It will be the fitness equipment company's 4th round of layoffs this year
Peloton shares are up on Thursday
Peloton (NASDAQ: PTON) is cutting hundreds more jobs in an attempt to cut costs, according to a report from The Wall Street Journal.

On Thursday, it was reported that Peloton intends to eliminate 500 workers or approximately 12% of its remaining personnel, in its last bid for a turnaround. The cuts are expected to be company-wide, however, the marketing team would be most affected, the WSJ said Peloton CEO Barry McCarthy revealed. The CEO was said to have declared he is giving the company a further six months to turnaround and prove itself as a viable standalone company.
The cuts will be the fitness giant's fourth round of layoffs this year. The company employed more than 8,600 people as of June 2021. However, after the various layoffs, Peloton will reportedly have around 3,800 employees.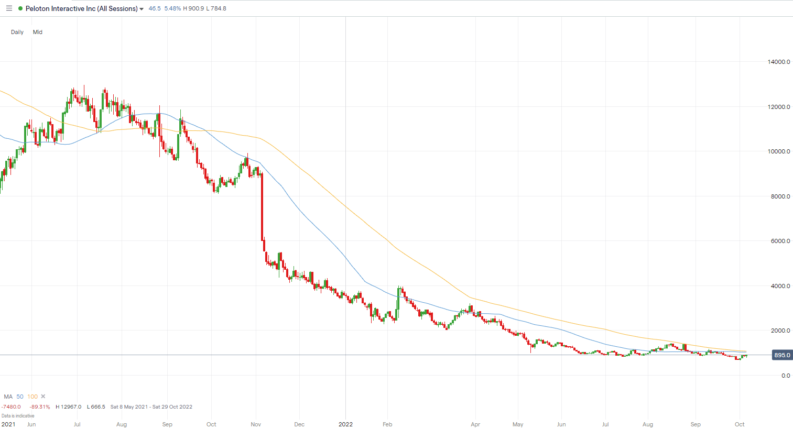 Also Read: What Happened to Meme Stocks?
Additionally, it was revealed the company eliminated around 600 positions since June, more than previously acknowledged, including through the closure of retail locations.
"I know many of you will feel angry, frustrated, and emotionally drained by today's news, but please know this is a necessary step if we are going to save Peloton, and we are," McCarthy was said to have told staff in a memo seen by the WSJ.
McCarthy further commented that the company had reduced costs by slashing jobs, outsourcing manufacturing, and reducing inventory. The new layoffs are said to be Peloton's last cost-cutting measure as it switches its attention to increasing revenue.
Revenues from hardware sales fell 55% between March and June compared to the same period in 2021, as the reopening of the economy saw people return to gyms. In addition, with inflation soaring and the cost of living rising, demand for Peloton fitness equipment declined significantly. As a result, Peloton shares have tumbled 76% this year.
Peloton shares are up over 3% in the early part of the US session on Thursday.