Key points:
Polymetal is weak again, falling 5% this morning
Petropavlovsk of course went to zero
Is worry about the one affecting the other?
Polymetal (LON: POLY) shares are down 5% this morning in what looks like a return of nerves after Petropavlovsk (LON: POG) got busted earlier in the week. Or, to pull that out of the vernacular, after POG called in the administrators after getting caught up in the Russian sanctions.

It's worth reminding ourselves that Polymetal was worth 1,500 p a share and sometimes more a year back. In terms of actual production there's been only a small negative effect as a result of current events. There's rouble inflation, production is down a bit, they've had to move to less efficient local contractors at times. But by and large they're still a decently profitable gold miner. The Polymetal share price is also around 90% down at the current 168 p.
Some of this is understandable, there's a war on. The dividend was declared and then suspended. There are those operational degradations even if they're not problems which should cause this sort of share price collapse. But the big issue is, of course, that for at least some companies current events are going to be extinction level ones. Even for those not directly sanctioned, as Petropavlovsk was not.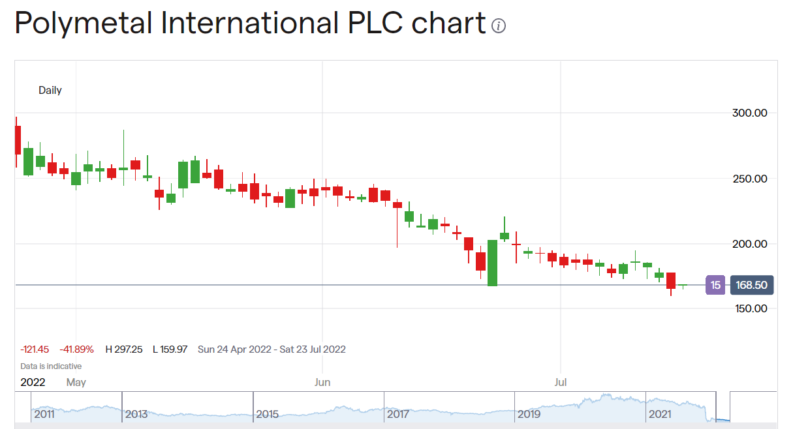 Also read: Five Best Gold and Gold Mining Stocks To Buy Now.
The risk is shown in what happened to POG earlier this week. The company was not sanctioned, none of the directors were, the business line was not – they should have been free and clear. Except they weren't because their bank, Gazprombank, was sanctioned. This meant they couldn't deliver gold to it under their working capital loan, nor could they – even if they could have done – refinance and pay off the bank. For they're not allowed to deal with a sanctioned organisation. The result was that calling in of the administrators and it's most unlikely that there will be a return for the equity.
Now, this should not apply to Polumetal because they're not in that situation with their bank. But clearly the risk to any Russian miner has just increased given what did happen to POG. Even if the sanctions bring about some undesired and unplanned result they're not going to get changed. So, risk at Polymetal has risen – higher risk means lower prices, that's just how it works.
On the other hand there's an obvious attraction in a still profitable gold miner at only 10% of last year's price. It's also true that the American quotes (ADRs as POYYF and AUCOY) are now no longer operative and many brokers simply will not allow US investors to buy POLY in London (anecdotal data from personal conversations). This means the price might be artificially depressed as pent up demand cannot express itself. We've also got the first half production numbers to come next week and then the decision over the suspended and also H1 interim dividends to come a little later.
Logically we can argue that Polymetal is worth much more than its current price. Except for that risk that is and that's been increased by the events at Petropavlovsk. Any trade has to be based on the evaluation of the balance of those risks.