Shares of Premier African Minerals Ltd (LON: PREM) shares have been trading sideways since April after hitting a crucial support level that ended the February selloff. Can the shares rally higher?

From a technical analysis standpoint, PREM shares could quickly rally from the support level given that it has held for over a month, indicating that buyers keep stepping in to defend the level but do not follow through to initiate a full-blown rally phase.
The situation could quickly change if the company makes a positive announcement giving the bulls a reason to establish new positions at higher prices. However, we could see the price break below the level and head lower if the miner issues a negative update.
The company's fundamentals support the bullish thesis, given that it was awarded an exclusive prospecting license for the Zulu Lithium and Tantalum claims in the Fort Rixon district of Zimbabwe.
PREM is also set to benefit from the rising global demand for lithium fueled by the shift towards electric cars and renewable energy sources that use lithium-ion batteries to store energy for future use.
Bullish investors should be patient with the stock. They could initiate bullish positions ahead of a potential rally with stop-loss orders below the support level to minimise their risk if the shares break down and head lower.*
*This is not investment advice.
Premier African Minerals share price.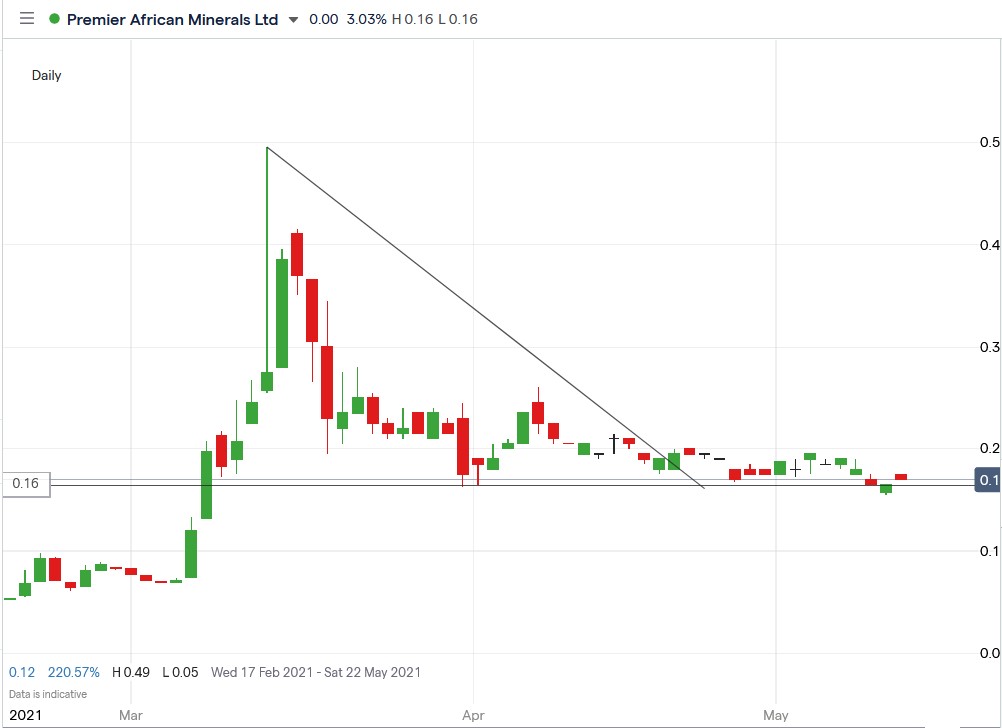 PREM shares are trading sideways at a major support level. Can they surge higher?