Shares of Sanne Group PLC (LON: SNN) spiked 27% higher after the company rejected a takeover bid from Cinven, valuing it at £1.3 billion.
Sanne is a public company that provides fund administration services to alternative fund managers and family offices.
Cinven offered to buy Sanne's shares at 830p apiece, a 36.85% premium to yesterday's closing price, but this was not enough to convince Sanne's board.

Analysts have raised concerns that public companies are not revealing serious takeover offers to shareholders as they should with the board of directors making an independent decision.
Sanne is one of several publicly-listed UK companies that have received takeover offers from private equity companies looking to get exposure to the UK economy.
Shares of listed UK companies are considered much cheaper than their US counterparts, which are richly valued given the massive gains witnessed in US markets since the 2008 global recession.
The UK markets have lagged those of other developed countries, and many fund managers are aware of the disparity, hence, the recent deluge of offers for UK companies.
The British economy is expected to recover from the negative impact of the coronavirus pandemic much faster than other European economies fueled by the success of its vaccination programme.
Other British public companies that have recently accepted takeover offers include UDG Healthcare and St Modwen Properties.
Sanne shares rallied to a high of 770.5p per share, which was way below the price offered by Cinven, indicating that investors believe that Cinven will not submit a better offer for the company.
The board rejected Cinven's offer on Wednesday given that the company's shares were trading at 830p four years ago, and they believe the business is worth more. However, the shareholders may not appreciate the move.
Sanne share price.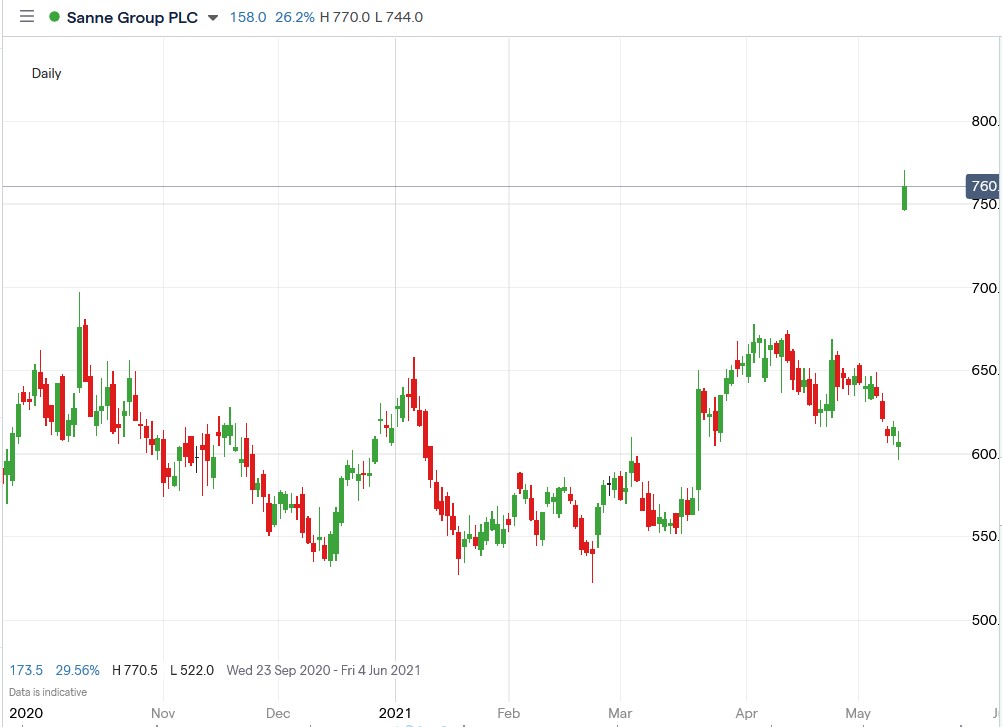 Sanne shares surged 27.04% to trade at 770.5p rising from Thursday's closing price of 606.5p.