Key points:
Quhuo is up 20 to 25% premarket
The trigger is the cancellation of a stock offering
Quite possibly relief at stockholders not being asked to put more capital in
Quhuo (NASDAQ: QH) stock is up 20% after it announced that it had canceled plans for a stock offering. This is nice, of course it is, but it's also not enough to reverse the QH stock price decline over the past year. We're going to need to see a serious turnaround in the underlying business before we see that happening. It's also fairly obvious that the cancelled offering never was going to happen. So the relief here could be short lived.

It is a relief though, for it means that investors are not going to be called upon to throw ever more capital into that business adventure. Quhuo, as we've reported before, essentially an employment agency for the gig economy in China. Things like providing delivery drivers for the local food and grocery delivery companies, that sort of thing. This could work, might not – and we're beginning to get the information about whether that delivery market is working in China. Missfresh, for example, has entirely blown through all its money trying to crack that local delivery market. If the firms doing the delivery become failures then it's not going to look good for staffing agencies looking to feed the delivery companies.
Matters were bad enough that Quhuo fell below the NASDAQ minimum offer price of $1 and so had to have a 10 for 1 reverse share split. That's the leap in the stock price you can see in this chart. As it's also possible to see the stock price has continued its decline after that consolidation.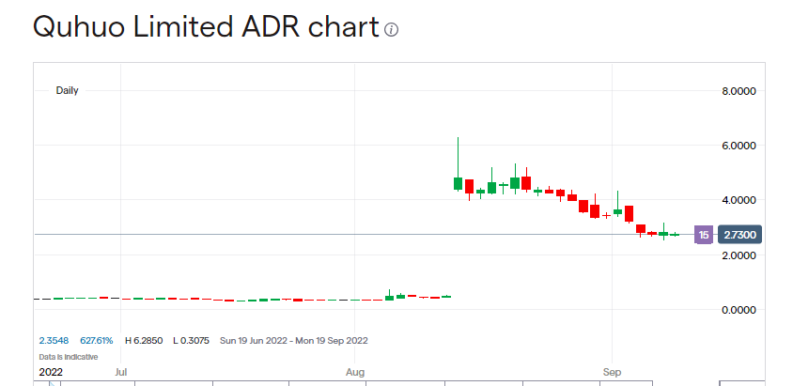 Also Read: 30 Global Stocks That Warrant Your Consideration
The trigger for this price rise today – mostly postmarket on Friday in fact – is the cancelation of a stock offering. Quhuo would no doubt like to be able to issue stock, they'd certainly prefer to have more capital rather than less. But stockholders wouldn't be so happy at another issue. Thus the QH price rise, possibly in relief at the news.
For the detail is that Quhuo had a registration to issue more stock active with the SEC. It had been there for some time, unused. The shelf offering was for up to $200 million in mixed stock (so, stock, warrants, at issuer's choie). Now how likely that was to be triggered or used is debateable. For the total market capitalisation of QH stock is only $12 million and change. Issuing $200 million in stock to a $12 million stockholder base just isn't one of those things that is generally done – it's not usually thought to be possible in fact.
So, the news really is that something most unlikely to be done now isn't going to be done. There isn't going to be – however unlikely it was that it would be – a massive dilution of the currnt stockholders. The value of Quhuo will therefore depend upon that underlying business in China.