Key points:
UK Oil & Gas (UKOG) shares plunged 22.4% on discounted share placing.
The firm sold over 3.42 billion shares at a discount to raise £3.0 million.
The company will use the proceeds to advance its projects.
The UK Oil & Gas PLC (LON: UKOG) share price plunged 22.4% after announcing that it had raised £3.0 million via discounted placement of over 3.428 billion new ordinary shares priced at 0.0875 pence each.
Investors reacted negatively to the announcement due to the discounted prices offered to the new investors. The oil and gas company was taking advantage of the recent rally in its share price occasioned by Liz Truss's election as the United Kingdom's Prime Minister.
Also read: Best Oil Stocks To Buy Right Now.
The oil and gas company said it would use the proceeds of the capital raise to fund its current strategy and work programme. The firm noted that it would use the funds raised as part of its working capital to complete the Phase 2 Turkey seismic programme and drill a new appraisal well in the Basur oil discovery.
UKOG expects the drilling and seismic programmes to add to its near-term production targets in the first half of 2023. Today's decline in UKOG's share price has left its shares trading above a crucial support level, which could underpin a future rally.
The latest rally in UKOG shares was attributed to optimism regarding the oil and gas policies likely to be implemented by the Lizz Truss government, which has promised to issue multiple new oil and gas prospecting licenses to boost the UK's oil and gas production.
The UK is taking a different path to the one championed by the European Union (EU), where countries such as France and Germany have reaffirmed their commitment to renewable energy sources, reiterating the importance of sustainable energy sources to the EU.
However, as many experts have pointed out, the world is far from entirely dependent on renewable energy sources. We will continue using oil and gas as the primary heating energy sources in our homes and factories until 2050.
Therefore, companies like UKOG are likely to benefit immensely from additional investments in oil and gas resources as the rest of the world takes on the daunting task of developing renewable energy sources. There is a reason why Warren Buffett has been buying shares in oil producer Occidental Energy.
*This is not investment advice.
UKOG share price.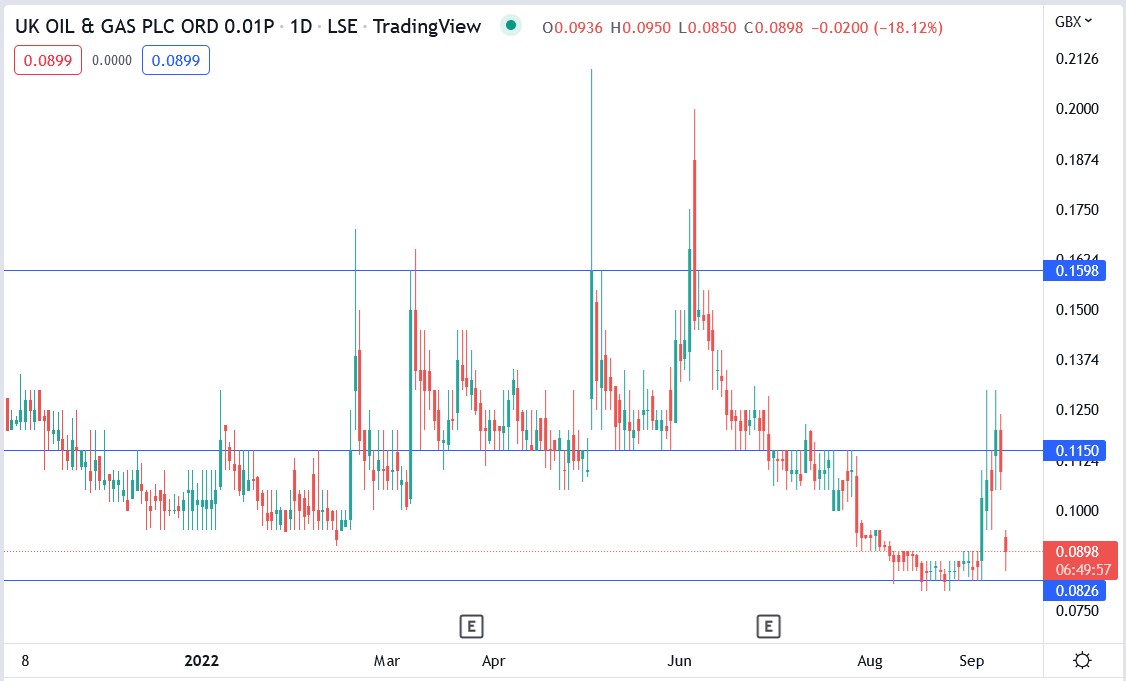 UK Oil & Gas (UKOG) shares plunged 22.4% to trade at 0.0852p, falling from Friday's closing price of 0.1098p.