Shares of Saga PLC (LON: SAGA) edged 4.5% higher after the company, which offers travel and insurance services to people aged over 50 years, announced that it had successfully negotiated the deferral of some of its debt obligations.
The company was rumoured to be on track to raise £170 million ($238.3 million) in new debt during the last week of February, but it is yet to confirm the reports or announce a successful capital raise.
Today's announcement is a step in the right direction for the company. It reached an agreement with some of its creditors to amend the terms of its loan and revolving credit facilities for its travel business, which suffered immensely from the coronavirus restrictions.
Saga is yet to sign the one-year extension it has requested for the debt on its cruise ship business, which will give it some breathing room, especially if the coronavirus restrictions imposed by most countries extend into H2 2021.
The company's cruise ship business is likely to rebound massively once the coronavirus restrictions in the UK and other developed countries are lifted, allowing its cruise ships to sail to the most popular tourist destinations.
Data on cruise reservations for this year and 2022 has shown significant pent-up demand for cruises, especially among Saga's client base. The company will benefit from the same once its cruise operations resume.
Euan Sutherland, Saga's CEO, said: "The successful conclusion of these discussions is the latest step in reinforcing Saga's financial position, and I would like to thank our funding partners for their ongoing support. We continue to see strong pent-up demand for travel among our customers and remain well placed to deliver on this opportunity when the guidance on international travel changes."
The new debt covenants allow Saga's cruise ship business to borrow up to £50 million to fund its operations, which come in at £6-8m per month, while postponing principal payments on its debt to March 2022.
Saga share price.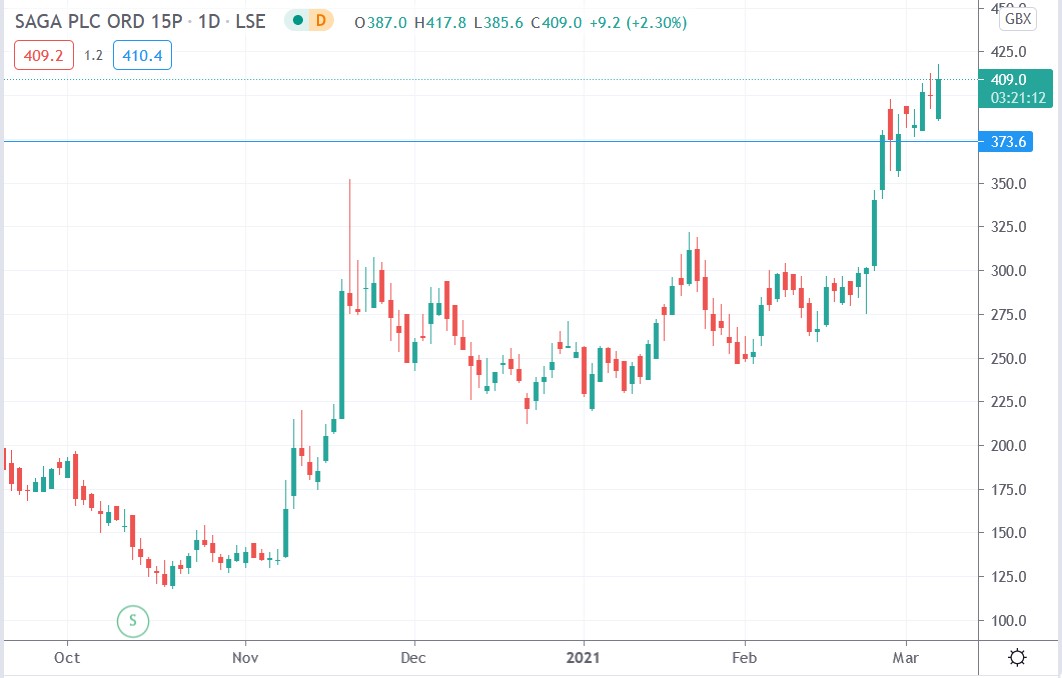 Saga shares edged 4.5% higher to trade at 417.8p rising from Thursday's closing price of 399.8p.