Key points:
Sareum shares surged 11.7% as its drug completed preclinical trials.
The SDC-1801 drug candidate is now headed for human clinical trials.
However, there is still a long way to go before commercialisation.
The Sareum Holdings Plc (LON: SAR) share price surged 11.7% after revealing that it had received the final results of preclinical studies of its SDC-1801 drug candidate that targets autoimmune disease and the severe respiratory COVID-19 symptoms.

Investors cheered that the preclinical studies had met their objective of identifying organs or tissues that might be susceptible to high-dose toxicity and determining an appropriate dose range for the first-in-human clinical studies.
Sareum also told investors that it would apply for an exploratory Clinical Trial Authorisation ("CTA") since it had received the final signed report from the Contract Research Organization (CRO) that conducted the study.
The company is confident that the relevant health authorities will approve its CTA and that it will start a phase 1a human clinical trial in H2 2022, marking a significant milestone for the company and its drug candidate.
Sareum is currently working with specialist clinical trial consultants to design the phase 1a clinical trial of its SDC-1801 drug candidate. The trial's main focus would be to investigate the safety of rising doses of SDC-1801 in healthy subjects.
After completing the initial study, the next phase will test the drug's effectiveness against specific indications. In addition, the studies will also test the effectiveness of SDC-1801 against specific autoimmune disease biomarkers.
Investors were pleased with the report showing that Sareum is making significant progress towards commercialising its SDC-1801 drug candidate.
However, given that the drug is in the initial testing stages, the company still has a long way to go before commercialising the drug.
Dr John Reader, Sareum's Chief Scientific Officer, commented: "We are pleased to have successfully completed the preclinical toxicology studies and have now received the final report, which will form a key part of the planned CTA application for SDC-1801. We are particularly encouraged that the promising data and progress with the manufacture of SDC-1801 in capsule form continue to support our intention to file the CTA application in mid-year and our plan to begin the first clinical trial with SDC-1801 during H2 2022."
Investors buying Sareum shares should know that the company still has much to do before SDC-1801 is available to patients. Still, Sareum shares have fallen 45.9% in 2022 and look attractive at current prices.
*This is not investment advice. Always do your due diligence before making investment decisions.
Sareum share price.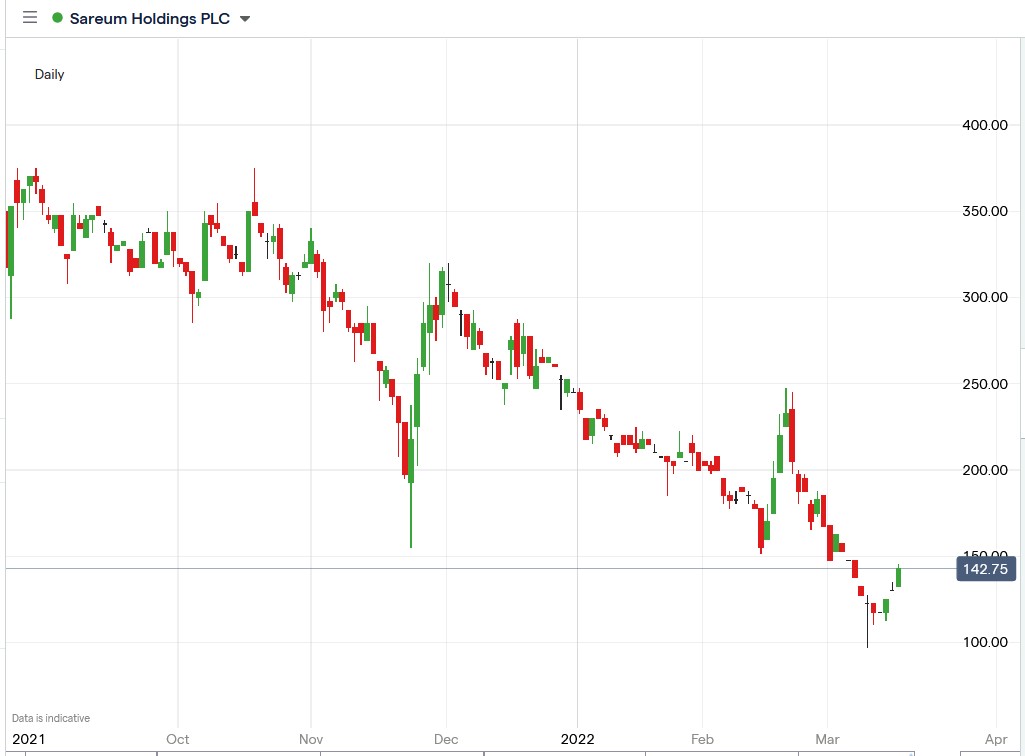 Sareum share price surged 11.73% to trade at 145.25p, rising from Tuesday's closing price of 130.00p.