Scancell Holdings (LON: SCLP) shares are rallying on Tuesday after the company said a Phase 1 clinical trial is being planned in South Africa and the UK for its novel COVID-19 vaccine.

The trial is part of the COVIDITY program, a collaboration between Scancell and scientists in the newly established Centre for Research on Global Virus Infections and the new Biodiscovery Institute at the University of Nottingham and Nottingham Trent University. The programme has received funding from Innovate UK.
Preclinical data has now been published on its two lead bivalent vaccine candidates, SN15 (also known as SCOV1) and SN17 (SCOV2).
They are based on a modification of Scancell's ImmunoBody DNA vaccine technology, with Scancell saying that these next-generation COVID-19 vaccines could offer improved protection against new coronavirus variants.
The preclinical data showed that SN15 elicits strong pro-inflammatory T-cell responses, while "SN17, encoding the Beta RBD sequence, stimulates cross-reactive antibody-mediated and T-cell immunity."
For the first part of the trial, a regulatory application to initiate a Phase 1 clinical trial of COVIDITY has been submitted to the South African Health Products Regulatory Authority (SAHPRA).
After a demonstration of safety in Part 1 of the study in South Africa, Scancell will then seek approval from the Medicines & Healthcare products Regulatory Agency (MHRA) to initiate a UK extension of the study.
Dr Cliff Holloway, CEO of Scancell, commented: "There is a significant threat from future mutations of the SARS-CoV-2 virus, as we have seen with the rapid transmission of the Delta variant. Our next generation COVID-19 vaccine has the potential to work alongside currently approved vaccines by protecting the population against new variants of SARS-CoV-2."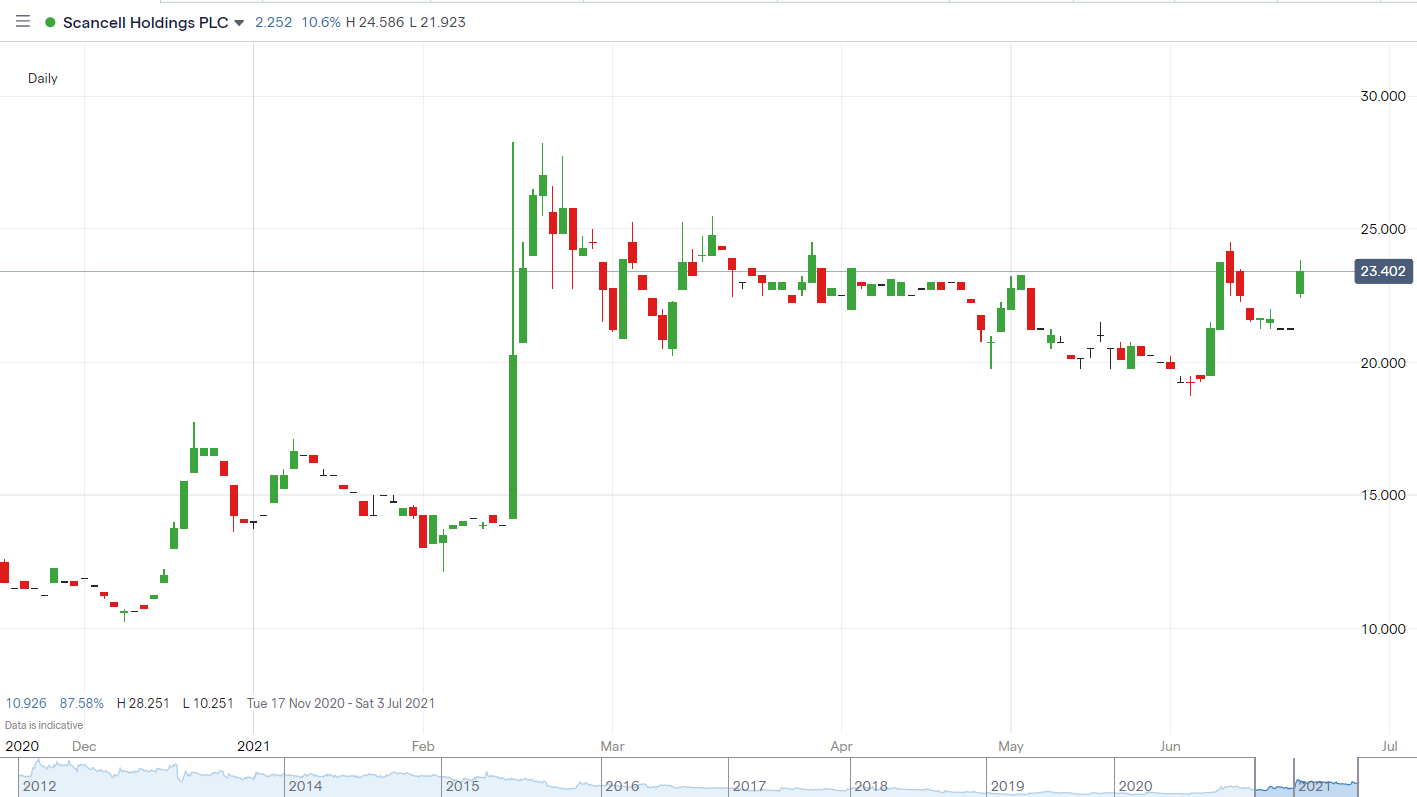 Scancell's share price is currently trading at 23.6p, up 11.25%
Should you invest in Scancell Holdings shares?
Scancell shares are traded on the London stock exchange's AIM market (the alternative investment market), which is the submarket specifically for smaller companies. AIM stocks are attractive to investors as they have tax advantages and smaller companies have the potential to benefit from rapid growth. But are Scancell shares the best buy? Our stock market analysts regularly review the market and share their picks for high growth companies