Key points:
Cineworld shares are trading at their all-time lows following the recent crash.
The company is currently going through a court-supervised bankruptcy.
Cineworld shares look very attractive as a speculative play.
The Cineworld Group plc (LON: CINE) share price was trading at 2.44p today, a far cry from its all-time highs of 320p hit in May 2017, then again in October 2018 and May 2019. Back then, the cinema operator was a market darling, and many thought good times would last forever.

In December 2017, Cineworld announced signing a deal to acquire US cinema chain Regal Entertainment Group for $3.6 billion. The move was hailed as a strategic win for Cineworld, which would expand its operations to the lucrative US movie theatre industry. Cineworld took on significant debt to finance the deal, which bit it later.
Also read: 12 Best Shares To Buy As A Beginner.
At the time, servicing the debt did not seem like a significant obstacle given Cineworld's valuation, which was in the billions. Cineworld was on a roll and was not stopping; soon after acquiring Regal Cinemas, it went after Canadian movie theatre chain, Cineplex.
Shortly after it had agreed to acquire Cineplex, the coronavirus pandemic hit, resulting in lockdowns as governments ordered people worldwide to stay home. As a result, the company had to close its movie theatres for many months, depriving it of crucial revenues. Cineworld had to go into debt to fund its operations and maintain its theatres.
Cineworld's debt burden ballooned during the pandemic lockdowns since it had to take on massive debts to keep paying its employees to maintain its theatres. In addition, the firm had to keep paying for the leases on its properties or risk being evicted. Hence, the company burned through massive amounts of cash.
Fast forward to today, and Cineworld is undergoing a voluntary chapter 11 bankruptcy process, which it says will allow it to emerge stronger and continue operating after restructuring its debt. The firm expects to be out of bankruptcy protection in Q1 2023.
So, would I buy Cineworld shares at current prices? The short answer is yes, but I would buy them purely as speculation, given the low prices at which they are trading. Nevertheless, the potential gains could be massive if the company emerges stronger from bankruptcy.
*This is not investment advice.
Cineworld share price.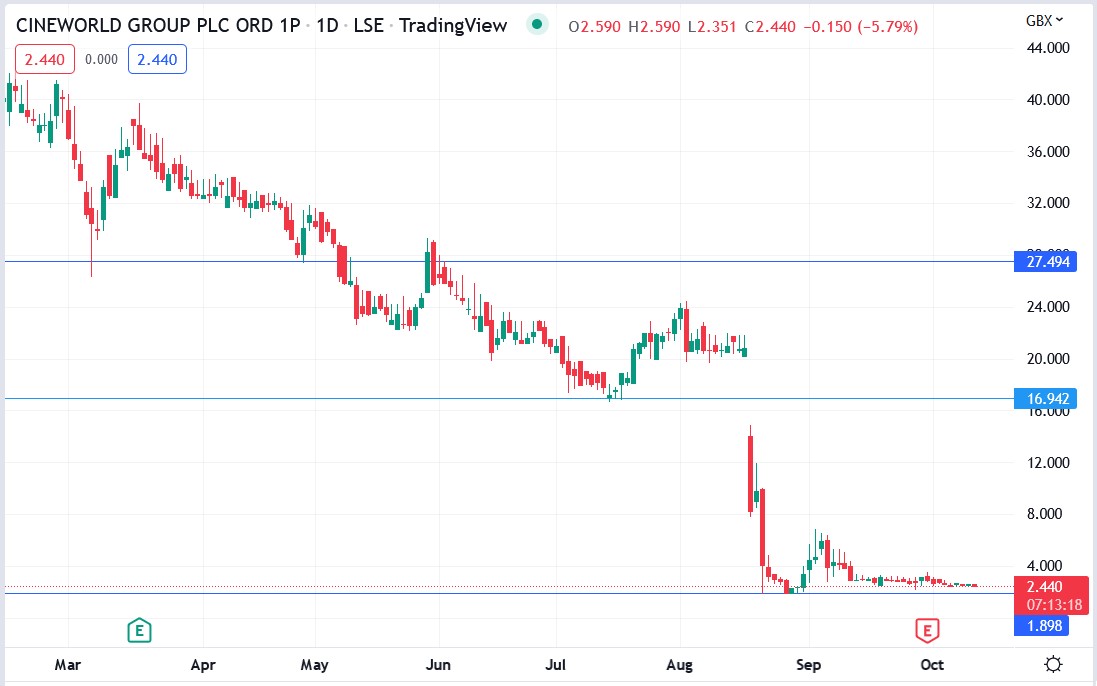 The Cineworld share price has been trading in a tight range since September. Is there hope?