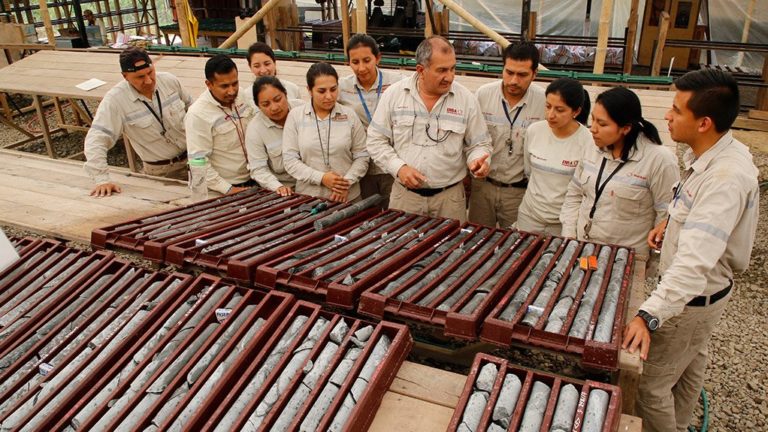 Shares of SolGold plc (LON: SOLG) edged slightly higher after releasing an update regarding the drilling operations at its Rio Amarillo project in Northern Ecuador. 

The mining company noted that exploration drilling at the Varela porphyry was now underway, with the target containing copper, gold and molybdenum.
Initial samples taken from hole 1 showed rock-saw channel sample results of 99m @ 0.34% CuEq including 25.1m @ 0.58% CuEq. 
SolGold intends to drill to a depth of 1500 metres and has drilled up to a depth of 90 metres. 
The Amarillo project is located 30km southeast of SolGold's Alpala project, containing high-quality copper, gold and silver deposits. 
Benn Whistler, SolGold's Technical Services Manager, commented:
"Drill hole RDH-21-001 marks the much-anticipated drill testing of the first target within the cluster of large porphyry systems at the Rio Amarillo project."
Adding: 
"The regional geological setting and gross geological architecture at Rio Amarillo is very impressive. The large-scale porphyry targets at Varela, Chalanes and Palomar are three of the Company's highest priority targets and have similarities to those discovered at the Company's Cascabel project, some 30km to the northwest."
SolGold surface sampling and mapping at Amarillo have identified "outcropping surface copper-gold-molybdenum mineralisation within each of the lithocap areas at Varela, Chalanes and Palomar".
The lithocap area at Varella covers an area of 1,200m x 800m with the ongoing drilling operations returning "encouraging surface rock-saw channel results of around 100m grading 0.1% Cu and 0.3 g/t Au, including 25m grading 0.1% Cu and 0.6 g/t Au."
SolGold shares barely moved on the encouraging announcement, as shown on the chart below. Therefore, traders looking to establish long positions in the mining company might be better served to wait for a break above the resistance level or a pullback to the lower support level.
*This is not investment advice. 
SolGold share price.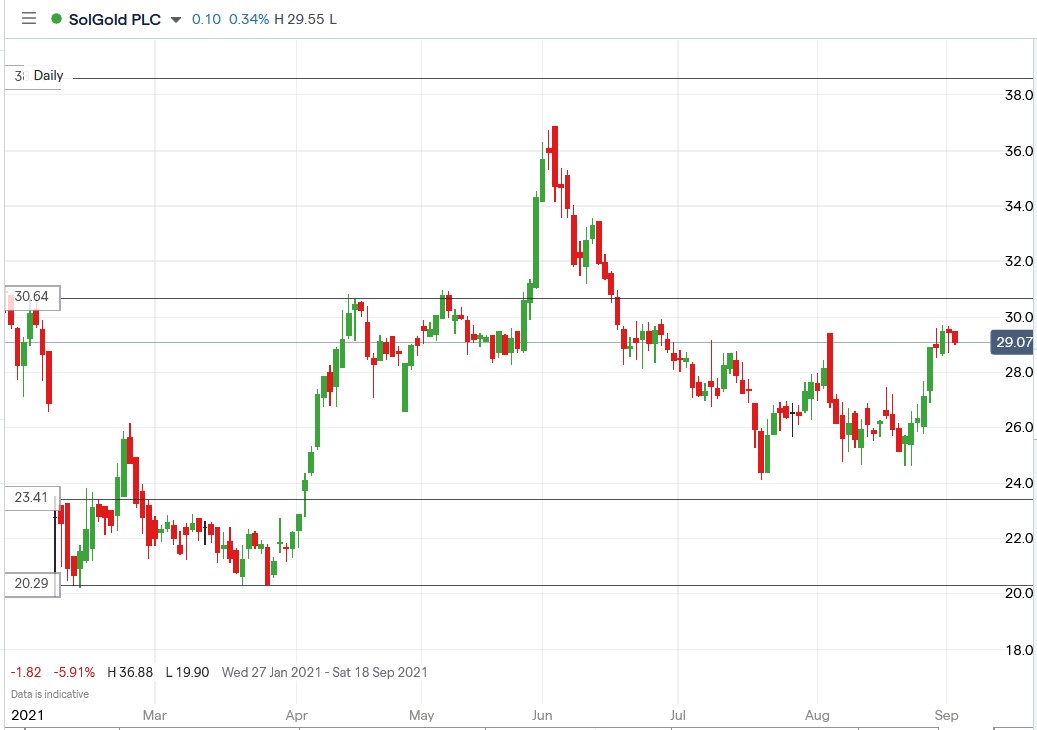 SolGold shares are approaching a critical resistance level, and buyers will be interested to see if it breaks in the coming days. 
Should You Invest in SolGold Shares?
After a fall from the $2,000 level, could gold be set for another run higher? If you're a gold investor, you won't want to miss out on these stocks… Discover which companies our analysts are focusing their attention on for the coming months. If gold does move back to $2,000, these investments could see significant gains