Best Gold Stocks to Buy Right Now
Trade Gold Stocks with eToro
eToro: 68% of retail CFD accounts lose money
Take A Look
eToro is the world's leading social trading and investing platform and is perfect for those who are looking to add gold stocks to their portfolio. Their platform is very user-friendly and with 0% commission to pay they are a great choice.
Best Value for Money Gold Stocks
1. Kinross Gold
Kinross gold shares are trading at $7.52, down over 14% in the last month but up 58.65% for the year to date.
Nevertheless, I believe Kinross shares still provide good value for money.

Earlier this month the company released its third-quarter results, reporting another strong quarter and looks likely to meet its full-year 202 guidance. The higher price of gold contributed to its positive quarter, and it announced a dividend of $0.03 per share.
Looking at positives for the future, Kinross is looking to increase its production by 20% by 2023, while it also managed to bolster its balance sheet and lower its net debt.
If the company can achieve its production growth aim, I believe its current share price looks like great value for money moving forwards.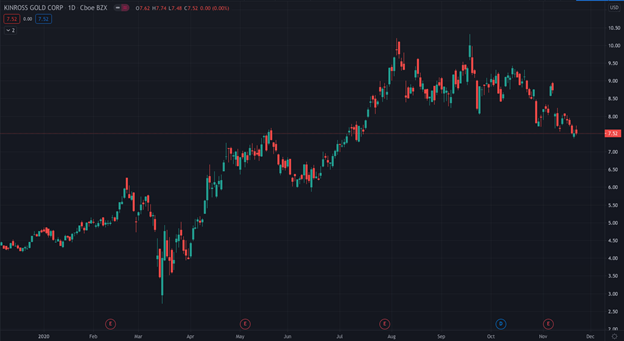 2. B2Gold Corp
B2Gold is an exploration company headquartered in Vancouver, Canada, that is involved in the acquisition and development of mineral properties.
Its shares are currently priced at $5.68 after falling over 16% in the last three months, probably due to the price of gold decreasing. However, they have gained 41.65% so far this year.
The company reported third-quarter results that fell in line with analyst expectations, with revenue and EPS growing year over year. The company has also reduced its long term debt to almost nothing and is free of net debt.
As you can see in the chart below, B2Gold's share price is tied to gold's value, and so your analysis of the company's share's should generally follow where you believe gold will move to over the coming months.
In my opinion, we will see gold move lower in short to medium term before another move back to $2,000, and so, I feel B2Gold's share price provides good value for money and has room to move higher if you are holding for the long term.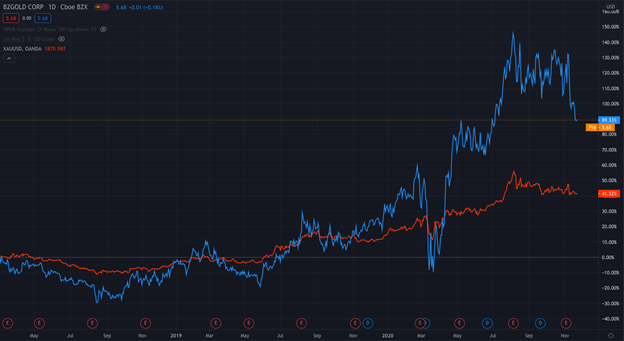 3. Kirkland Lake
Another Canadian gold mining company, Kirkland Lake shares started off the year at $44.63 and are now trading over 6.5% lower at $41.19.
At the beginning of November, the company filed its third-quarter report showing strong earnings and good cash flow with its profit and revenue increasing year on year. However, the company has increased the number of shares over the last year, diluting shareholders and decreasing their slice of earnings.
Despite the share dilution, Kirkland's EPS has continued to grow over the last few years, and its current share price looks good value for money. We can also see that several Wall Street analysts surveyed by TipRanks have rated the stock as a buy and set an average price target of $62.54, representing a potential 51.80% upside.
And I tend to agree with their analysis. Kirkland's share price has dipped so far this year, and its share dilution is something to watch out for, but I believe it is still a stock that represents good value for money.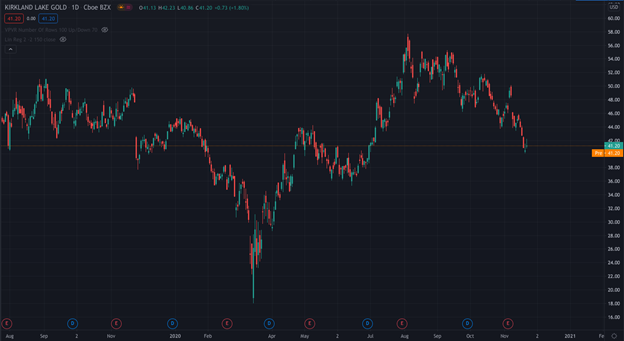 4. Barrick Gold (NYSE: GOLD)
Barrick Gold is the world's second-biggest gold mining company and also has the best stock ticker.
It is already considered one of the four leading gold miners. Still, the company's objective is to be the most valued gold mining company in the world, and its targets in achieving that objective mean production will remain at a solid pace over the next few years.
Its shares are valued at $24.28 after falling over 16% in the last three months, but they gained 30.61% so far this year.
In its recent third-quarter report, Barrick beat analysts expectations with record revenues of $3.54 billion and a strong balance sheet. With the company expecting its all-in sustaining costs to reduce over the next few years, we could see Barrick's share price move positively.
Rapid Growth Gold Stocks
5. Greatland Gold
Greatland Gold shares have seen rapid growth this year alone gaining 1186.11%, trading at 23.15p per share.
At the end of October, the company announced a positive update on its partner, Newcrest's drilling campaign at Greatland's Havieron gold mine in Western Australia that showed the "best intercept to date," a potential new target area and "excellent results" from infill drilling support.
The results from the drilling campaign have provided the company with optimism with its CEO stating that it reinforces the potential for a "bulk tonnage mining operation."
The news signals that the Havieron mine is a significant asset to the company with great potential, and although it could take some time before the company can generate revenue from the project, its future looks promising.
Greatland has already seen rapid growth this year, and as the Havieron Project progresses, I suspect we could see even more.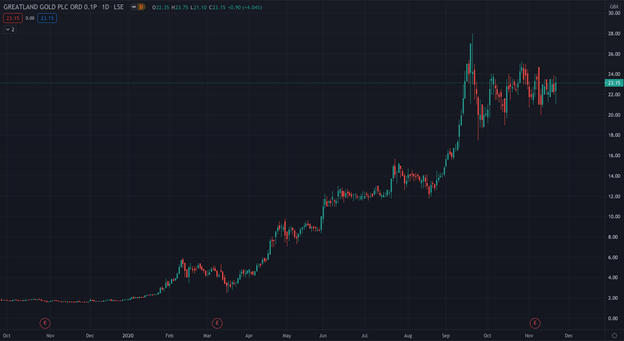 Gold Stocks with the Strongest Momentum
6. Newmont Corporation
Newmont Corp is considered the world's biggest gold mining company with ownership of gold mines in the US, Canada, Mexico, the Dominican Republic, Australia, Ghana, Argentina, Peru, Colombia and Suriname.
Its shares are currently trading at $61.65, and despite trading in a range over the last few months, they have increased 41.89% for the year to date.
Newmont's third-quarter report showed that it's quarterly profit more than doubled on rising gold prices with funding for new projects approved.
The company has a strong portfolio, and despite the recent stall, it is continuing its strong momentum as the worlds biggest gold mining company.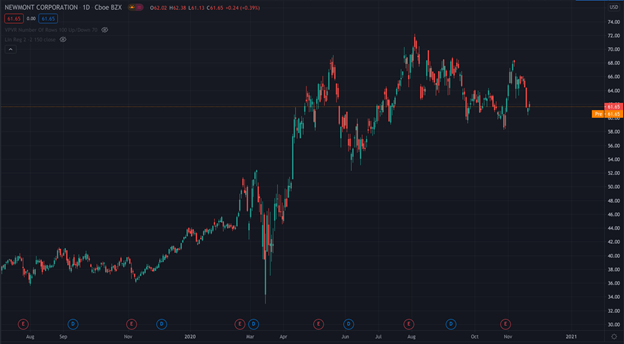 7. Alamos Gold
Alamos Gold shares are priced at $8.71 after gaining 44.68% for the year to date.
The company, which is headquartered in Toronto, Canada, engages in exploration, development mining and extraction of precious metals, primarily gold.
At the end of October, the company released its third-quarter earnings, showing an increase in revenue of 26% compared to Q3 2019, while its adjusted EPS also grew.
Looking to the future, I don't see Alamos' stock price growing substantially, due to the fact there isn't too much to factor in when it comes to future projects or events. However, due to its share price falling 12% in the last three months and the company's substantial reinvestment back into the business,  I do feel we could see a move back towards the $10 level.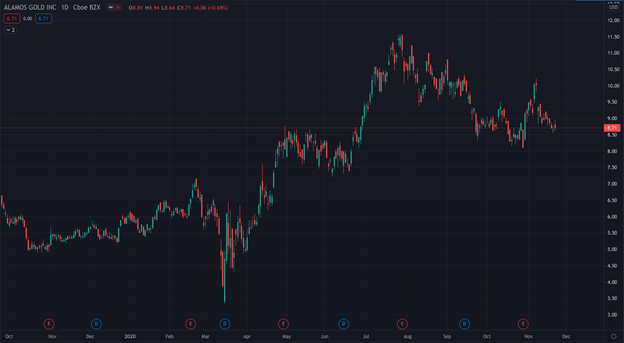 Why Invest in Gold Stocks Now
Gold is generally used as a store of value and as a hedge against inflation.
With Treasury yields continuing to fall, gold prices have risen significantly. Many investors and traders are expecting a continuing move lower in Treasury yields, which means that gold prices, and in turn, gold stocks will potentially move higher.
What to Know Before Investing in Gold Stocks
Of course, several factors influence both gold and gold companies stock prices.
The first thing to note is the most obvious when gold prices are on the rise; gold mining companies shares will generally follow.
Gold prices are influenced by factors such as inflation, market sentiment, consumer demand, central bank demand, US dollar value, and production. One of the main aspects I look at when evaluating gold prices is US bond yields.
When it comes to individual companies, you will need to consider all of the above for gold prices, plus the company itself. Look at the mines it has and the amount of gold and production in them and other aspects such as the company's financial reports and general stability.
Gold is used as a store of value, so it is an essential commodity. Make sure you learn what moves it and how that could impact your investment in gold stocks.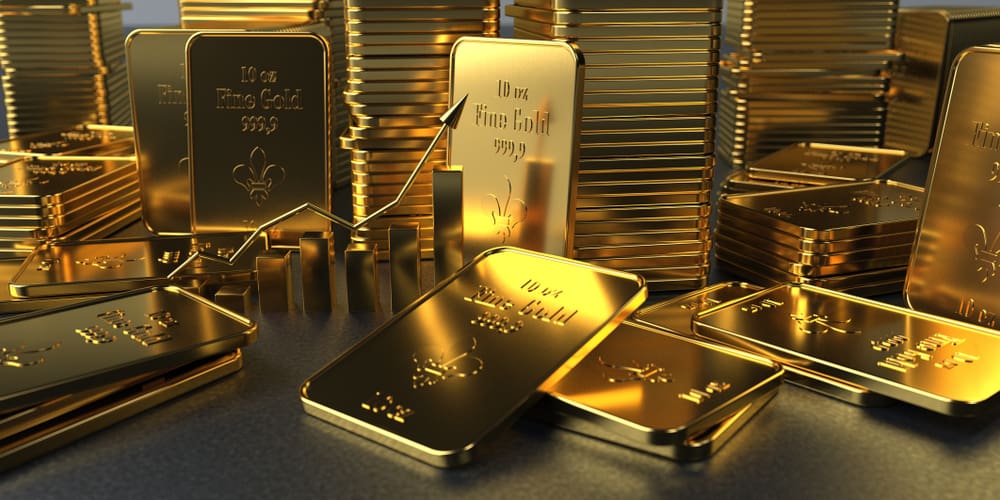 How to Start Trading Stocks Online
1. Research Gold Companies
Initially, you will need to research the company you have an interest in investing in. Make sure to look into its earnings, the amount of debt it has, where its mines are based, and the resources at those mines. For example, if the company only owns one small mine that has minimal gold reserves, then the prospects for the company are not favourable. Make sure to look at gold demand across the world and how you think that could impact gold prices in the future.
2. Find a Broker
Another critical part of the process is finding the right broker for you. The first thing you need to check is that the broker is regulated (if not then avoid them). Look at whether the broker offers the stock and other assets you want to buy as well as any added extras such as market analysis tools and research.
3. Open & Fund an Account
Next, you need to open and fund your account and no matter what broker you choose the process will be very similar. You may need to fill out some details to prove your identity and then go through the process of depositing the money. Most brokers will allow you to pay via debit card, bank transfer or an eWallet such as PayPal.
4. Set Order Types
Before you open any positions, make sure you understand the different order types available to you such as market, or pending orders. Using different order types can help you with risk management, so you must learn about them.
5. Select & Buy Gold Shares
Now you're all set to buy shares in the company you've chosen. However, before you do, make sure you have done enough research and have a plan in place for where you want to exit your position, whether it goes for, or against you. Always plan ahead.
Best Brokers to Trade Gold Stocks
eToro:
68% of retail CFD accounts lose money
Take a look
Finding the right broker for you is perhaps the most important part of the process. While you can buy Gold stocks with most brokers on the market today, not all brokers are created equal.  Finding one can be an arduous and daunting task, which is why we've hand-picked favourites that tick all of these boxes to help you get started.
New traders, when they art out, will often choose a broker that is not right for them. So, whether you're a new trader looking to get started with investing or just curious, the trading platforms we have selected above are ideal for beginners. Each one is fully regulated – meaning your funds are kept safe, and they have all the tools you will need to get a positive start in the markets. For example, they offer a wide range of stocks to choose from and educational resources to help you get started.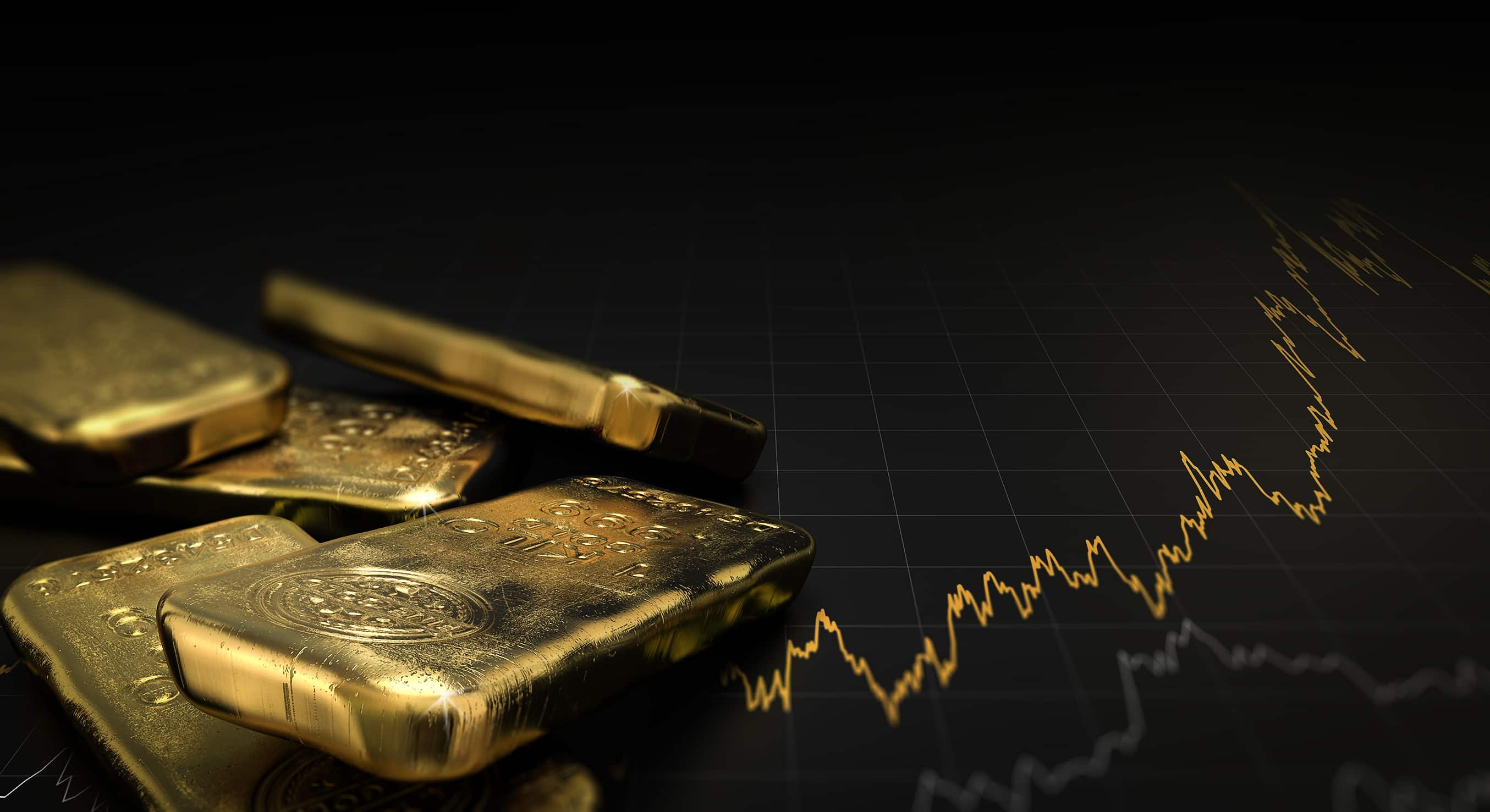 Summary
Gold and gold mining companies will always hold value, and if you are trying to diversify your portfolio, we recommend having a gold mining stock in there.
While gold stocks can be a great way of growing your portfolio, it is vital that you understand gold prices and how they move. Look at the current market risks and US bond yields as an indicator of when gold may move higher.
While we believe gold prices could see a further dip lower in the near term, we expect to see them hit the $2,000 mark again, and so gold stocks will be a great way of capitalising on that rise and to get the best return on investment.
PEOPLE WHO READ THIS ALSO VIEWED: