Latest

16:40


European Markets Close
FTSE 100: -0.63%
DAX: +0.33%
STOXX 50: +0.60%
IBEX 35: +1.10%
CAC 40: +0.93%
15:35


A Crazy Day So Far...

A mad day in markets so far, with retail brokers seeing issues and restricting access to specific (WSB related) stocks.

GameStop shares are still higher, up 1% at $351, BlackBerry shares are down 40.24%, while AMC Entertainment's stock price is down 61.51%.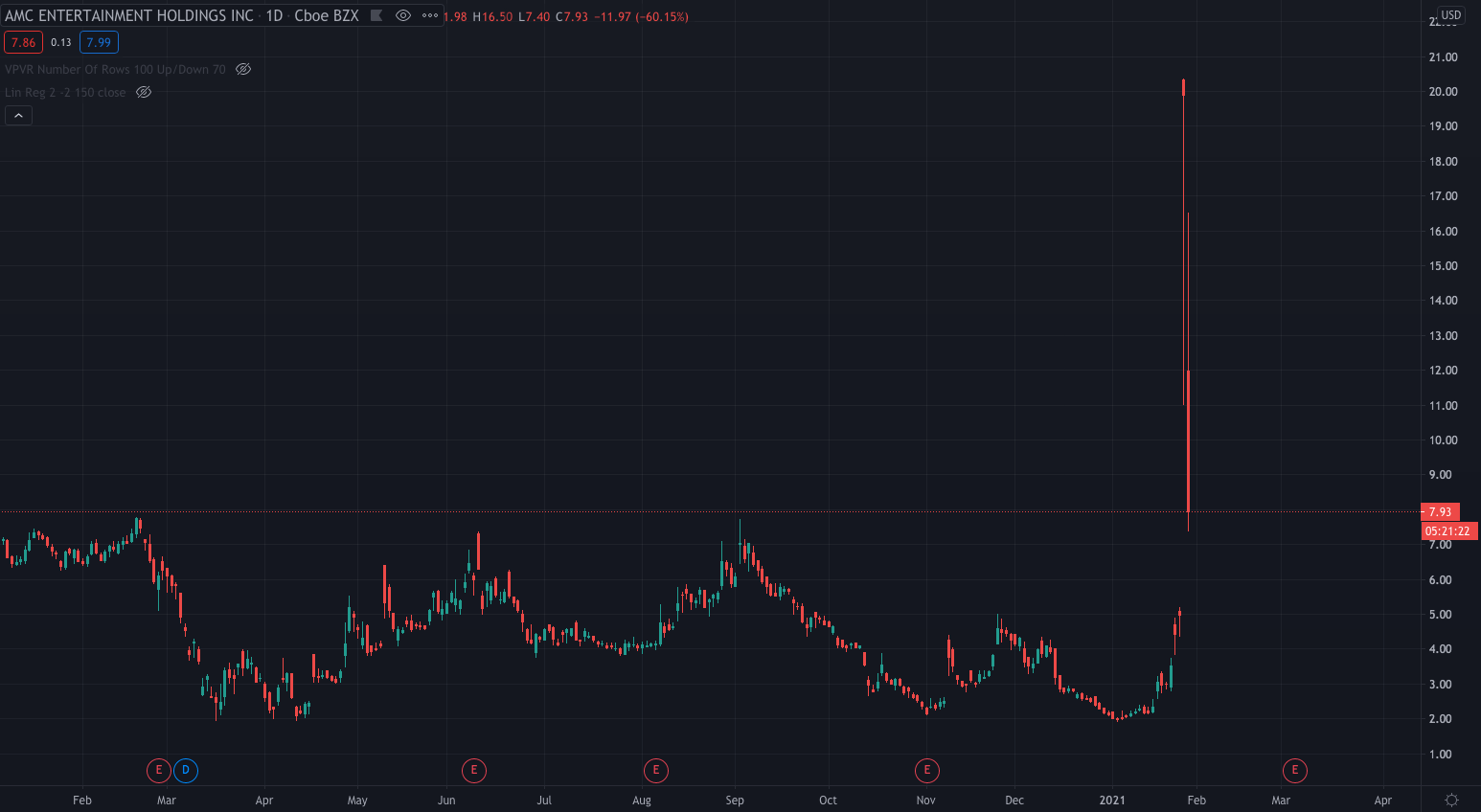 14:31


US Markets Open Positive
DOW: +0.73%
S&P: +0.57%
NASDAQ: +0.39%
13:12


American Airlines

American Airlines Q4 Earnings…
Operating Revenue: $4.03 billion, estimated $3.88 billion
Adj Earnings Per Share: -$3.86, estimated $-4.11
American Airlines (NYSE: LUV) shares: +57.91%, $26.16
The company sees Q1 capacity down 45%
13:08


US Equity Futures
DOW: -0.02%
S&P: -0.23%
NASDAQ: -0.75%
11:40


Southwest Airlines

Southwest Airlines Q4 Earnings…
Revenue: $2.01 billion, estimated $2.12 billion
Adj Earnings Per Share: -$1.29, estimated $-1.67
Southwest Airlines (NYSE: LUV) shares: -0.59%, $43.89
The company is hoping to achieve cash burn breakeven in 2021
The Best Shares To Buy Right Now
11:18


GameStop

After initially falling premarket, GameStop shares are now up 28% at $444.96. Earlier they climbed to over $500 per share in another monstrous move for the stock.
11:15


Our Top Stories So Far...

EURASIA MINING SHARES RALLY AS IT INVESTIGATES ALEXEI CHURAKOV'S 27.4M STOCK SALE

GENEDRIVE SHARES GAIN AFTER BECKMAN COULTER PARTNERSHIP ANNOUNCEMENT

HERE'S WHY CERES POWER SHARES PLUMMETED 19.9% DESPITE POSITIVE NEWS ARTICLE

IQ-AI SHARES RALLY 10.6% ON AI SIMULATED BRAIN IMAGING TECHNOLOGY BREAKTHROUGH
10:00


GameStop, AMC, BlackBerry

GameStop, AMC Entertainment and BlackBerry shares are plunging premarket following astronomical rises in recent days…
GameStop: -5%
AMC: -18.09%
BlackBerry: -16.02%
08:01


European Markets Lower

European stocks continue to slide, following on from a risk-off session in Asia…
FTSE 100: -0.9%
DAX: -0.8%
STOXX 50: -0.9%
IBEX 35: -0.9%
CAC 40: -1%
CFDs are complex instruments and come with a high risk of losing money rapidly due to leverage . 75 % of retail investor accounts lose money when trading CFDs with this provider . You should consider whether you understand how CFDs work, and whether you can afford to take the high risk of losing your money .