Key points:
TDH Holdings is down 98% from peak and up 35% premarket
The trigger seems to be the withdrawal of a filing to sell stock
The actual implication might not be quite what people think
TDH Holdings (NASDAQ: PETZ) stock has not done well by shareholders. PETZ is down 98% or so from its peak at $139, 96% down over the past 12 months. However, TDH stock was up 8% yesterday during trading hours and 33% so far this morning premarket. So, what's going on, is there some turnaround in the business prospects?

Sadly, at least as far as it's possible to see, no, there is no major change in the underlying business. Not that a 40% rise from current depressed levels is going to make much difference to that 96%, or 98%, loss already suffered. Percentages tend not to work that way, calculated as they are from the market price of the day, not from where they started.
The actual business sector, well, that could do well enough. TDH Holdings makes pet foods, snacks and treats, we do all spend more on those sorts of things these days so why not? It's just that the actual performance of that business isn't working as we might hope. So, what it is that is producing this jump in the stock price today?
It's possible to say that it's something of an error in fact. For the facts of the case are not, quite, as some seem to think.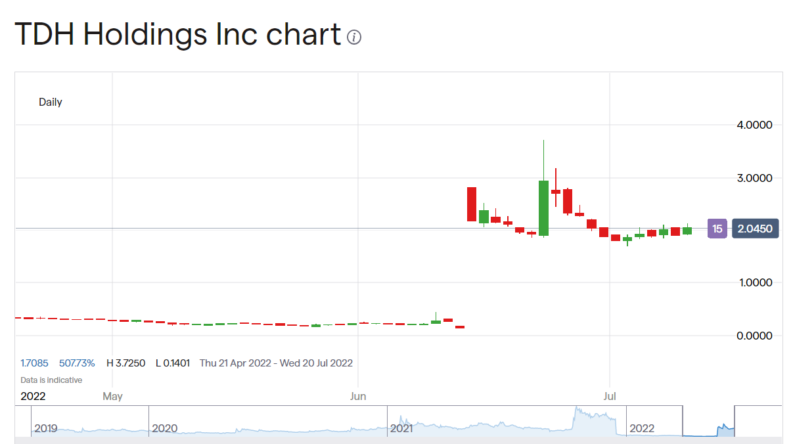 Also read: 30 Global Stocks That Warrant Your Consideration.
Note from that share price chart there that there was a reverse stock split (a consolidation to Brits) recently which explains the discontinuity there. It's also true that the real price dropped on the consolidation, which is not a good sign – it removed the possibility of the loss of the NASDAQ quote which should have improved matters.
The current price jump is really a technical matter. Back early in the year TDH Holdings raised some more capital. Those who bought in at that point needed, so they thought, to register their desire to sell them if they ever did. So, a Form F-3 was filed warning that they might sell. Sell, so what? Well, that would just mean yet more stock on the market, thus possibly lowering the price of those already out there. Large sellers reducing their stakes will do that.
Then yesterday TDH Holdings announced that that idea was now inoperative. That is, they filed an RW 1 which walks back the F3. Thus the jump in the PETZ stock price as the belief that the new wave of stock isn't going to hit the market.
Except that's not, in fact, quite what the RW 1 says. Rather "due to the fact that the selling shareholders who would have liked to register their shares for resale on Form F-3 now can satisfy the terms and conditions under Rule 144 of the Securities Act, and accordingly no longer need the Company to register their shares for resale on Form F-3." They can still sell their stock, they just don't need this form to be able to do so.
It's possible therefore that the jump in the TDH Holdings share price is just a misunderstanding of the exact details here – and so might well be something that reverts soon enough.