Key points:
Tencent reported earnings last night
They were a beat, both in EPS and revenues
The stock's up 5% as a result
Tencent (NYSE: TME) reported earnings last night and the stock has risen 5% cumulatively since then. Up 6% last night, down 1% this morning, perhaps on greater consideration of those numbers. It's possible that sentiment will change here because the earnings were above expectations and so a further reconsideration is indeed possible. We should note that this is Tencent Music, the New York quoted vehicle, not Tencent Holdings which is Hong Kong.

As to what Tencent does as we all know it's one of the giants of the Chinese internet and online scene. Yes, it has operations outside China as well but that's where it all starts from and also where the core of the business is. This could – possibly should – give us pause too, for it means that the future of Tencent is within the hands of the Chinese Communist Party, CCP. They do have a habit of wanting to plan the economy and they've not been shy about slapping down those internet players they think are getting a bit too big, or a little too independent – Jack Ma at Alibaba and Ant Financial comes to mind.
But even with that background the Chinese online giants are difficult to ignore. It simply is such a huge market, so many people rapidly getting richer, that we need to take note. Even if the analysis is that we'd prefer not to be invested in them, we've got to evaluate them.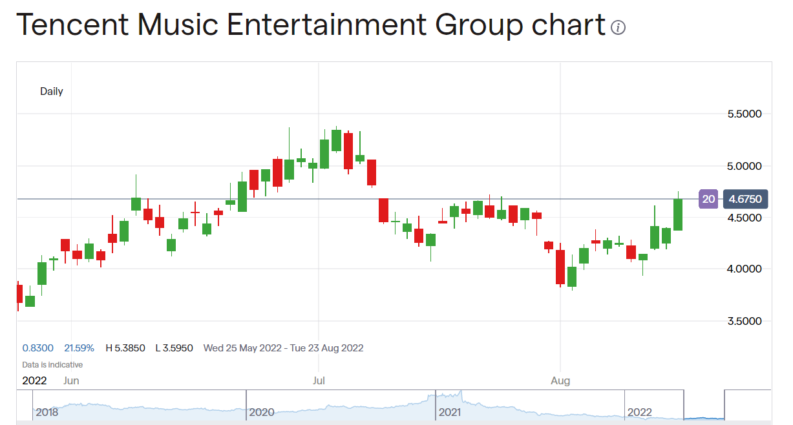 Also Read: Global Stocks For Your Consideration
Tencent's actual results were good – Q2 non-GAAP earnings per share were $0.10, which is a beat of 2 cents on expectations from the market. Revenue of $1.03 billion equally beat expectations, this time by $41.87 million. As we'd expect that 4% or so beat in revenues meant that the EPS rose 25% – it's always those last little bits of revenue over and above fixed costs which produce the profit.
True, revenue was down 16.9% year on year but then given the effects of lockdown that's not a huge surprise. Note, it being the fallback from extra growth during lockdown that makes the difference here. It's also true that the more heavily desired revenue streams rose substantially – music subscriptions up 17.6% yony, paying users up 24.0% yony and so on.
The big questions though are twofold. One is simply, well, how's that business going to do off into the future? Is Tencent moving along the right lines, offering services that people actually desire to pay for and all that? That's true of any company we might want to analyse, of course. But there's also that second issue, the China connection.
Because that CCP does indeed insist that it has prime position in the economy, that's their justification for having power at all. Which means that whenever we look at a China connected stock we must think about politics. There's that issue over auditors, for example, which might mean all the China stocks quoted in the US having to delist and move, perhaps, to Hong Kong. We just can't get away from political risk that is.